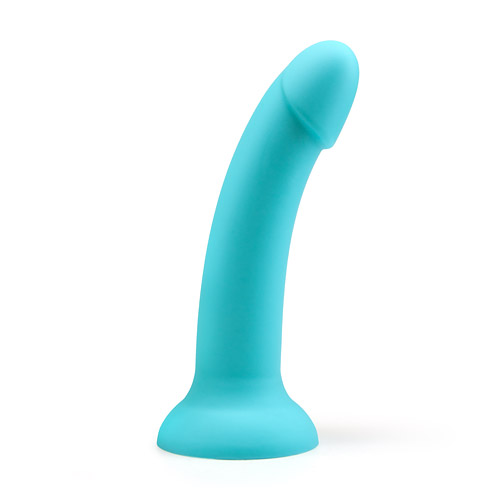 Aqua G-spot
G-spot dildo with suction cup
by EdenFantasys
Aqua awesomeness!
The Aqua G-spot punches above its weight class. The head is definitely larger than the 1.25 inch shaft diameter called out on the product page, measuring easily at 1.5 inches. You'll notice it. It's a quality product that, although simple, offers versatility. Good for solo play with the strong suction cup base, partner play with the harness compatibility and lends itself to quick, easy cleanup. This bold dildo has it all at a look and price that make it easy to say yes to.
Published:
The Aqua G-spot arrived from EdenFantasys in a plain, brown box as usual. Inside the box was a clear, plastic bag and inside the bag was the Aqua G-spot in all of its Aqua glory. The item had no "new toy smell" when I opened it up. No instructions necessary with this one, just pick a hole and go for it. The Aqua G-spot has a nice weight to it and feels very silky and high quality. It is made of body-safe silicone so remember to use only water-based lube with this toy.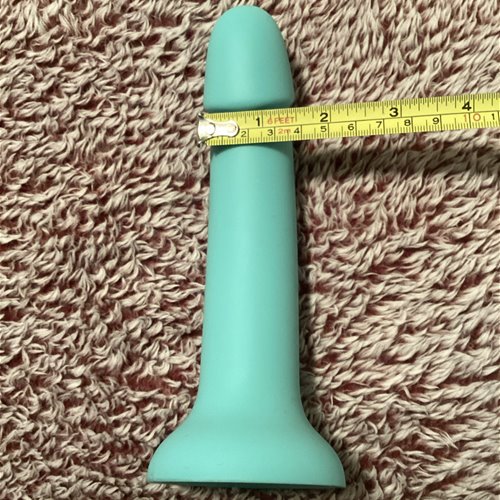 My wife and I both love the curved shaft and the larger, realistic head. It hits us both in just the right spot. I like the o-ring compatibility and my wife agrees that it is quite comfortable to wear in a harness. The suction cup base is good and strong. I got a very hot show when my Mrs. put it to the test this morning in the shower, rest assured it can handle anything you throw at it. I know the word "average" generally has a bit of a negative connotation to it, but when referring to size in this instance "average", properly translated, means perfect. If you are looking for a toy that will get your attention without being intimidating look no further. This one gives you a wonderfully full feeling without making you wonder if you will be sore in the morning. I would not recommend this toy for anal beginners just because of the size of the head, but If you have at least some experience with backdoor fun you will be fine.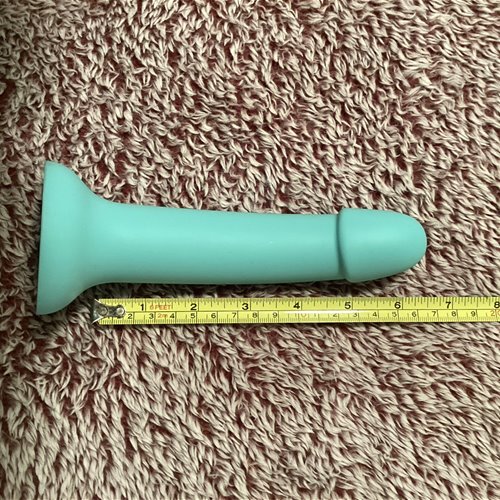 I got this item because I wanted a smaller dildo for my wife. She's never been one to choose a giant toy over something smaller anyway because for her it's more about the clit. We already own the Cloud 9 and while it wouldn't necessarily be considered a "larger toy" the bigger head can sometimes be uncomfortable for her. While the specs on the product page for the Aqua G-spot are slightly different than the Cloud 9, after measuring them up I found they are nearly the same. They certainly feel the same. The only difference I could find is the Aqua G-spot is about 1/4 inch longer. I'm not disappointed to have 2 of these beauties on hand, but if you already have the Cloud 9 don't buy the Aqua G-spot thinking you are getting something different.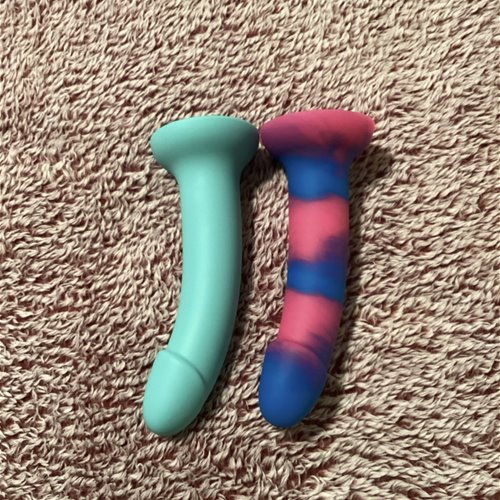 Experience
My wife and I were both excited to see this one show up and even though it's so similar to the other one we already own, that night we put it to the test. I grabbed our thigh harness and wrapped it around my leg, lubed up the Aqua G-spot and laid back on the bed. She slowly saddled up on it with a grin and started working forward and back while stroking my cock. As she got into a rhythm she told me that this one was hitting her in just the right spot. I knew she was getting close because she suddenly went from stroking me to just squeezing my dick, and the next thing I knew she was loving life and my leg was soaked.

A short while later she grabbed her favorite harness and told me to get on all fours while she suited up. I happily complied. After a good lubing up, she slowly started working the toy in. It took a few tries and a little patience. We have bigger toys for pegging, but the head on this one exceeds the tamer shaft and can challenge you. Once she worked it in we were off and running and I was dripping immediately. The curved shaft on this item causes the head to hit my p-spot in just the right way. After a few minutes I changed positions and laid on my back while she continued to pound. She knew I was loving it and decided I had earned a good finish. As soon as she grabbed my cock and gave a couple of tugs I was cumming hard.
This product was provided free of charge to the reviewer. This review is in compliance with the FTC guidelines.
Thank you for viewing
Aqua G-spot
– g-spot dildo with suction cup review page!