Finally!!!! A clear glass jewel for my bottom!
It is about time that they have a perfectly clear glass bum toy that is not going to break the bank! Beautifully crafted, elegant looking, works great as a paperweight or as a anal toy. I had some minor pain when I removed him the first time as I wasn't thinking, so if you are used to toys with wide necks when playing with your ass just know; insertion is pretty easy but removal could quite literally be a pain in your ass. So remove with caution till you get used to the thin neck.
Published:
Pros:
So very cute! Perfectly clear, perfect price
Cons:
Packaging could have been smaller, no storage pouch, pain upon removal for inexperienced users
You know when you join EF and you start looking at vaginal toys then you start to read more about anal and anal toys and begin to think that maybe, just maybe you want an anal glass toy. So you start looking.
You see the "Sexy Spades" in all his fun sizes, you see the "Moonshine" and the "Ripples"... but there is nothing that is just a hunk of clear glass that you can shove (never shove by the way!!!) up your ass that is under like fifty bucks?
Well, bless your souls Pipedream people! You've created not one but two new bum toys that are solid and clear glass and both of them under thirty bucks!
So let's go onto the review.
Purpose: Bum. Plug. He goes up your ass. He could go up your snatch, possibly up your nose if you so desire. You could possibly wear him like an earring but I think that might hurt. Me? He goes up my bum or I use him as a paper weight.
How to use: apply your choice of lube (water, oil or silicone) and put it in your bum. Not base end first. Just a little helpful hint there. Go for the more pointyish end first. This end: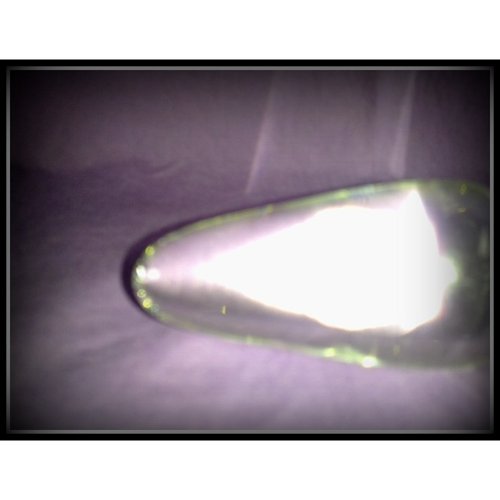 Material: mmm... glass. It goes in your ass.
Cleaning: It's glass. It will take a lot of effort to chip it, but it is glass and it could be chipped if you drop it or don't respect it. So no throwing into the sink or the dishwasher. Wash with hot water and soap and air dry. That is the easiest and best way to clean it. If you so choose to share your Icicles No. 26 with a partner, make sure that you clean it extra well between partners. And helpful hint number two: no anus to vagina.
Sizing: bigger than some but small than others. Total length is four and a half inches (which is longer than most beginner anal toys), but with an insertable length of about four inches. At his widest point he is an inch and a half. Which is much wider than most bigger toys.
Level of user: well this is tricky. I think anyone could use this... but removal might make you cry. Because it is an elongated spade shape, so if you are careful this could be a progression toy. So beginners to advanced. But, that being said, removal because of the thin portion of the neck (approx half an inch) to almost instantly an inch and a half. Here. Let me show you. That would be easier: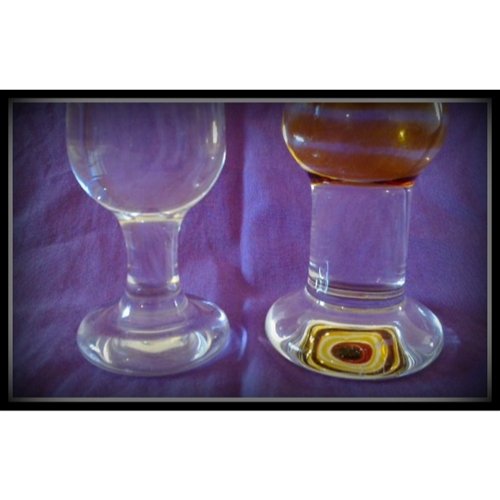 This is something that if you are a beginner user you need to be aware of. Insertion is pretty easy, but removal can indeed be painful. This is the only reason why I would be hesitant to suggest it for beginners. But if you are careful and not insert it fully till you have trained you behind, this can be a progressive toy as you experiment with the tapered tip, and over time let him slide in. I am all for the progressive toys as then you save your dollars and points. But this is one where he'd come with a warning, be careful beginners if you take him home with you!
Many of the other glass toys have thicker necks, so makes removal uber easy and painless. But, the thin neck does make for a really comfortable wear (long term, short term, sitting, standing, swimming, heck even yoga in all those fun and strange poses and contortions, like I said. Very comfortable! But don't ask about riding a bike with him in I do not know!) with only minor slippage but no actual "popping" out that the Moonshine tends to do or even the Bootie. Oh! I have another picture to show you to compare the toy with some others.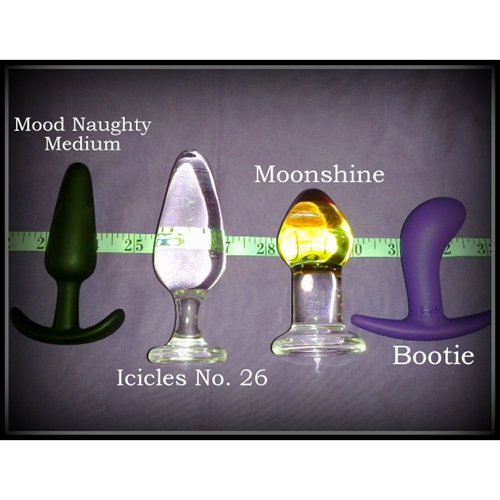 Packaging: Pipedream has one of the neatest and simplest packages for its glass toys. Not only does it come in an elegant box with a flap and the toy encased in a plastic foam type protective thingie, but it just looks classy.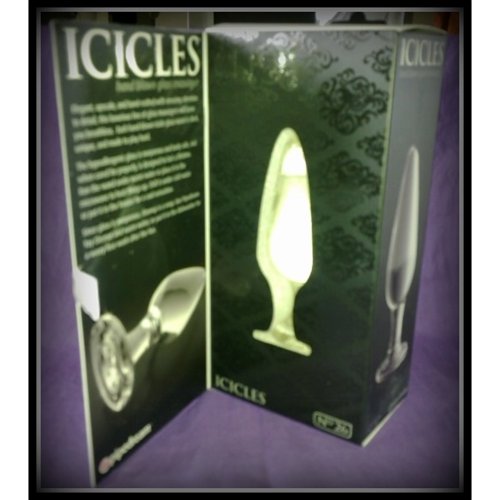 Discreet/Traveling: I would say nope. He is not discreet. So wash him and put him away from prying eyes. As for travelling, heck yes! Wrap him up in a sock or two and put him in the suit case. He will make a good travel companion!
He is tasteless and scentless and since I did this test? There is no reason for you to try to eat glass to find out what he tastes like.
Experience
Now...
I mentioned above only partial slippage. I wear the tight leggings and usually go knickerless when I go to yoga, and I've worn this guy a couple of times. My friend who has come to terms and now mocks me when I ask funny favours like, "look at my ass from time to time and tell me if you can see my bum plug" swears that she had no idea I had a toy in my arse. I had to buy her lunch in exchange for looking at my butt. Because of the thin neck between the flared base and the swell of his widest part, he slips a little bit, but not noticeably so.
Other than the Mood Naughty Medium, I have not used a bum toy that have a narrow neck. My experience with glass toys in my backside are usually glass g-spot toys because they stay in better than the Moonshine. And they are much easier to use when masturbating. And stay in better if you masturbate sitting up. What I liked about the Icicles No. 26, is when I used him while masturbating (sitting up, laying down face up or face down) he stayed in, didn't move, and provided extra tightness for other toys.
Most of the men I know are intimidated by sex toys so I cannot report to you about how he feels during partner play.
Now please be warned. Using him with a glass toy in your vagina, is not a good idea because you will bruise. I also wouldn't suggest using him with any other hard materials, but a toy that has some give to them do make for a much more enjoyable sensation.
Once last warning and I cannot stress this enough. Removal could be painful if you are not anal adventurous. Please be very very very very careful if you are new to anal while removing him. Can you tell? I removed him that first time and it hurt like the dickens! But no problems with the Moonshine.
In the picture on the product page, the Icicles No.26 looks like it has a streak of grey in the centre of it. In reality, it is just like a clear glass toy. Perfect clear, no bubbles, no colouring... just clear class.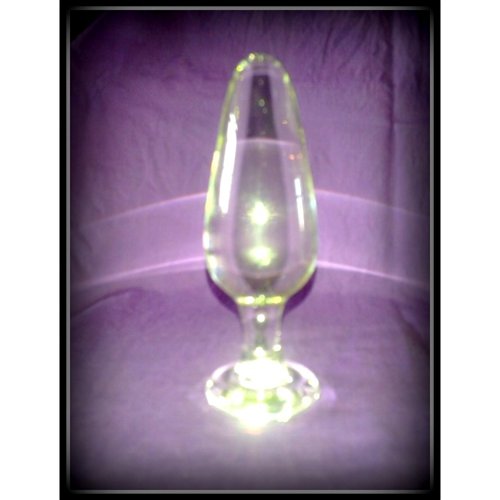 If I were new to anal and I bought the Icicles No. 26 I would give him only four stars because of that neck and him not being really removal friendly. But, I bought him because I wanted the elongated spade shape, I knew what I was getting into. He is a perfectly crafted toy that does deserve a five star rating.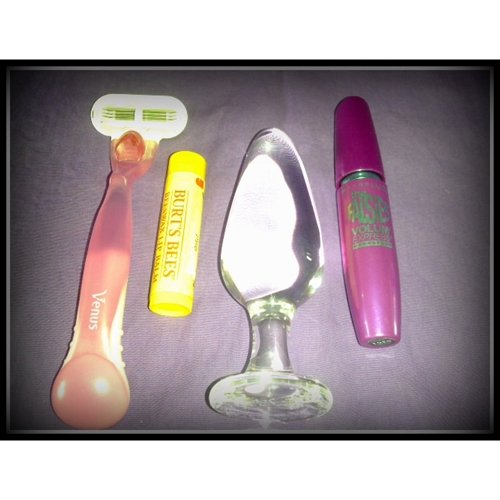 Left to right: Venus Razor with an original head, tube of Burt's Bee's Lip chap, Icicles No. 26 and a tube of Maybelline's Falsies Mascara.
Follow-up commentary
9 months after original review
I still have some acheyness removing him, more than an ache if I have been wearing him for prolong periods of time. But.... I still enjoy him more than my other glass toys I use for anal.

I do still enjoy him and find it a challenge to decide which toy to play with; Icicles or Bootsy. Bootsy or Iciles? I can never decide!
This content is the opinion of the submitting contributor and is not endorsed by EdenFantasys.com

Thank you for viewing
Icicles No. 26
– butt plug review page!