Glo Thick, Glo Stick
While the material is a bit questionable, I was impressed with the Glo Thick's flexibility. It wasn't too hard on my insides and the toy was super soft. The Glow in the Dark feature was new and playful. I don't love it but I do like it!
Published:
Pros:
-For Those Experienced with Anal toys
-Squishy and Flexible
-Latex Free
-Glows In The Dark
Cons:
-Material is questionable
The Glo Thick butt plug came in a black package with a clear display window. The package contains information about the product and its materials and is colorful with neon writing. When you open the package you can slide out the plastic container, which can be reused, and open it to get the toy out. It's pretty easy to open and reuse.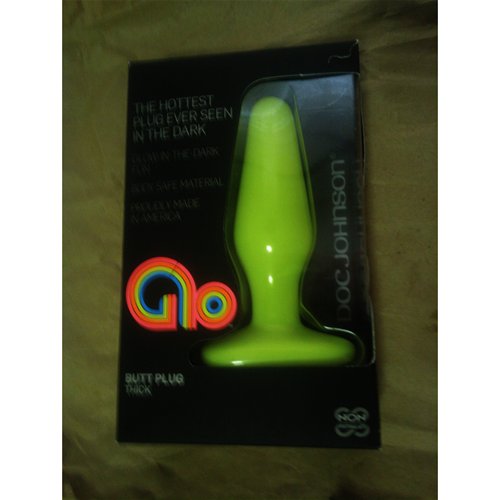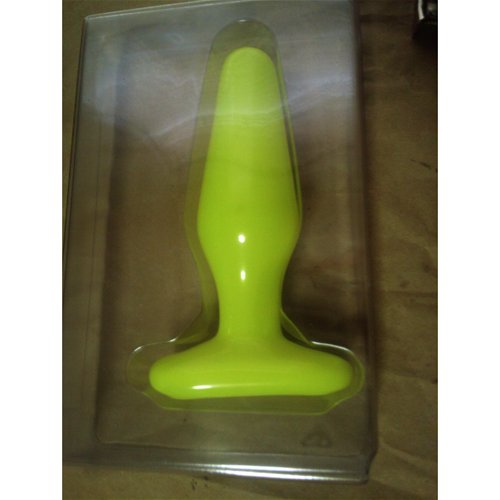 The Glo Thick is latex-free, phthalate-free, cadmium-free, anti-bacterial, and non-toxic.There also wasn't a smell to it! The product page says this is made of Phthalate Free PVC. The packaging says it is made of Sil-A-Gel. That's a huge difference considering PVC scores an 8 and Sil-A-Gel scores a 5 on the material safety scale. At the very bottom of the box it mentions PVC. I'm assuming the outer casing is PVC and the inner is Sil-A-Gel because as you can see from the base of the toy there are two materials being used and the internal portion is squishy. It also says on the back that it has a firm outer shell and soft inner core; so again, I'm assuming the inside is the Sil-A-Gel.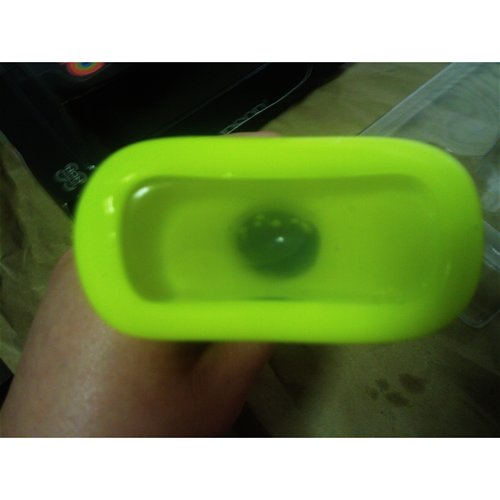 The Glo Thick is best washed in an anti-bacterial toy cleaner and warm water. I wouldn't share this with a partner unless you are using a condom because it is semi-porous. It should also only be used for one orifice. Don't switch from anal or vaginal or vice versa. I didn't have any issue with it collecting lint or anything like that. It's completely smooth with no seams so you won't have any issue with fluids being collected in the toy when it comes to cleaning it. Since there are no seams it's also waterproof and can be used in the tub or shower! Use silicone lube if you're using it in water, and water based lube if you're not.
The Glo Thick butt plug is best for people in the intermediate stage when it comes to anal play. The plug is on the thicker side so it would not be beginner friendly. The Glo Thick is 5.5" in length. The tip of the Glo Thick is 1" and it tapers out to a max of 1 3/4". The base is 3" which is excellent because it will prevent a toy getting stuck or lost up in the rectum. My rule of thumb is the base must always be wider than the thickest part of the plug. This one passed that rule.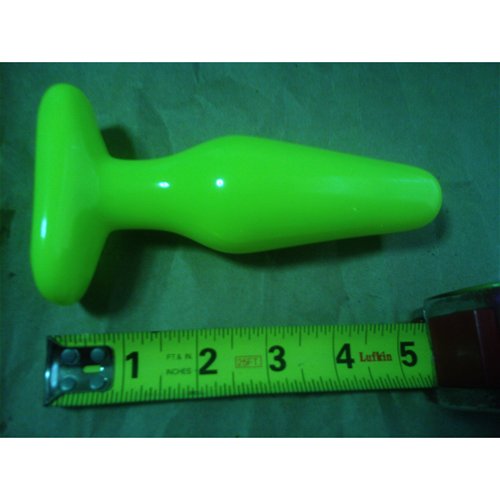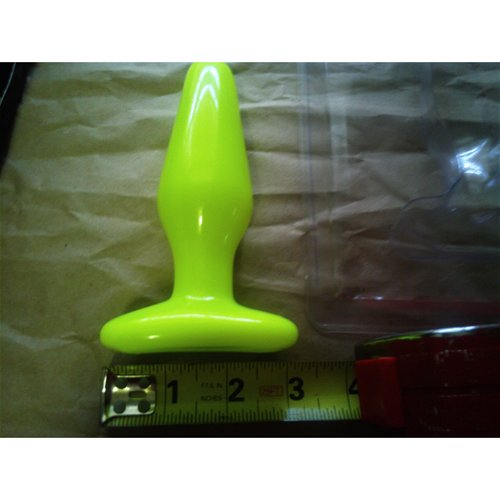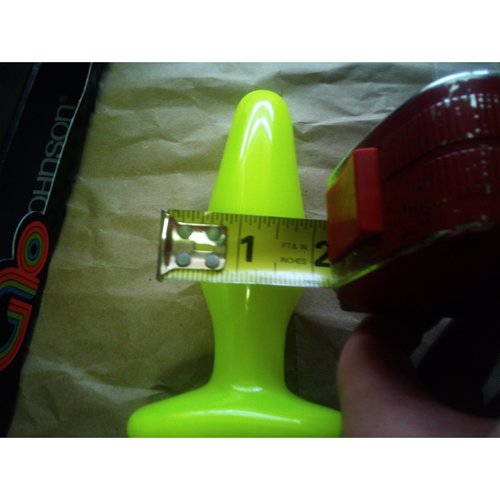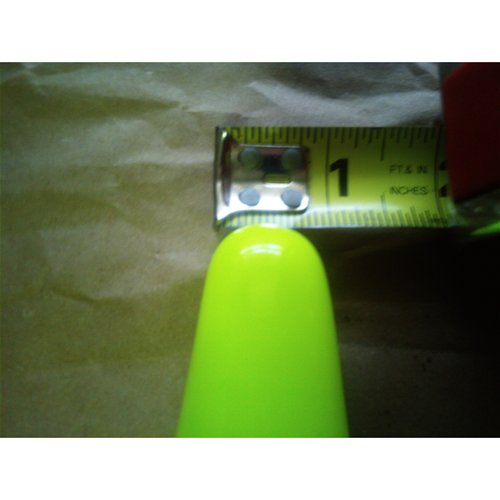 The Glo Thick is also glow-in-the-dark. This feature was very playful. It gave it an extra quality most toys don't have. The Glo Thick is also very flexible and squishy. This is perfect for anal play in comparison to hard toys. This plug will not be uncomfortable when inserted. It's firm and not limp but you can still get plenty of flex from it.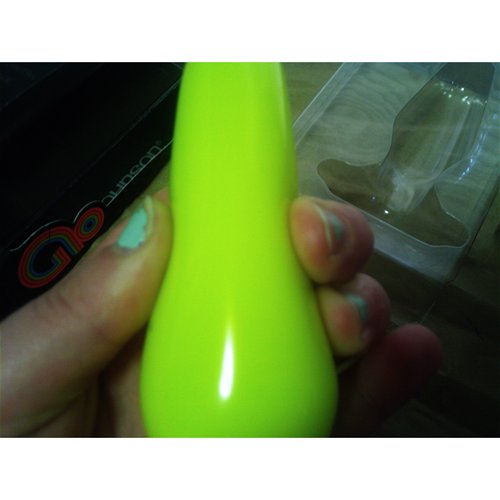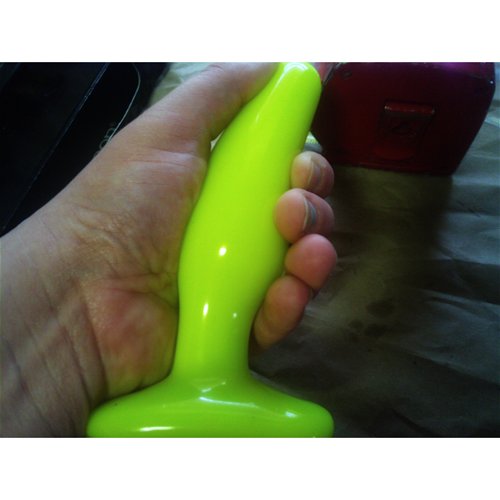 This can be inserted and left as the tapered bottom will hold it in place and the wide base will keep it from going anywhere. You can move it for anal stimulation or leave it in for double penetration with a toy or your partner. It fits in comfortably and doesn't slide out when inserted. It's texture-less which is great for those who haven't moved up to textured butt plugs but want to move up in size.
Experience
Butt plugs provide me with an easy way to prepare for anal sex. I applied some water based lube to the toy and slowly inserted it inside. It helped me relax before anal sex because I can use it to stretch my sphincter and gets me ready for anal play. At first we left it as a plug so we could have double penetration, but later removed it and he entered my ass. The butt plug made his entry easier and way more comfortable than if he just entered without the use of an anal toy. I loved its smoothness and flexibility inside of me. I'm not a fan of harder toys when it comes to anal penetration. This isn't my favorite material but it's a good start.
This product was provided free of charge to the reviewer. This review is in compliance with the FTC guidelines.

Thank you for viewing
Glo thick
– butt plug review page!