Good Basic Starter Finger Shaped Plug, Which, surprisingly, stays in during sex
This TPR/Silicone finger style butt plug is a good toy for both beginners and most users. The two densities of construction make for an interesting presentation and the wide base make it a safe toy for all users. The Crystal Cote is flexible enough to feel comfortable, and for long term wear, yet firm enough so that it is felt when inserted and while penetrating, as well as for use as a thrusting toy.

This is a nice, all around basic anal toy.
Published:
Pros:
Nice size for new users, safe wide base, interesting construction, flexible, yet firm enough
Cons:
may be too pointed for some, would be better if pure silicone, instead of added TPR
This TPR/Silicone "finger" shaped butt plugged is advertised as a starter butt plug for new users. I know that's how we ended up with it years ago. (See below for how I learned to like this plug.)
The plug is made from two different densities of TPR silicone. The inner core is firmer, (the red or black opaque part of the plug) encased in a slightly more flexible longer outer core, which is crystal clear and covers the plug from tip to base.
The entire plug is very flexible.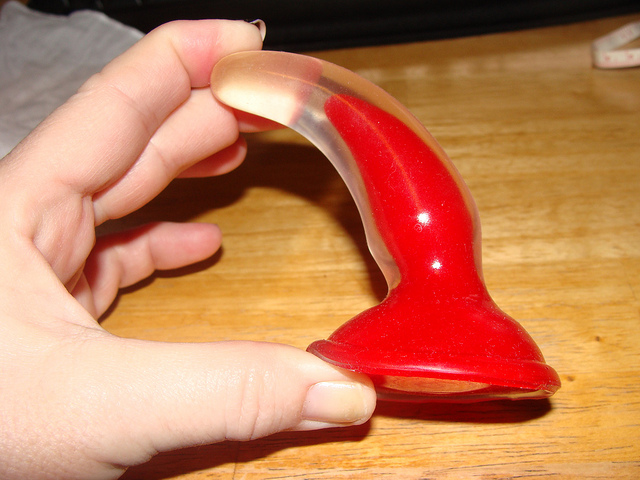 It has little drag and, if the anus is well prepared and relaxed, slides in easily and comfortably.
The entire plug is about 4 inches long.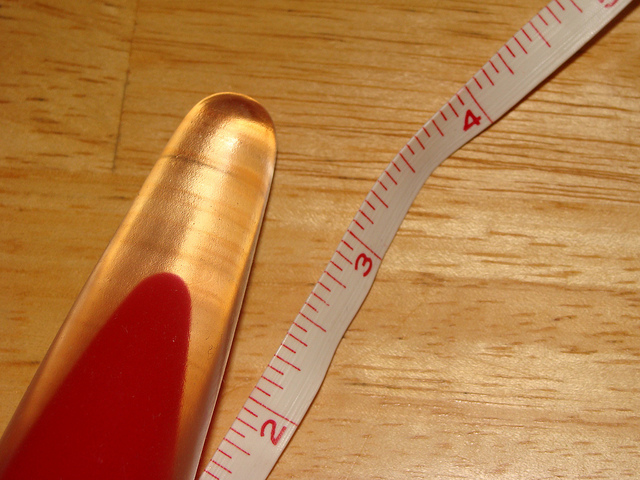 It appears to me to be similar to the size of a large man's finger. This, for us, works well.
The bulge, which holds the plug in very nicely during activities is about 3 1/3 inches around and the neck is 2 1/3 inches in circumference. Surprisingly, this differential in size is enough to hold the plug in place during many sexual activities. We were happily surprised that this inexpensive "beginner plug" was able to do this so well.
This plug has a very safe, 6 1/2 circumference round base, which is flexible, yet large enough to cause the plug to be very safe for all anal activities.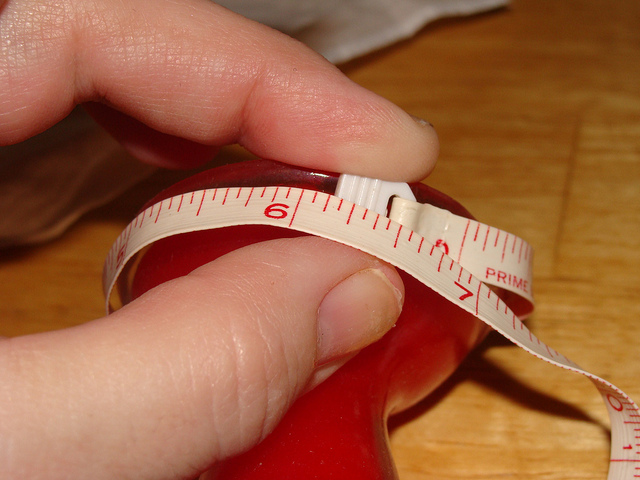 The base is also very flexible, yet firm, so it conforms nicely to the body.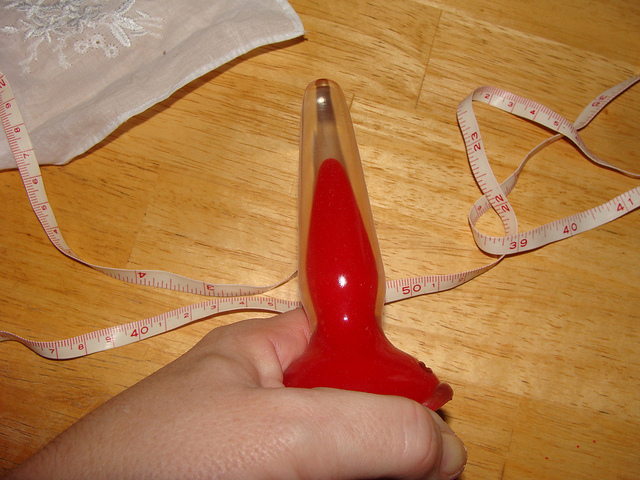 The wide base, totally enrobed in clear TPR/silicone, at one time did work well as a suction cup, but over the years, it seems to have lost it's ability to adhere to surfaces. We don't use the plug for anything that would require a suction cup, so this isn't a problem for us. But, those requiring a suction usable plug may find this plug may only last them a year or two before the suction cup gives up it's ability to stick.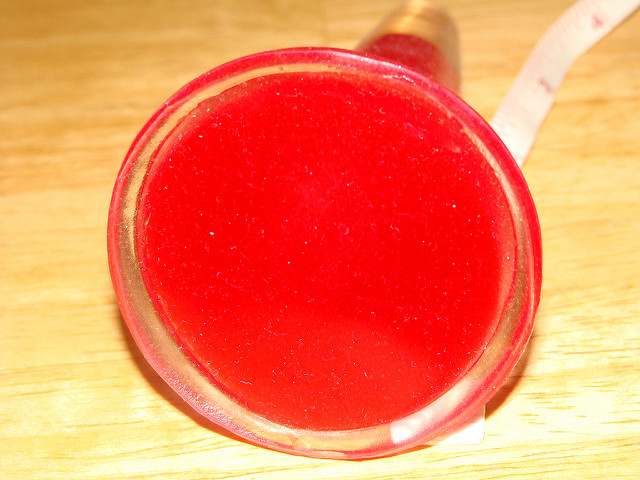 I personally only use butt plugs for sex play, not for long term wear, but this plug, once one has acclimated to it, is very comfortable and most likely many would find it quite usable for long term wear. This toy is stimulating, though it does not provide overwhelming sensation. I am not sure if it would hit the P Spot of most men, not having one myself.
The TPR/Silicone needs to be used with water based lubes only and as with all anal play, lube must be used for safe play.
The toy is firm enough to be used for a thrusting toy, and although it does not provide the "pop" upon removal that tear drop shaped plugs or beads provide, it does it's job of stimulating, thrusting and staying in place when it is needed to stay where it is placed.
The toy can be cleaned carefully with regular or antibacterial soap and hot water. A toy cleaner can be used for deep cleaning, before cleaning with soap and hot water. There are no nooks or crannies for bacteria to hide in, but the TPR in the toy may be slightly porous, so this is a one user toy (no sharing without a condom)
We found the toy had no smell whatsoever (as some reviewers have reported) after a few washings, (at first it had a slight plastic smell to it, but only a few washings rid the toy of this smell, and now it has no odor whatsoever.) As I don't place anal toys in my mouth, I don't know if it has a taste, but I doubt it.
If you were to decide to place this plug into a condom, lube the tip of the toy and the shaft, and make sure the base is well lubed to prevent the condom from breaking, then carefully maneuver the toy into the condom. The condom, of course, should then be lubed itself. The self lubricated condoms usually do not contain enough lube to for anal use.
After at first not liking this plug, it was placed into "toy limbo" for a long time. As our anal repertoire increased, we started to use the Crystal Cote Plug again, and found, to our delight, that it not only was fun and comfortable, as well as stimulating, but that it stayed in during PIV sex and other activities.
For us, a nice plug, which is thrustable as well one that stays in during sex is very desirable.
Experience
My Man and I were new to sex toys and very new to anal play when we first bought this butt plug. In our relationship, I am the only one who receives anal pleasure, as he doesn't care for receiving it, but loves to administer it. We had been using his finger, a little rimming and attempts, with a large quantity of lube, at full penis/anal sex. I wasn't so convinced I would like anal play at first, but was certainly willing to try.
I had made a comment that some people used butt plugs as part of their anal training, and he went to the porn store and asked for a "Beginner Plug" and came home with this plug to try on me. I
hated
it!
But, I eventually grew to like this little plug.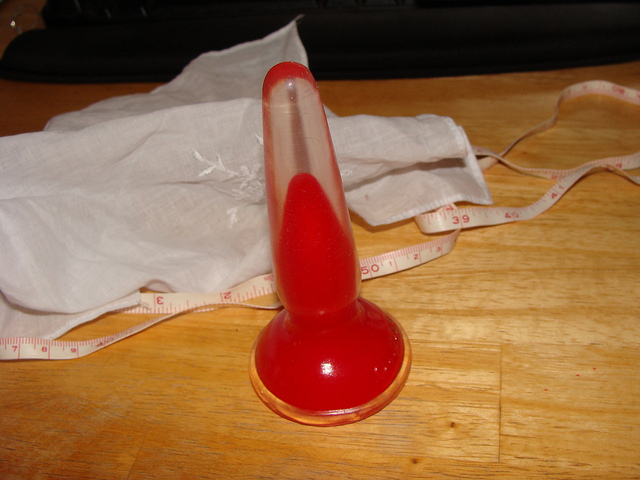 During our first few trials with this toy, the little plug poked me and the ID lube we used burned me, I felt no pleasure from it and we put it away for a long time.
Wonder of wonders; Later we learned to really enjoy this plug! I did not learn to enjoy this plug until after we were both more experienced with anal play. Now, after being trained to accept anal pleasure and learning how to relax and enjoy "Butt Love" I can say I really enjoy this little plug. For me, it is not as enjoyable as a "Teardrop" or "pacifier" shaped plug, but it stays in during PIV sex and during other activities and this little plug has grown on us. The two of us are a very persistent couple. I hate to see a decent toy go to waste, so it was tried again even after a beginning trail which was less than amazing. We were happy to find this plus was, now, very enjoyable.
After careful cleaning (see above) we place this toy into a handkerchief for safety and then place the toy into a toy bag to protect it from bacteria and lint until the next use.
Although our personal experience was that fingers, tongues and a penis were the best "training" tools for our personal anal play style, we eventually moved into toy play. We found a place for this toy in our bedroom, and enjoy its use, rotated with other toys from our collection.
We also found a unique use for this plug. Because of it's ability to snap back when bent, my partner finds that "snapping" the tip of the plug against my butt, hips, thighs and other fleshy parts of my body an exciting and arousing activity for both of us. We never would have realized this use for the plug, if we didn't "retry" the plug after over a year of its being in Toy Limbo.
The
Crystal Cote Butt Plug
from nice, inexpensive and workable butt plug. I am glad My Man came home with it, and despite our original dislike of the plug, is has turned out to be a great toy for us to play with, in many different ways.
Follow-up commentary
5 months after original review
This plug, our first one years ago, still gets into the rotation of toys we use. It isn't an everyday toy. But, I do enjoy it, especially if I want something thinner or want something easy to thrust.

We have had this toy for years, and it has held up well. No discoloring, no scratches or nicks. The suction cup hasn't held up, but we don't use it anyway.

For a toy I hated when My Man first presented me with it, I have grown to love this little plug, its interesting clear coat, its firm inner core and its very safe base.

Its shape and flat base are fantastic for certain uses, because it can be placed upright after being used, while you go on to other things. I don't really care to lie used butt plugs on their sides on my furniture. But, this plug is easy to stand up until you are done and get to the sink for cleaning.

if it were totally silicone, I would have given it five stars. It is still a workable and really fun toy. I would certainly recommend this plug for most beginner to medium anal players, male or female.
This content is the opinion of the submitting contributor and is not endorsed by EdenFantasys.com

Thank you for viewing
Silicone crystal cote butt plug
review page!