I Wanna Feel My Gum Drop.
The Gum Drop Droplet is great for beginners looking to expand their horizons. It's small and simple. I really enjoyed this as my first anal toy and I loved that fact that it included vibrations. More advanced users should look elsewhere though as this is a toy primarily for beginners. The only downside to this toy is that it is in need of a better bullet, but it's still a great beginner toy.
Published:
Pros:
-Color options
-Small
-Beginner friendly
Cons:
-One vibration setting
-Horrible bullet
-Too small for some users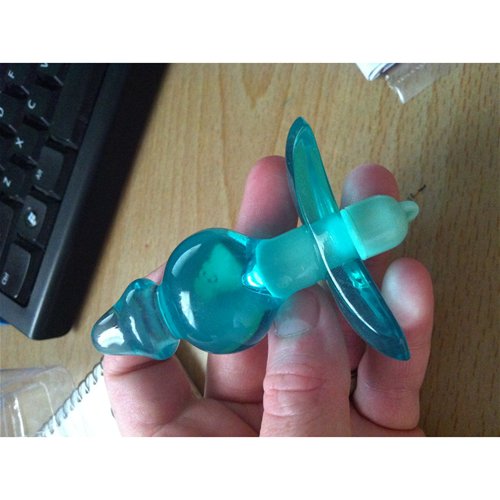 While I have a huge collection of adult toys, this is my first butt-plug. I loved the color options and was thrilled to give it a go! What first caught my eye was how cute and small it was. It's great for beginners! The product picture does not give the color justice! The green is so vibrant and shiny, it blew me away! While I love the color pink, I am glad I got the green because it adds a little diversity among my collection.
The toy does have a slight odor. The odor is not strong and you can only smell it up close. The small size makes it very beginner friendly and isn't intimidating at all. It's soft and flexible. You can bend this toy very easily, but once released the toy will go back to the original state.
I love the unique shape to the gum drop droplet. The top part has a rounded point that tapers, which reminded me of a mini Hershey kiss. It's followed by a larger bubble that flows into the neck of the toy where the bullet is housed. The neck is followed by the base of the toy. The shape is unique and fun, which sets it apart from other plugs.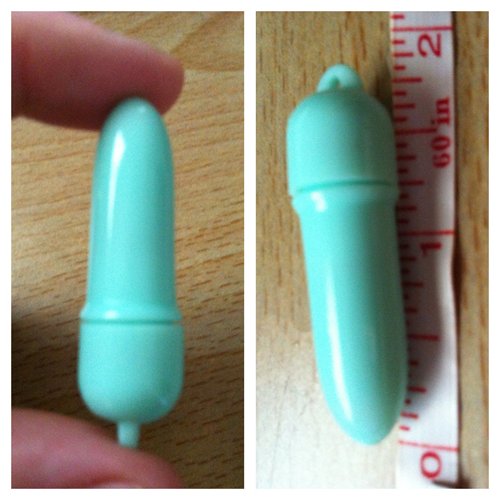 At the base of the toy you will find a removable mini bullet vibrator. I love that it is removable. To replace the batteries you simply turn the top of the bullet which screws off. I'm not a fan of the bullet all the way around the board though. The vibrations are not as strong as I would like them to be.
To turn the bullet on and off, you simply twist the top. Be careful not to turn it too much though because this is also how you replace the batteries. I also found that the top will come off easily. You literally twist the top half ways and it's popped off, revealing the batteries. This could be a major turn off during use.
Another downfall is that it will sometimes cut off during use, even when in the "on" position. The vibrations aren't strong, but they are quiet.
The toy is not advertised as waterproof. While the droplet itself could be waterproof, The bullet is not. Therefore, I do not recommend using this toy in or near water. The toy includes 3 small watch batteries. While I loved that this toy included the batteries, I wish it had a better battery choice. Watch batteries are normally weaker and run out faster than any other battery.
Toy Measurements/Material/Maintenance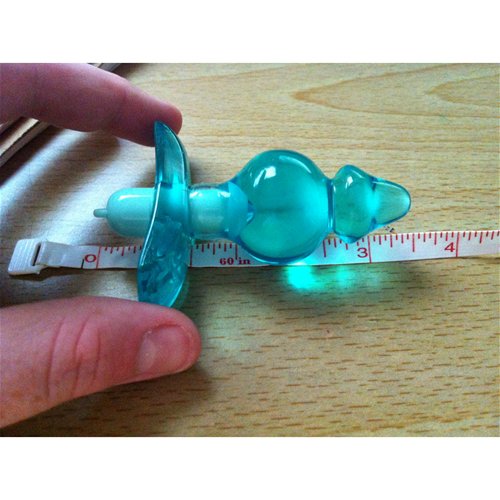 The toy is 3.5" long, with an insertable length of 2.25". You won't have to worry about losing the toy inside you because this toy has a great flared base that is 2.5" long and 0.75" wide.
While Eden states that this toy is made of Phthalate Free PVC, it's actually made of Phthalate Free PVC and ABS. It ranks as an 8 on the material safety chart, which is good. The ABS part of this toy would be the included bullet. PVC is slightly porous, so this toy should be covered with a condom if you decide to share. The only downside to that is the condom would probably not fit around the flared base and if it did, it would swallow the toy. Honestly, I would recommend not sharing this toy. Even though the toy has a unique shape, it has a smooth texture.
It should be cleaned with warm water and antibacterial soap or a universal sex toy cleaner. When cleaning it, make sure to really get around the edges of the toy. You can use both water based and silicone based lube with this toy. Personally, I like to store it in the box it came in. It's easier for me and I don't have to worry about it collecting lint
Packaging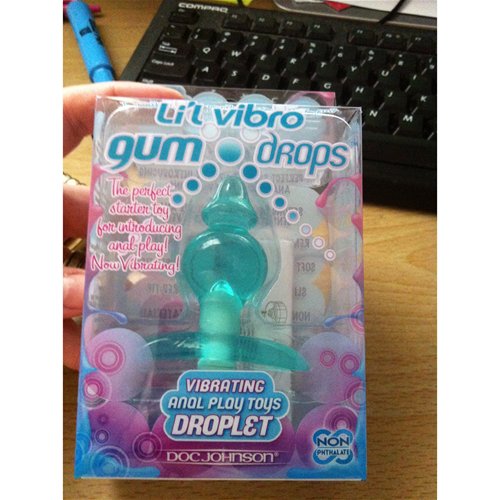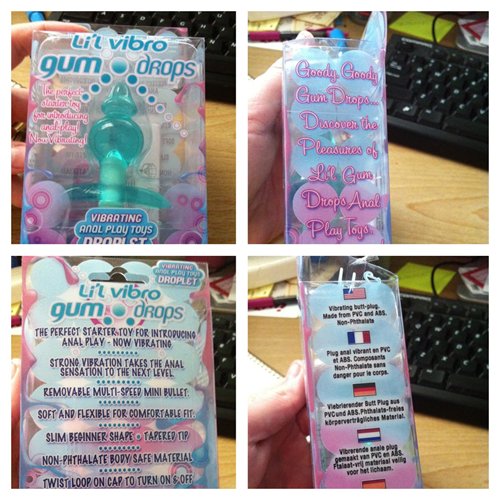 The toy comes in a clear box, which allows you to see the toy. It doesn't contain any pictures, but it does clearly state that it is a vibrating anal play toy. I wouldn't recommend leaving this out for others to see, especially your kiddos. The back of the box states properties of the toy, such as removable bullet, flexible, etc.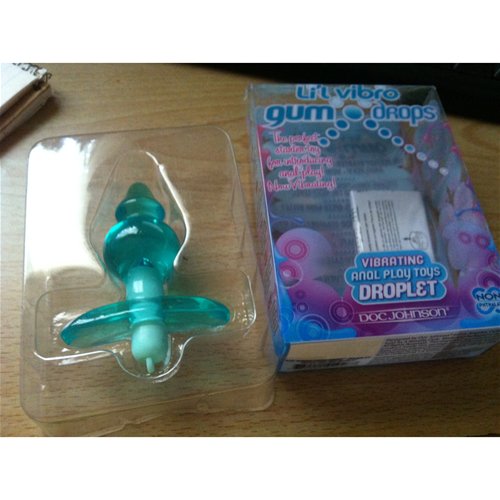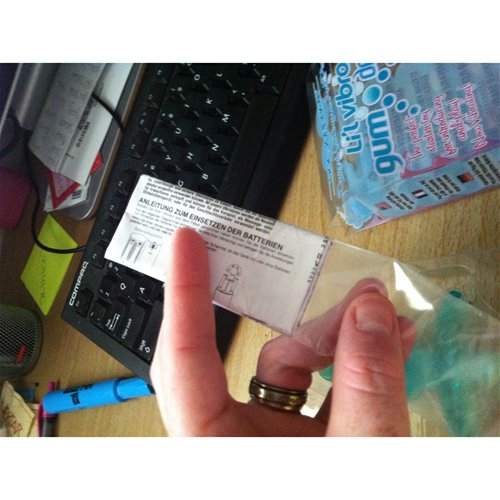 Upon opening the box you will find a clear plastic case, which holds the toy. You will also find an instruction manual in a plastic bag. It appears that Doc Johnson uses the same instruction manual for all of their toys though, because nothing in it is geared directly to this specific toy. It does come in different languages, which is always a plus.
Experience
I enjoyed this toy very much as my first plug, but I found it a little on the small side. It's great for anal beginners. More advanced users will not find it challenging enough, but could admire it for it's cuteness and color options.

The bullet was worthless for me and would cut off during use even when in the on position. When this happened, I would turn it off and then back on and it worked fine. Kind of made me think it was on a timer in a sense. If the bullet is in the off position you can press down on the tip of it and it will vibrate without having to turn the tip to the on position. Overall, there are many flaws with the bullet.
Follow-up commentary
11 days after original review
I enjoyed this one as my first plug, but it didn't fully satisfy me. It wasn't large enough for me and the vibrations weren't strong enough. It is great for beginners though.
This product was provided free of charge to the reviewer. This review is in compliance with the FTC guidelines.

Thank you for viewing
Gum drop droplet
– butt plug review page!