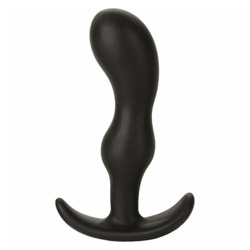 Mood naughty 2 medium
Beginner butt plug
by Doc Johnson
If This Is Medium I'd Hate To See Small......
This is a great beginner toy. It is made from a great, body-safe material which is ideal for anal play. While as a plug it might be on the small side it works good as a probe. If you want to test the waters but still stay safe, this would be a great starter/warm up toy.
Published:
Pros:
Great material. Professional & informative packaging
Cons:
Design makes it unsuitable for long term wear, Very small for a medium
-Packaging-

Having had previous experience with the mood naught range I knew the kind of packaging to expect. The "Mood Naughty 2 Medium" from Doc Johnson arrives in simple but stylish packaging. It arrives in a cardboard box with a plastic insert. There is a window at the front where you can see the whole toy straight away which is nice.

Upon closer inspection the toy has some very useful facts and features about the toy. There is a full list of features and facts and those that apply to the toy are marked in black. This information is very helpful and often overlooked on other packaging so that was a definite plus. While packaging is not the main part of a toy, the packaging with the Mood Naughty 2 looks very professional. It is free from any pornographic imagery or seedy phrases.

-Specifications/Material-

My very first impression was that the toy was small for a size medium anal toy. It is made from silicone which is ideal for anal toys in particular. It is non porous, latex & phthalate free and can be boiled to sterilise completely. Essentially this means it won't take in bacteria during use, as you can imagine this is particularly important in terms of anal toys. The actual design of the toy is quite interesting. It is somewhere between a plug and a probe. It has a curved bulbous head and tapers down in the middle before flaring out into another bulb before finally slimming down to the neck/base of the toy. It has a shinny finish but still has a bit of drag to the touch.

The dimensions of the toy are as follows.

Overall Length = 4 Inches
Insertable Length = 3 ½ Inches
Circumference = 3 ¼ Inches
Base length = 2 ¾ Inches

-Use-

As you can tell by the dimensions this isn't a particularly big toy. There is a little bit of drag and as it is an anal toy you will want to use some water based lube with it. It is important not to use silicone based lubricant on a silicone toy as it can break down the finish.

Being somewhat of an intermediate anal player this toy didn't present a huge challenge to me. With a little bit of pressure it eased in nicely. The curve on the tip did stimulate my prostate a little bit but it was a little on the short side to reach far enough or apply enough pressure. Sitting on it and grinding up and down a little bit seems to work best for stimulation, at least for me.

In terms of actually wearing it long term, well the wide base is comfortable and flexible so it will keep the toy from getting lost but also bend to suit your body so it won't dig into you. Where this toy falls down is the slim build and poor neck to body ratio. Previously having used the mood naughty small I know this is a problem with the range. The body is fairly slim but the taper/neck portion isn't that much slimmer than the toy. This essentially means your body can't close around it and hold the toy in place. However the toy can sit comfortably in place if you are sitting on it or wearing tight fitting underwear.

Before I used it anally my partner tried it vaginally and found it to be a decent warm up toy. Like I said it is not huge but does have a bulbous head so works of for stimulation. However it isn't really large enough to stimulate the g-spot nor is it textured enough to provide huge internal stimulation. Of course if you are going to use it vaginally make sure you sterilise it if it has been used anally as bacteria can transfer and cause infection.
Experience
-Care/Storage-

Once you are finished using the toy you have a few options with cleaning. As I mentioned above you can boil it in a saucepan for three minutes to sterilise it completely but for everyday cleaning I find warm water and soap or toy cleaner works best. If privacy isn't an issue you can throw it in the top rack of the dishwasher.

Once you are finished cleaning, make sure the toy is dry before storing it. The box it comes in will work but might be a bit bulky, particularly if you have a large collection of toys. What I use is a zip-seal storage bag. These are great as they don't take up excess room but keep the toy clean and ready for the next use.

-Summary-

Overall I am middle of the road with this toy. It isn't that the toy is bad, it just doesn't stand out. Size wise I would definitely call it a small rather than a medium. Its dimensions are comparable to a thick finger so it might work well as a finger analogue. As far as being a good butt plug? Well to be honest the neck is too thick for it to stay in place on its own so it isn't ideal. If you want to put it in for a play session and sit on it to keep it in place then it would work great.

The material is great for an anal toy and the design is interesting to look at. The bulbous head does provide some prostate stimulation which is a plus. I think of the toy more as a small probe or prostate massager than a plug. If you are a complete beginner to anal play but are looking for an affordable and safe way to try it then I recommend this. If you have a little experience then I think you will outgrow this toy pretty quickly.
This product was provided free of charge to the reviewer. This review is in compliance with the FTC guidelines.

Thank you for viewing
Mood naughty 2 medium
– beginner butt plug review page!