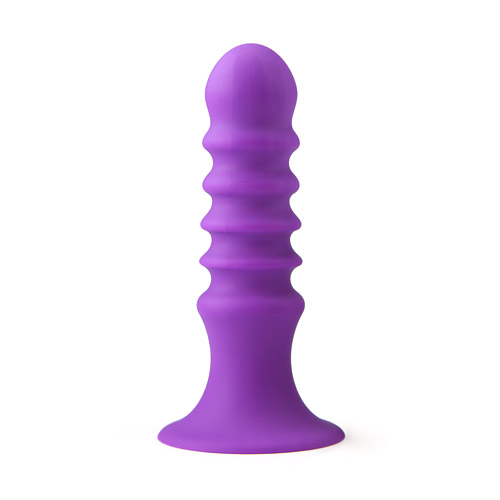 Groovy
Suction cup anal probe
by EdenFantasys
It's like a whole stack of buttplugs
It's fun, good for butt stuff where you want to slowly crank up the level of sphincter stimulation and enjoy a slow exploration of various degrees of rigidness. The material is good, it's soft enough for beginners, and you can stick it to all sorts of stuff.
Published:
Pros
Soft, good surface, lots of choices
Cons
not really good for thrusting. The suction cup might be TOO good.
This is an interesting one. When I ordered it, I was expecting something about twice as large and thus with shallower ridges.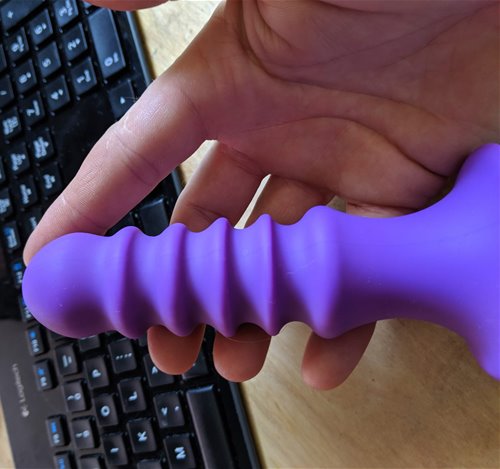 I expected it to be used mostly for thrusting, possibly while stuck to something with that robust suction cup. (Fridge? Windshield? Replica Captain America shield? Nevermind.) In any event, as you can see, it's small for a dildo, long for a buttplug, but the width isn't too big even for a beginner, and the material is quite soft,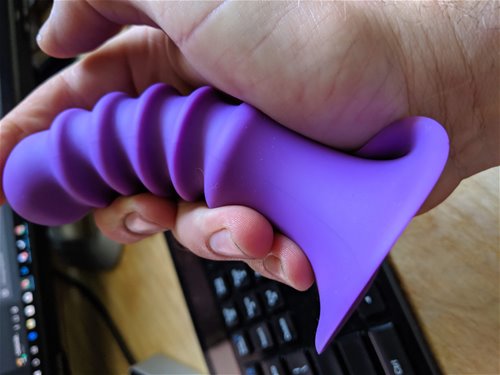 making the whole thing even friendlier to butts unaccustomed to significant traffic. That said, it's not boring, and definitely not without its very own palette of experiences.
The tip slides in nicely, that first bulb is very soft and easy to work with. This is par for the course and exactly the experience you might have with a small plug (like
this
) but where this guy comes into his own is with the next few ridges. The next four get sharper and sharper, like to the point that the last of those is almost uncomfortably sharp. I was a bit thrown off at first, but then I realized, each ridge gives you a different degree of sensation, a different experience. If you just want a little smooth bulb in there, you stop at the first ridge, want a bit more oomph in your sphincter stimulation, you move on to the next one. Even more? Keep going. Then the last ridge is very smooth and tapers to a final holding spot. I wouldn't really say it's great as a wearable, but you could if that made you happy.
What it's not for is thrusting. I tried, and it's basically like rubbing increasingly sharp ridges over your butthole (I realize that's less of a metaphor and more of just a statement, but go with me here.) You can do it, but it's more than I want in the stimulation department. There's a core of an interesting idea, but it gets distracting and vaguely painful fast. So play to its strengths. Ease it in until you get the level of stimulation you or your partner wants, play with that ridge, maybe go deeper as arousal builds, the nice thing is that you have a bunch of different stimulation options not only without going to get a new toy but without pulling out.
On to the required notes. This thing is silicone. You can bleach it, boil it or subject it to the hard radiation of space between partners in order to stop the nasty germs that might otherwise harsh ones mellow (note, I do not recommend subjecting it to the hard radiation of space. I am not a space expert. Your mileage may vary). It is a soft, smooth surface that takes lube exceptionally well (please use lube) and isn't terribly difficult to handle even if you use too much lube. The suction cup is super strong and will stick it to anything that's basically smooth. It's also harness compatible (but that seems like a call you probably shouldn't make, see thrusting comments above). I will also point out that it is theoretically possible for it to allow your multipurpose printer to fuck you in the ass. (or anywhere else you'd like)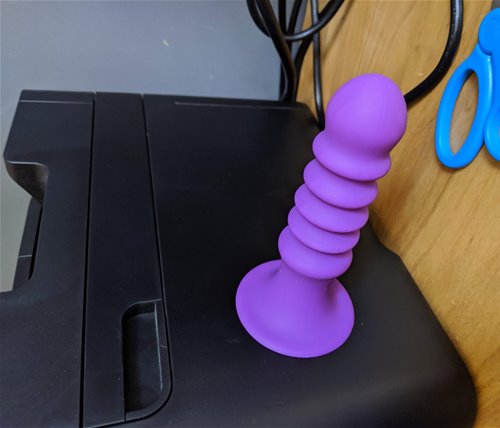 Anyway, I liked it. You'll probably like it. The materials are good, it's well designed and well manufactured.
This product was provided free of charge to the reviewer. This review is in compliance with the FTC guidelines.
Thank you for viewing
Groovy
– suction cup anal probe review page!