Kegel balls for my ass.
Good quality anal beads are few and far between, thankfully Topco had the insight to make some out of top quality materials. You get two Pyrex glass balls that fit snugly in a 100% silicone holder. Made for the advanced crowd of anal players or women that like large Kegel exercisers these two balls will provide a very full feeling.
Published:
Pros:
Silicone and Glass in one package, Comfortable for long term wear, Easy to clean.
Cons:
Smaller balls would make feeling them move easier.
Dreaded SEAM!!!
If you take a look around you will not find many good quality anal balls/beads to chose from. Most are made of low quality materials and/or have nylon strings connecting them, this does not make for easy cleaning or worry free use. I mean really, ever had a rope burn your hand? Now think of that pain on your delicate anal tissues. Not the kind of thing that promotes a good time, eh? Plus you never know if it is truly clean or not.
Well the good folks at Topco Sales have a solution to this problem, the Adammale Anal Mates Anal Balls. Made from two of the best materials around, Pyrex and Silicone, there is no question they can be fully sanitized and there will be no rope burn for your ass. The Pyrex balls are hand made and like the silicone they can be boiled, bleached (10% solution), top racked in a dish washer or hell, you can even stick them in an Autoclave if you had one. Of course some anti-bacterial soap and water works too. Even better is that the balls come out of the silicone so you can make sure to clean them good.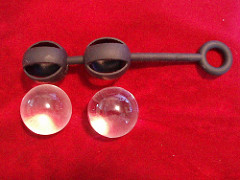 So what do you get? Well for starters when you open the shipping box you will find this-
on the front and-
on the back.
Maybe not the most discreet and not the best for storage but it does get it to you. On the back there is some info on the materials and care instructions as well as company info.
Now the first thing I noticed is that they are NOT the size stated (at time of writing) on the EF site. They list them as 1 1/4" diameter-
Clearly they are bigger. (EF does have the circumference right but I never look at cir.) A half an inch bigger and that's just the balls. Add in the silicone and it goes up another 1/8", so overall they are 1 7/8" diameter. So basically these are anal beads for size kings and queens. The two balls have a 1/2" gap in between to give a resting point for your ass. This gap and the tail/string/cord is 5/16" in diameter, the tail is 3 1/2" long. At the end of the tail there is a 1" diameter ring for safety and retrieval purposes. It may seem a bit to small for some but I never even came close to getting the ring to touch my ass.
You see, the two balls and the "rest" area add up to about 4 1/2" of insertable length, coupled with a whopping 1 7/8" diameter, it was all I could do to stuff them inside! Even after wearing them for an hour they still would not go in any farther. Furthermore, they did not move around much, that is, I did not feel them "clunking" into each other. This was one of my only complaints with this toy. If they were smaller, say 1 1/4" diameter there would be more room to move around and thus provide more stimulation. Instead they are more like a super comfy plug, they provide that full feeling and are super duper comfy to wear. A million times better than any plug I own. In fact if not for the full feeling I may not have noticed they were there. That is until I start doing Kegels, then they can surly be felt. They do not try to come out so there is no trying to hold them in but I can feel them pressing against my prostate and rectal area.
I used both water and oil based lubes with these balls. Silicone lubes may not be compatible with the silicone material so spot test first if you want to use it. I will say that the oil based lube is better for long term wear as it does not dry out as fast. The water based lube works better for ease of insertion. Speaking of that, warm up is a must! Well, they are balls. There is no tapered tip to help out, you have to 'stretch' first, usually with something bigger. I start with my Ryder plug them use the Pure Plug 2.0 to get up to size. After that they go in pretty easy.
Don't forget that glass is great fr temperature play, warm them up or cool them down for some extra stimulation. Avoid extreme temp changes and high heat for safety's sake.
Experience
Well for my first set of anal beads I am pretty happy with the Glass Mates. Even though they are bigger than expected and that seam they are still fun to use. I have read that folks like to pull them out at time of climax but that just was not going to happen, even if I tried. The anus relaxes to a small 5/16" diameter tail, I'm supposed to pull almost two inches out just like that? Um naw, I don't think so. They work just fine for me tugging on the tail to get a little extra P-spot stimulation. Maybe if I was pulling them in and out before hand it might work but even then my ass clamps down like a vise when I come so I still don't see it happening.
Now we come to the time where I tell you about my only other complaint...the FLIPPEN SEAM!!! WTF peoples? This is a anal toy for Pete's sake, trim that *&%@#* seam damnit. Even though the silicone is somewhat soft it is backed by hard unforgiving glass. After my first attempt to get them in I had to stop and go get a mirror to make sure nothing was scratched. Ya it hurt!
Just look at this-
That seam runs along both sides of the balls and tail. At least I was able to trim it down with a good sharp razor blade. Still, I could scream bloody murder ever time I see seams on toys from the good companies out there. I would gladly pay more to not have that seam.
So in the end I am giving these four stars. If not for that seam it would be a solid five star toy.
I would say that this would also make a fine Kegel toy for women, if a large exerciser would work. The wife was not about to attempt them due to the size so I can only speculate on its use there. They are weighty and you could add some more weight if needed. I guess you could use just one ball as well.
This product was provided free of charge to the reviewer. This review is in compliance with the FTC guidelines.

Thank you for viewing
Adammale toys glass mates anal balls
– anal beads review page!