Medical Discovery: Eggplant for Prostate Health
The Joyful Plant is a beautiful and unique design for a prostate massager in the shape of a small Asian eggplant. While the shape is functional, an overall larger sized toy would have made the design more successful and alleviated safety concerns. Regardless, this toy is a worthy addition to any glass enthusiast's collection purely for its aesthetic value.
Published:
Pros:
Tempered glass,
Beautiful design
Cons:
Small,
Possible safety issue
As a vegetable (okay, technically it's a fruit), doctors have long recognized the health benefits of the eggplant which includes being loaded with fiber and cancer fighting antioxidants. With the introduction of the Joyful Plant, Joyful Pleasure adds prostate health to that list. This petite eggplant would be appropriate for beginners while the sheer beauty is sure to appeal to glass enthusiasts of any experience level.
Joyful Pleasure has cultivated a small, slender eggplant made of medical grade tempered glass. The surface is completely smooth which means it glides effortlessly with just a dab of your favorite lube. The glass is not tinted but colored pitch black, which adds to its simplistic beauty. There are no defects, imperfections, or bubbles in the glass. As a sex toy material, tempered glass is extremely hard and can be unforgiving in the hands of the inexperienced. However, the rigidity also means that you can use the toy to apply firm pressure. Another benefit of glass is that it can be used for temperature play. Warm it in a bowl of warm or cool water for a few minutes to take it to another level. The packaging states that you can microwave the toy to heat it. I would not recommend this as the microwave can overheat the toy or heat it unevenly, potentially leading to injury.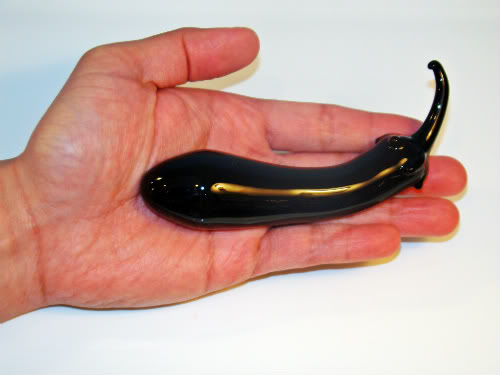 Please note that since these glass beauties are each hand blown, there may be individual differences from one product to the next. The Joyful Plant has an overall length of 4-3/4" with an insertable length of approximately 3-3/4". The toy has a maximum width of 1-1/8" (3-3/4" circumference) and tapers down to 3/4" (2-1/2" circumference) at the neck, which should be appropriate for beginners on up. The tip is slightly tapered and allows for easy insertion. Given the short insertable length, the Joyful Plant may not reach all prostates depending upon personal anatomy.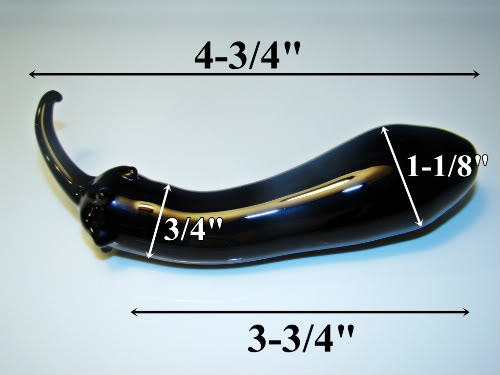 The base of the Joyful Plant consists of the eggplant cap and stem. The cap is composed of 6 "thorny" protrusions. While these protrusions aren't really thorny, they do act as anchors to prevent the toy from being completely sucked into your rectum. They anchor comfortably and are effective for the most part. For safety evaluation, I tried to force the toy in beyond the anchors and it was possible but was also pretty uncomfortable. I don't think there is a high chance of accidentally pushing the toy in all the way with overzealous thrusting. You'll definitely know if it's going in too far. Despite the anchors, I did not feel comfortable walking around with the toy as a plug. During use, I made sure I kept a hand nearby ready to grab the stem at all times just in case. The lack of a true flared base and the short length make me somewhat hesitant to recommend this to beginners. However, I still think it would be worthwhile with appropriate precautions.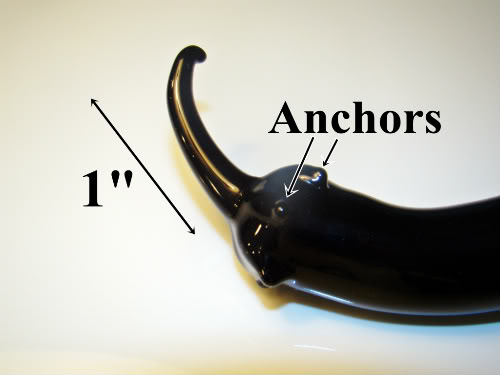 The stem/handle is just over 1" in length and has a slight curve to it. The curve helps with getting leverage on the toy. I consider myself to have somewhat smaller hands and fingers and I still found it a challenge to really manipulate the toy given its overall tiny size. I found that lube also got onto the handle easily which further adds to the challenge. Lube and glass make for one slick combination. The size of the handle also makes me a little nervous that too much pressure could snap it. However, tempered glass is quite resilient and so this really should not be an issue.
The widest section is nearest the tip and provides a lovely pop as it passes your sphincter and it slides effortlessly down to the base. There is a subtle curve near the base that serves to angle the bulb of the toy up towards the prostate. While inserted, the toy only applies broad, mild pressure on the prostate. The toy can be thrust gently to provide a stroking sensation to massage the prostate. Downward pressure can also be applied to the curved handle to apply more upwards pressure onto the prostate directly.
My wife also attempted to use the toy vaginally just to see if it would work. Unfortunately, it's just too short to reach her G spot and the width is much too small to provide any pleasure. It may work for women that have an extremely shallow G spot, but there are much better glass alternatives available for that purpose.
Experience
Tempered glass is among the easiest of materials to care for. Sanitize by boiling in water for 3 minutes or by using a dilute bleach solution. Routine cleaning can be accomplished by using your favorite toy cleaner or an antibacterial soap and water. Be sure not to use anything abrasive that might scratch the beautifully smooth surface. Glass is compatible with any lube and typically only requires a small amount given that the material is smooth and non-porous. As with all glass toys, be sure to inspect it before use for any cracks or chips that may make it unsafe for use.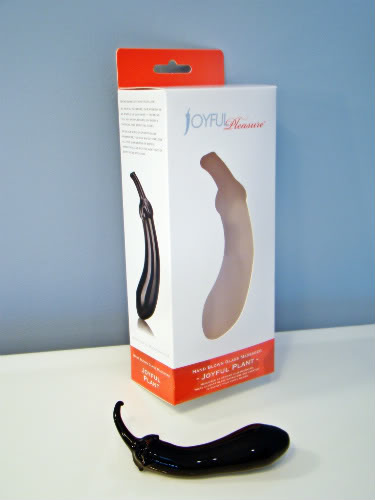 The Joyful Plant package is tasteful but not completely discreet. While it doesn't display nudity or scream sex toy, it clearly displays that the product is a massager and that it is "Created to satisfy your every desire." The box is made of cardboard and also includes basic information regarding the toy. Inside, the Joyful Plant is nestled securely in a plastic shell to protect it during shipping. The box would be suitable for storage, but a beautiful piece of art such as this deserves to be displayed. I keep it displayed on a shelf next to my other glass and steel toys.
Honestly, I accepted this assignment purely for the aesthetic value. I loved how beautiful and unique the design was and wanted to add it to my collection. As a toy it's effective but probably won't be my first choice given the size. It would be much more effective as a prostate massager if the overall width and, more importantly, length were greater. A larger toy would be easier to leverage for more prostate pressure, would somewhat alleviate safety concerns, and would also allow it to be used vaginally. Still, I think it's worth trying and certainly worth having as a unique addition to any glass collection.
Follow-up commentary
3 months after original review
While I'm still glad that I own this toy, I don't realistically use it due to its small size and inability to be used as a hands-free plug. A more realistically sized toy would have been preferred. However, its still a beautiful piece of glass and I display it proudly.
This product was provided free of charge to the reviewer. This review is in compliance with the FTC guidelines.

Thank you for viewing
Joyful plant
– prostate massager review page!