My aluminum lover.
The Dai-Do #1 is one of the most beautiful dildo's I've ever used. I'm obsessed with this one. I could not wait to write a review on this. It is made of aluminum. It also has a little weight to it. It has a smooth texture and is perfect for G-spot stimulation. You can use this anally and have some fun with temp play. I would not recommend it for beginners because the girth maybe too much. For more advanced users, they will find the girth to be very filling.
Published:
Pros:
Girth, Weight, Bleachable, Storage pouch included, Made of stainless steel, Beautiful,
Cons:
Girth maybe to much for some.
The Dai-Do #1 by Big Teaze Toys is by far the best dildo I've ever used in my life. I've only had it for a couple of days, and I'm already obsessed with it. I keep thinking Oh my goodness! Where have you been all my life, I almost feel as if I'm only going to use steel toys. I can not wait to try everything else on Teaze toy line.
When you receive the Dai-do, it comes in this pretty black box that is wrapped in plastic. When you remove the plastic, the box is very sleek and exceptionally beautiful.

The packaging is not overwhelming or bulky and large. The box does have some reliable information on it; the box is perfect for storage. You get a little booklet that has some information on other items that are offered from the same place. You also get a pretty little black storage pouch. The Dai-Do itself is sitting inside of a velvet lined paper crate. I kept the crate so when the toy is in the box it is fully protected.

Now, let's talk about the dildo itself. The dido itself is made out of stainless steel, aluminum and silicone. The body of the Dai-Do is utterly smooth, no rough edges or sharp ends. The whole dildo is made up of aluminum; the ban with the logo is made up of stainless steel and silicone. Majority of it is stainless steel. The Dai-do is in total length of 7 1/4" and insertable length: 4 ½ inches. It is pretty heavy weighting in at a pound. If you are a bigger than maybe this toy could be too large in girth, it has a girth of 1 7/8th. This is the only toy I have that has this girth. I loved it; I found it to be very filling. The Dai-Do has no give to it at all. You cannot bend. Which can be a problem, if you like thrusting.

I would recommend that you be VERY careful when using this toy for that reason. You could hurt yourself, or possibly cause some bruising to your cervix. The Dai-Do has a bulb rounded heat that is perfect for g-spot stimulation. You can use either end for penetration if you want. I did not use the toy anally, but I feel it is totally safe to use this one anally. The bubbled head is the perfect size for a handle.
When playing with the Dai-Do you can use it in the shower, or bathtub. You do not have to worry about water damaging this toy. You can use it with water, oil and silicone based lube. So depending on who you are and what you want. You have many options when using this toy. When cleaning this toy by Boiling, soak in bleach and water solution or place it in the dishwasher. I would recommend only using a 10% bleach solution. I did not try anything higher. You can store it in the toy pouch that is provided, or you can place it into your own toy box. Storing this toy is extremely easy. It does not require much work, nor space. When sharing this with a partner, you do not really need to use a condom because it can be bleached. I still recommend using a condom. I just feel it is better to be safe than sorry.
The colored coating does not look nor does it feel as I will have a problem with chipping. The Dai-Do does not have any texture. It only has some texture that is at the bottom of the handle. The texture is just the silicone logo. The silicone is lined with aluminum, and the aluminum is sealed so that you do not have to worry about water getting on the inside of the toy. I've had some toys that had a cover, but it was not fully sealed. The presentation of the toy not only in its box is perfect for gift giving.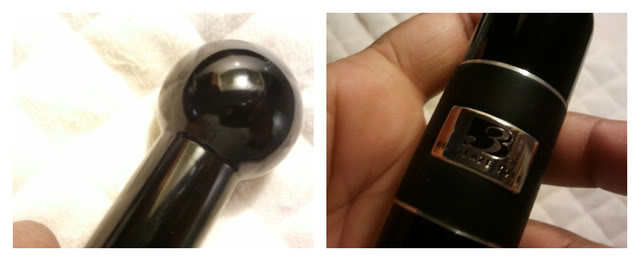 Experience
Continued...
The Dai-Do is perfect for temperature play. You can chill it by putting it into the freezer, or placing it into some hot water. When playing with temperature I'd recommend using caution. You would not want to cause some discomfort for you or your partner. This dildo is perfect when paired up with a bullet vibe, or another vibe. I used mine with the high intensity bullet. It holds vibration very well. It does cause it to be a little loud, but the vibrations are very well felt. The Dai-do is also perfect for kagel exercise, because it is a pound in weight. It does feel a little heavy in the vagina, which is perfect because it gives you something to try and hold onto. You can only do the exercises with this in the bed, unlike other kegel exercises that you can do when walking or cleaning.

I plan on using this to help with my vaginismus, to workout my pelvic floor muscles. I personally love the weight of the Dai-do. When you are using the widest part, which is the head. It can give you this sort of "popping" effect. I'm not extremely sure how to explain it, but when you pulling it out it feel as though something has kind of popped out. My boyfriend enjoyed pulling it out. If positioned right you can hit your g-spot, I personally had a hard time hitting my g-spot with it. Maybe someone else could reach it, or with a little more practice on my end, I will be able to reach it with this toy.

This product was provided free of charge to the reviewer. This review is in compliance with the FTC guidelines.

Thank you for viewing
Dai-Do #1
– dildo sex toy review page!