One for brave Anal Players
While I was drawn to the design of the Rascal Rim Raider and it did deliver in terms of shape; the material is questionable and overall quality isn't there. Between the raised, visible seam and the smell that makes me wonder: I don't think that even the stimulating shape can quite redeem this toy for me.
Published:
Pros:
Large, curvy and stimulating, adequately flared base.
Cons:
Has a smell and quite noticeable seam.
Packaging:
While I had read the rather large dimensions of the Rascal Rim Raider online when I had decided I just had to have it, no list of online measurements could ever prepare me for the impressively large plug that I saw upon my first time laying eyes on it in person.
Arriving in clear plastic with a sturdy paper surround, the plug which sits in the middle of the packaging grabs your full attention with its bold build.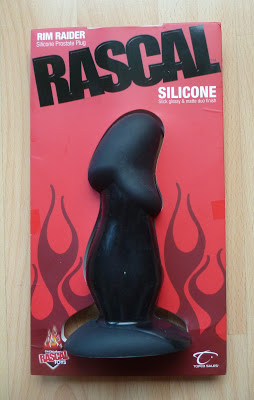 The front of the packaging describes the plug as having a slick, glossy and then matte finish, a duo of textures.
The back of the packaging accurately lists its measurements and some of the plugs features.

First Impression:
Apart from being both impressed and intimidated by the size and shape of the Rascal Rim Raider, I was also surprised by the presence of a smell on its arrival. Listed on its packaging as being 100 percent platinum cured medical grade silicone; a smell isn't something that I would expect from silicone unless it is a silicone hybrid trying to pass for pure silicone.
This smell while it is noticeable isn't as strong, sharp or unpleasant as the smells you get from jelly or Silagel toys but it is still an unwelcome and worrying addition for a silicone toy. It has a sweet quality to its smell and after washing it in warm water to see if the smell would dissipate; the warm water actually reactivated the smell and made it stronger. Having held on to the plug for a couple of weeks without using it since, I can say that the smell has faded somewhat though is there if you smell it closely.
The shape of the Rascal Rim Raider is everything I had hoped for with lots of curves and a head that promises to stimulate some but be too much for others. Its size and shape combine to make quite an intimidating toy for anal use and I found myself grateful that I can use it vaginally as both myself and my male partner took one look at this and opted out of using it anally.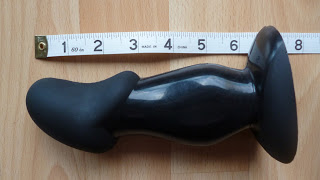 Measurements:
Total Length: 6 ¾ Inches
Insertable Length: 6 Inches
Circumference: 4 ½ to 6 Inches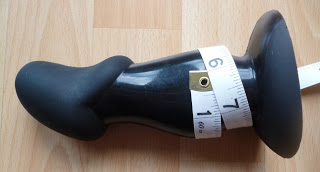 In Use/Experience:
With its larger size, pronounced head curve and matte finish - lube and quite a warm up were in order for this to be comfortably managed even when used vaginally. The round head of the Rim Raider is more manageable and then it quickly tapers out for a stretching sensation right from the beginning of insertion. The full length of the Rim Raider then tapers in and out in a series of curves so that even very slowly inserting it is a highly stimulating experience. The flared base of the plug is easy to grip on to and the seam which is very visible (and raised/very easily felt by running your hands along the toy) is luckily not once felt inside.
When thrusting, the unusual shape and differing textures or finishes of the toy can make things difficult. One side of the plugs head was a little too pronounced for me (and I'm usually quite the fan of heavily pronounced heads) The matte finish on the thick head and glossy finish on the slimmer shaft mean that the difference in girth feels exaggerated by the heavier friction and stimulation of the matte head.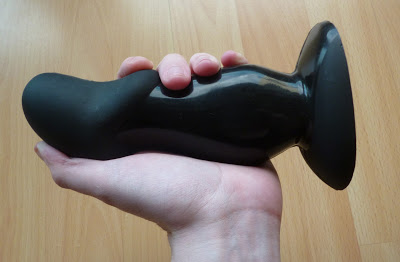 As each side of the head features quite a raised curve; it can be used for G-spot stimulation and works equally well no matter which way to choose to face the plug.
While neither of us were brave enough to attempt the Rim Raider anally: it does have an adequately flared base for safe anal use and would most definitely suit anal size queens (or Kings). It having worked well for G-spot stimulation indicates that it should well come through on its promise of prostate stimulation too.
Material/Care:
While it is listed on its packaging as being made of 100 percent platinum cured medical grade silicone, I had my doubts when I first removed it from its packaging to find it had a smell (really not typical of silicone toys) With my doubts over its material I'm glad that for me at least it is not a toy I intended to use anally, for those who do want to use it anally it is worth considering that the silicone is questionable.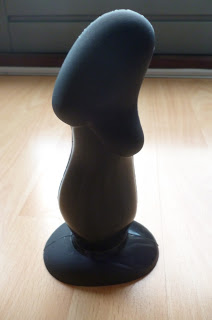 This content is the opinion of the submitting contributor and is not endorsed by EdenFantasys.com

Thank you for viewing
Rascal silicone rim raider
– butt plug review page!