Oooh Lolli Lolli Lolli....Lollipop!
This toy is very large but exceptional for those who appreciate that sort of thing! The ribs are smooth and while they are noticeable they flow together so as not to cause irritation to sensitive tissues. While I prefer this one for vaginal play it is still great for those users who prefer larger anal toys. All around it's a pretty darn good toy for the price.
Published:
Pros:
Large sized, smooth, great vibrations, pretty color
Cons:
Large size! Could be made from better materials
When I first saw the Lollipoppers by Doc Johnson I was intrigued. They look so very cute and user friendly in the pictures on the site. I was all "awwwwwwwww" so I didn't bother noticing that they were, in fact, anal toys. This was during the beginnings of my anal exploration and I had a few extra bucks so I bought the
Smooth
and the ribbed versions.
I was sitting and just staring at them both when Sigel got home the evening they arrived. I looked up and said, "These are anal toys!" He backed away and said, "Not for ME they ain't!"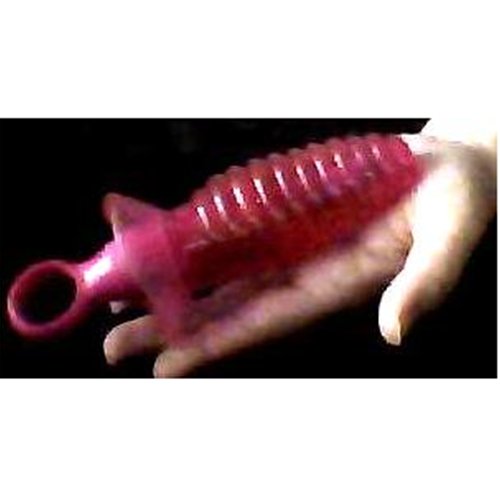 As you can see this is NOT the cute little toy it appears to be from the pictures on the site! So you can consider yourself warned!
Ok so brass tacks: The Lollipoppers Ribbed measures in at 7 inches in total length with 4 inches being insertable. The longer handle means there is less likelyhood that the toy will disappear on you should you decide to try it anally. It has a great ring on the end of the handle for easy play.
The girth of the toy at it's widest measures 5.50 inches around! Which is why my butt was like, "Get out! No way!" It tapers a few inches down to 3 at the blunt tip of the toy so it starts out at challenging for my bum. My vagina, however, is a size queen and was singing the praises of this toy pretty damn near from the beginning.
The lollipopper is composed of TPR so it's not quite 100% non-porous though it is hypo-allergenic, latex free, and phthalates free. If you plan to share this baby you really would be wise to cover it with a condom. Likewise if you want to use it both anally and vaginally. There are things in your anal tract you just don't want growing in your vagina!
The TPR is smooth and holds lube well and the ribs are even in width and girth so they won't cause painful stretching or irritation if the toy is thrust either anally or vaginally. I have found that the ribs are easily felt vaginally and stimulate my G spot easily. It should be mentioned that my G spot is an attention whore and easily stimulated so if yours is shy or takes quite alot of stimulation you might not be as pleased with this toy.
Any type of lube is fine to use with this product just remember that oil based lubes are not vagina friendly.
The area just before the base of the toy tapers to 4 inches and is wide enough that it provides a good resting point for the sphincter. The base of the toy measures a little over 2 inches across but is designed in such a way that it would be a major feat for your bum to swallow this toy whole! Vaginally this soft and flexible flange vibrates against the labia and clitoris (if you sort of work it around to reach your clit) providing just a bit more sensation.
Speaking of vibrations, the Lollipoppers is a traditional twist dial vibrator that allows the user to customize the level of vibrations she/he desires! They start out vigorous and easily felt in the tip of the toy and then radiate up the shaft to the thin flexible flange of the base. The vibrations are most mildly felt in the handle. The vibrations start out fairly deep, but are still felt on the surface of the toy rather than deeper in tone. They ratchet up to a high pitched, vigorous and very surface buzzing that is still most easily felt in the tip of the toy. At the highest speed it can cause your hand to go numb so clits of steel rejoice!
Personally, I like very buzzy vibes when I am inserting them and this one is at the top of the scale of easily felt high pitched vibrations.
The toy is not, however, a jackhammer in terms of sound. It is just about solidly middle of the road, it can be heard easily in the room but only very barely outside a bedroom door when it is laying on top of the blankets.
When the toy is inserted it is muffled quite alot but your partner or roomate will probably still be able to hear it.
Experience
This toy takes 2 AAA batteries and they are slid into the body of the toy after you untwist the handle top. The batrtery housing is clearly labeled and the top twists on until you hear it connect fully. It is not easy to knock the handle and increase or decrease the vibration speed during play but when you turn off the toy it is easy to pop off the top! Since it's always better to remove the batteries after play I really don't see this as a drawback unless you are interrupted during play and now you're fumbling with the lid... The batteries, however, don't fall out easily so at least you won't be chasing them all over the bed!

Obviously this toy cannot be boiled or washed in the dishwasher but you can use a commercial cleaner, a 10% bleach and water solution or a thorough washing in soap and hot water. The toy is not waterproof so some care should be taken while washing.
Store out of direct sunlight and away from other softer jelly or TPR toys to prevent interaction. Also store out of direct sunlight to protect the lovely color from bleaching out and the thin TPR from melting.
The toy arrives in a simple clear plastic blister pack with a busty blonde on the paper insert. it's not great for storing the toy but it is recyclable.

Now, with all that being said I don't want the reader to get the impression that I don't like this toy. Far from it, it's actually one of my favorites! Now I don't use it for anal play, mind you, but I do use it for vaginal play. I have learned that my butt prefers smooth toys and can take rather large ones but if there is any texture to the toy forget about it, definitely no go! My vagina, however, LOVES all things texture so in the end it worked out quite well. I have a great anal toy and a great vaginal toy and it's easy to tell them apart!
Follow-up commentary
8 months after original review
While it is still too big to be used unless I properly warm up to it, it is still one of my favorite toys for anal play. The vibrations are amazing and can turn any other plain plug into a vibrating dynamo.

The TPR is still clear and unclouded despite frequent washing, and the motor is still pumping out the vibrations. It doesn't guzzle batteries and the ribs feel amazing once I have warmed up to the size.
This content is the opinion of the submitting contributor and is not endorsed by EdenFantasys.com

Thank you for viewing
Lollipoppers ribbed anal plug
– vibrating anal plug review page!