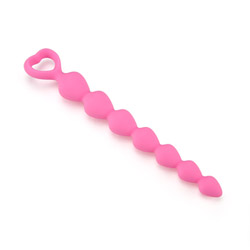 First love
Anal beads with loop handle
by EdenFantasys
"Pop!" Goes the Anal Beads
First Love Anal Beads is the cutest strand of anal beads you will ever find. With its unique blend of solid beads and flexible, silicone connecting material, these beads offer a comfortable anal experience. For any beginners, this toy is a great way to explore your back entrance. Adding this sensation to vaginal intercourse or clitoral stimulation could make good sex into something explosive. Though I am not a huge fan of anal beads, I still find this toy pleasurable.
Published:
Pros:
comfortable, body-safe, cute
Cons:
n/a
First Impressions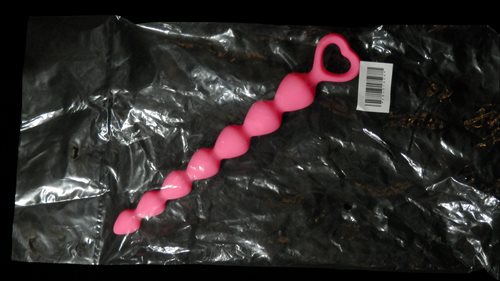 Upon removing the plastic packaging, I was struck with how cute these anal beads looked. The color is blush pink, the surface is a smooth silicone (click
this link
to learn more about silicone), and the handle is in the shape of a heart! While I would consider myself relatively experienced in anal play (I regularly use dildos and large anal plugs), I appreciated how cute and non-threatening this toy is, definitely a good pick for anal novices.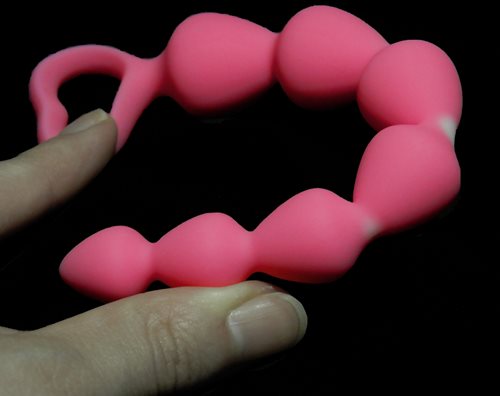 When I used this toy for the first time, I was impressed by the balance of rigidity and flexibility. Each bead is solid and unyielding. However, the material connecting each bead allows for great flexibility. I noticed that when I bent the chain of beads in half, I could see the connecting material turn white under the stress of being stretched. When I let go and let the beads return to their normal shape, the color immediately returned to the normal pink shade and no permanent deformation to the material could be seen.
Details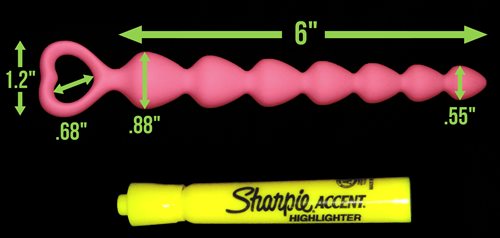 There are seven beads that increase in size from tip to handle. Each bead is tapered so the tip of the toy is very easy to insert. Since the largest part of each bead precedes the thin connecting material as the strand slides into your ass, you can distinctly feel the "bump" of each bead as they are inserted. The handle is heart-shaped and bigger in width than the largest bead. So, even if your grip on the toy slips, it is very unlikely that this toy will get sucked into your asshole. The handle is quite small. I have fairly tiny, feminine fingers and I can just barely fit my thumb through the handle. There is a small amount of flexibility, so a person with bigger fingers would likely be able to fit at least one finger into the handle. However, you do not need to exert much force to insert or remove these beads, so a single finger will do the trick.
To clean this toy, you can use warm water and antibacterial soap. I store my toys in separate, microfiber bags, just to make sure the silicone does not
react with other materials
.
Product Comparison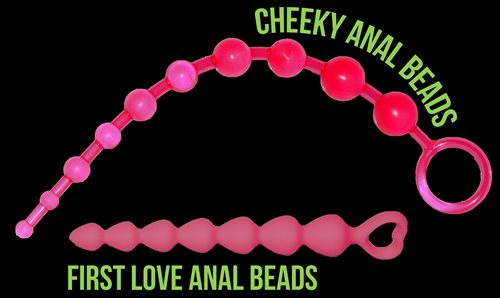 I own the
Cheeky Anal Beads
in addition to the First Love Anal Beads. Comparing these two toys is like comparing night and day. The Cheeky Anal Beads are made of Phthalate Free PVC. Since I prefer body safe, silicone toys, First Love already had a point in its favor. I found the Cheeky Beads uncomfortably rigid, while the First Love Beads offered nothing but comfort. The first bead on the Cheeky strand was much smaller in diameter and the beads were spaced much further apart than those in the First Love strand. This meant that I would need to insert a longer length of the Cheeky toy into my bum to reach a bead diameter that was actually pleasurable. I found that the discomfort outweighed the pleasure for the Cheeky toy. This was not the case with First Love. Even inserting the first bead in the First Love strand provided an enjoyable sensation.
Experience
First Use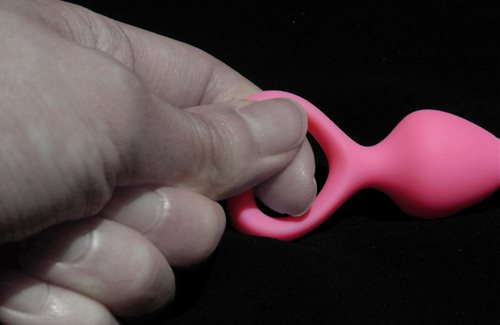 To prepare this toy, I pumped a generous amount of water-based lube onto the beads, making sure each bead was coated. After prepping my ass by inserting a lubed finger into my back entrance, I was ready to insert my anal beads for the first time. Initially, I was a bit worried that the process would be very messy as I inserted each bead individually and got lube all over my fingers. However, I found that the rigidity of the beads allowed me to hold on to the handle and push the beads into my asshole from there. I was able to get the needed leverage while holding just the handle.
Since I am used to 1.5 inch to 1.75 inch toys in my ass, I wasn't expecting the sensation of anal beads to feel all that pleasurable or noticeable. However, as mentioned before, the shape of the beads allowed me to feel the pop of each bead as they slid into my ass. Those who enjoy satisfying tactile feelings like popping bubble wrap will likely find similar satisfaction in inserting these beads.
On my first attempt, I was only able to insert about three beads. I find that sometimes, when I haven't had a bowel movement recently, I will not be able to insert objects deep into my ass. While I did not encounter any fecal matter, I was met with resistance when I tried to insert the fourth bead. I decided to remove the beads, go to the bathroom, and try again later.
On the second attempt, the beads went in easily. When all of the beads were inserted, I felt deliciously full. If anything the long length was a bit uncomfortable, but I just took this as a sign that I needed to slow down. I would warn users to not force the beads further than your ass will allow - relax, take your time, and allow the beads to go in if and when they want to. You can cause discomfort or even damage otherwise. I loved the feel of the beads as they popped out of my ass. In the same way a vibrator sends vibrations to surrounding areas, as I removed the beads, I could feels ripples of sensation radiate out to my pussy.
Overall, I was impressed by these beads. I found them surprisingly pleasurable and comfortable for anal beads. However, I have come to realize that anal beads are not for me. I prefer the weight from anal plugs or the girth of dildos to the popping sensation of this toy. First Love is the perfect rib eye steak to someone who prefers fish; they are extremely well-made anal beads for someone who is apparently not a huge fan of anal beads.
This product was provided free of charge to the reviewer. This review is in compliance with the FTC guidelines.
Thank you for viewing
First love
– anal beads with loop handle review page!