Rattly, heavy and lovely.
I loved the weight and the rattle was surprisingly arousing when walking around or moving a lot. The sterilizable material makes it shareable and very versatile. Unless you want to wear it for hours or don't want to get your finger inside your partner (or yourself) to get it seated properly then this product is definitely a recommend. A lovely little bit of variety for the toy drawer
Published:
Pros:
Solid, nice material and a good surface texture
Cons:
Heavy, a bit fiddly compared to beads on more flexible strings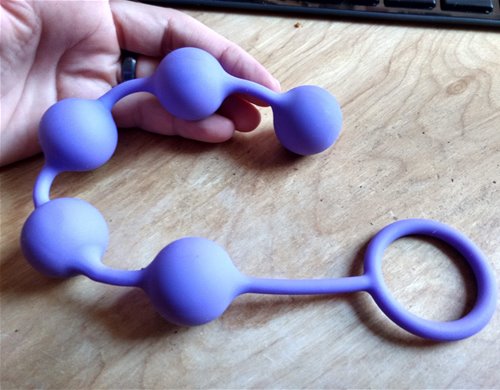 These are somewhat velvety (but still smooth) silicone covered balls that are completely uncompressible (as in hard, and they seem to have similarly hard beads inside that are about half the size of the outside balls. To put it more plainly, this is five hard balls with rattly bits inside held together with silicone that is soft, squishy and matte. They're a perfectly reasonable size for either anal or vaginal use (do be sure to sterilize before changing modes) and they hold lube well. They can be a little counterintuitive to insert because of how the silicone between the balls can bend, but not compress.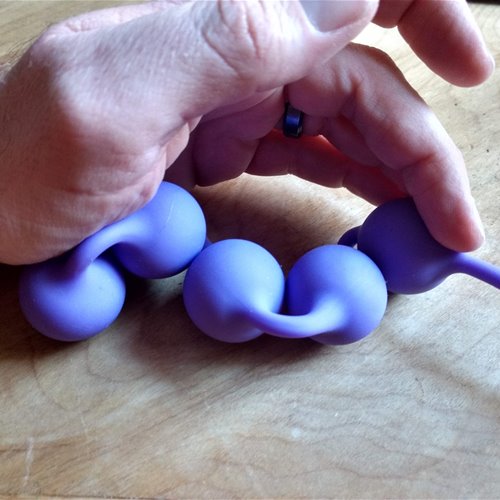 They have a tendency to stack up wide rather than deep if you just poke them in one after the other. I found that you had to make sure the previous ball was in at least two knuckles before adding a ball. That can feel like a lot of depth, but if you don't do it then they tend to cluster near the opening and not push further in. That said, the whole thing is squishy and easy to bend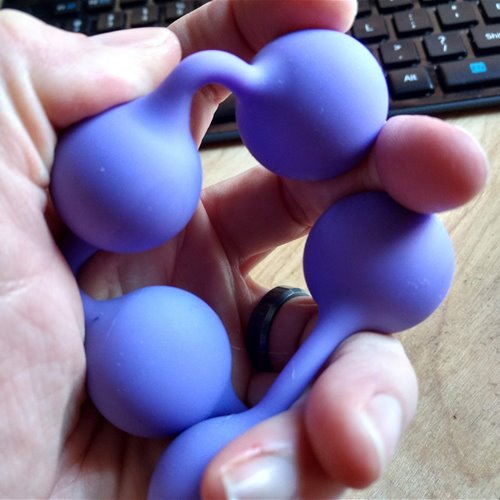 You might even be able to wear the thing as some kind of crazy rattly cock ring, but you'll have to be pretty big to get any compression and while it's bendy, it's not stretchy at all.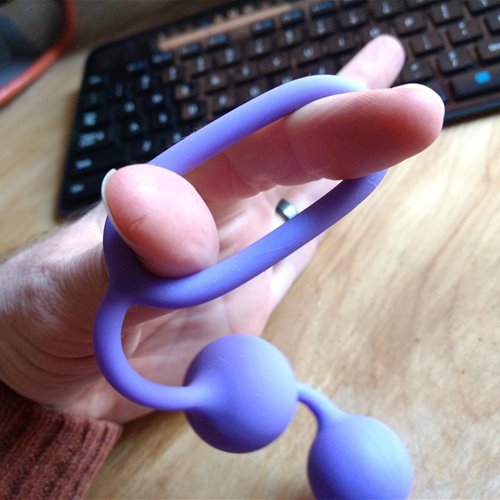 The rattly balls are actually very noticeable when you're moving around. It's not a moving towards orgasm feel, but it definitely lets you know that you've got five rattly balls wherever you stuffed them (full disclosure, my butt, her vagina. She hates the feeling of anal balls, but loves stuffing things in the vagina). The downside is that they're really quite heavy. 5 1/4 ounces on my scale, and that doesn't seem like much, but they really press on the internal nerves and therefore after about 10 minutes of having them in I really felt like it was time to push them out. This isn't the case with lighter anal plugs.
When you're not moving around the rattle doesn't come into play. You really have to either walk or roll significantly to feel the motion. That said, we used them in a standard bed bound play session with the wife, stuffed them slowly into her vagina and kept another vibrator on her clit and she finished remarkably quickly. I'm of two minds about the reason, the progressive filling and insertion of fingers to keep the balls from packing up around the entrance, or the weight making everything feel very full. Either way, satisfactory session, will definitely try again.
It's made of body safe sterilizable silicone (do sterilize between partners or orifices), and is thus in the top echelon of toy safety. The ring is wide enough to probably prevent it getting lost in the anus, but I would be safe and not push the last ball in very far. Or if you're paranoid, don't put the last ball in at all.
Finally, the packaging.
I love it. Super easy to open, low waste (I hate the giant boxes and plastic inserts) and if someone finds it in your trash it just looks like you bought some bit of computer equipment. Perfect packaging.
Experience
The wife was ready to go and up for an experiment so I started off with a vibrator on her clit and slowly poked in each additional ball as the experience went on. Her level of arousal was off the charts and she came quickly after I put the last ball in. Was it the weight, the unfamiliar configuration or the rattle? Who knows, maybe it was all of it. Nice evening, any way you slice it.
This product was provided free of charge to the reviewer. This review is in compliance with the FTC guidelines.

Thank you for viewing
Vibro balls
– anal balls review page!