Rumblebuttplug
This is a great idea that unfortunately falls short. Not only is there a less-than-perfect mix of silicone (yay) and plastic (boo), but it can be a little uncomfortable to use, too. On top of that, the internal ball takes a little work to move around. It's definitely not for couch potatoes!
Published:
Pros:
Small, Unusual, Good for any gender
Cons:
Can be uncomfortable, Plastic stem, Pronounced seam, Takes work to make the ball move
Being something of a fan of anything that makes anal play erotic, Dorcel's Geisha Plug definitely caught my eye when EF recently started carrying it. I did my usual research and decided to take a chance, even though my wife and I have tended to lean towards mid-to-higher end toys over the last year or so. Still, the low price tag and unusual design meant that this was worth trying out.
When the plug arrived I was pretty surprised by the packaging. It looked cheap and not even slightly discreet - a piece of card with plastic covering the plug itself, which was on full display on the front. If people spot this, they're either going to think it's a butt plug or a posh wine bottle stopper. I opened the packaging carefully, since I'd already read in
Mrs Hellzapoppin's excellent review
that the 'instructions' were inside this cardboard. Had I not known that, I'd have almost certainly just cut around the plug with the first pair of scissors I found.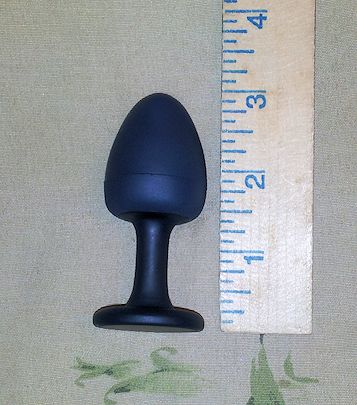 ...And baby, I've got 3" of fun always at my command
The plug itself feels nice enough. It's 3" long and shaped somewhat like an acorn on a stem. And there is part of the first problem. Personally I like something that has more of a taper to it, but the lack of one on this, coupled with the almost flat base (that presses up tight between your cheeks) makes it feel as though you're almost held open a little more than you'd like. It doesn't feel huge, it's more that it doesn't feel like it's quite gone in as much as it should, which is strange because only 2 3/4" inches of the plug is insertable. The discomfort could also be because of the seam where the two (yes two) materials meet. The plug is listed as being silicone (a 10 on EF's
Safety Scale
) and is a pretty nice silicone at that, being firm but velvety with a slight drag to it. The silicone is really only half the story though - the top half. The plug's stem is actually plastic (8 on the aforementioned scale) and while it doesn't feel a whole lot different to the fingertips, it definitely feels different to me when it's inserted.
Inside the plug is the thing that sets this apart from other butt plugs and that's the 'Geisha ball' that rolls around freely inside. Now I have no idea what this ball is made of, and have read elsewhere that it is metal. It's not incredibly weighty but is heavier than I would expect a plastic ball to be, so perhaps it is metal after all. The idea of this plug is that you're supposed to feel the ball rolling around inside, almost like Kegel balls for your bum. This works better in theory than in practice though, since it takes quite a lot of movement before either (a) the ball moves; or (b) you feel the ball moving. Luckily when the ball
is
doing its thing it's not loud enough for anyone to hear unless you're in a very quiet place and they're very, very close to your backside. And if that's the case then you probably won't care that they can hear your little ball bouncing around where the sun doesn't shine!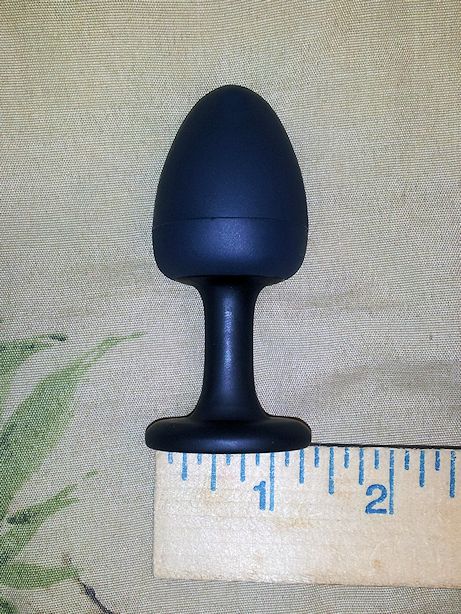 Not what it 'seams'
The plug would pretty easy to clean if it weren't for that damn seam, which is obviously a potential bacteria trap. The usual hot water and soap, 10% bleach solution (recommended) or your favourite silicone-friendly toy cleaner should be used for this. Be aware though that even without the seam, this is one of those toys that will hold onto smells, so you're going to want to give this a more thorough cleaning than a quick once-over when you're done. Just keep in mind that plastic base, since you're not going to be able to boil this plug.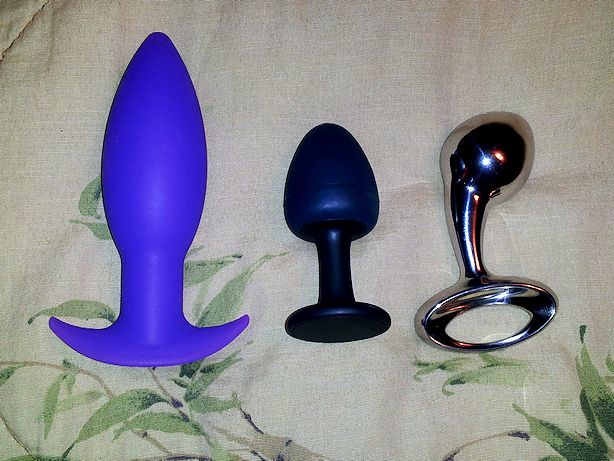 Tantus Neo, Geisha, Njoy Pure Plug Medium
Overall, it's probably worth trying at the price since it's less expensive than many silicone butt plugs. But I definitely didn't find this to be a 'plug and play' kind of toy.
Experience
Just sitting around with this plug inserted won't do very much for you. Even though the top of the plug is tapered, I found that it took a fair amount of lube to get it inserted (more than most of my other plugs, actually). Once inside, the plug just sits there - it doesn't move around but nor does it feel as though it might pop out. I knew that I'd need to get up and move around to feel anything so tried walking around the Living Room... and didn't feel anything. So I walked faster... and still didn't feel anything. It turns out that you have to really get moving to get anything out of this. I'm talking jumping jacks, running up and down steps, jogging on the spot - those kind of levels of activity are what seem to be needed. And once you do get the ball jiggling inside you it's just a kind of 'Oh' feeling (or at least it was to me). In fact what made this even less memorable was the fact that I found the seam irritating. Despite my love of anal toys, I'm still pretty tight and sensitive back there, and while I couldn't tell that it was the seam that was irritating me while it was inside me, I kept feeling like something was scratching me. The seam isn't flush on the plug and actually has a slight lip to it, which I guess comes with the price tag.

The final problem for me was when it came to removing the plug from my bum. Once again, it's down to that lack of a taper at the base, which meant that taking the plug out can actually be a little painful since it's almost 'blunt'. If you're like me and have a bum that likes to fight to keep things in, then you'll find that removal comes close to being an eye-watering experience!
This content is the opinion of the submitting contributor and is not endorsed by EdenFantasys.com

Thank you for viewing
Geisha plug
– butt plug review page!