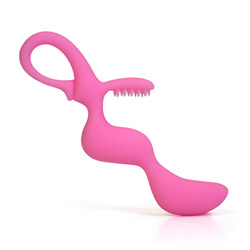 Eden wave silicone anal probe
Contoured probe by EdenFantasys
The Flexible Eden Wave
So I titled my review "The Flexible Eden Wave" because to some, this flexibility may be a good thing and I don't want to portray it is a definitive negative quality. To me, however, it did make the toy difficult to use and I would have preferred a more firm toy for easier insertion.
Published:
Pros:
Pure Silicone, Lovely Design, Pretty Color, Handle and Arm to prevent the toy from going too deep
Cons:
Too flexible; moved too much and made insertion difficult
First Impression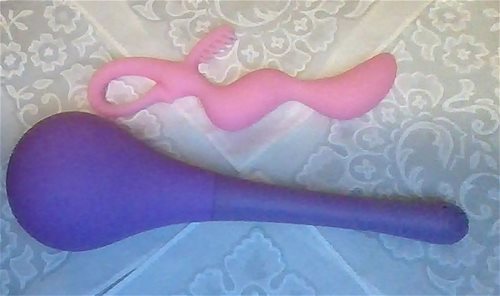 Arriving in a plain cardboard box, and inside an equally plain plastic bag within the box, the shipping and packaging of the Eden Wave probe is just plain... well, plain!
Above I have an image comparing the Eden Wave Probe to the Elite Silicone Douche (Catalog ID: ET699). It is smaller than the douche, although the tips for insertion are roughly the same size. It merely does not possess the same length as the douche, but this is to be expected as the probe doesn't require the large bulb for holding water or need to be inserted further for a "deeper clean."
The design of the toy looks just as lovely in person as it does in the product image! The Wave is a very aesthetically pleasing probe. The bulging ridges of the "waves" have a nice curve to them, and nothing about this toy seems too bulky or out of place. It's a nice size with plenty of insertable length, at least for a beginner but perhaps not for experienced anal players who enjoy girth and length, and is just generally well designed from a visual perspective with the material and color selection helping to make it even more appealing to the eye. Silicone is not only body-safe, but it has a very luxurious texture to look at and feel, and this soft pink is such a pretty shade. It helps to make the probe look toy-like but not so much so that it looks like a garish novelty item.
The color is one of the big factors that led to me selecting the Eden Wave, actually, due to wanting to exercise caution as I'm not very experienced with anal toys. I was concerned a red or black, or generally dark colored probe, would make it difficult to identify any traces of blood that would signal something was wrong and I needed to stop. With the light pink color I didn't have this concern and therefor felt more secure in using it.
Usage
My review for the Elite Silicone Douche went up a few days ago, and the Eden Wave Probe arrived at the same time and I used it directly after my first cleansing with the douche, so why was this review delayed? Well, I wanted to be able to give the probe another chance after my initial test with it didn't go so well.
Considering the similar sizes of the tips between the douche and the probe, I didn't think I'd have any problems inserting the probe after the douche was successfully used. I was wrong. While the silicone that makes up the Wave Probe is solid, it is also rather flexible without any sturdy, rigid structure inside to make it stay straight. Because of this it had a tendency to bend and move whenever I tried to insert it, and I couldn't get a very good grip on it no matter what angle I tried.
Inserting the toy was a struggle for me as a result, and the sensation just wasn't worth the hassle for me. To be fair, I didn't do any particular "stretching" to open myself prior to trying to insert the probe other than using the douche which was inserted with ease. I believe all of my problems with the toy stemmed from the fact that it's just too flexible and I just couldn't get into a good position where I could easily reach around to find a way to insert the probe.
Final Thoughts
I honestly wanted to love the Eden Wave Silicone Anal Probe. I adore its design and the fact that it's made from silicone, but the pure silicone also seems to be this toy's downfall for me. I would have liked some form if internal wire or solid base that the silicone would surround in order to have a firmer, more rigid structure, like how the nozzle for the Elite Silicone Douche was plastic coated in silicone.
Perhaps this is just a personal issue of mine and other people have a much easier time inserting flexible toys. Alas, for me it was just too much trouble and struggling to insert the toy really took away from the moment.
Due to my fondness of the design and the fact that I believe others may have an easier time with the probe, I'm still rating it positively even if I may not end up using it very often myself. I hope to be able to give a positive update when it comes time for my follow-up review, but we'll see.
This product was provided free of charge to the reviewer. This review is in compliance with the FTC guidelines.

Thank you for viewing
Eden wave silicone anal probe
review page!