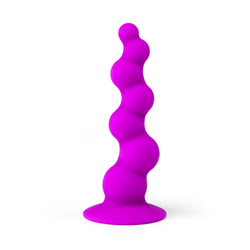 Big O bubbles
Anal beads with flared base
by EdenFantasys
These Bubbles Don't Pop They Please
Pop these Big O bubbles in your ass and enjoy the great shape as you cum all over. Ass or pussy, stick these bubbles somewhere and enjoy.
Published:
Pros:
Easy to clean and care for, Great shape for stimulation, can be used hands-free
Cons:
Can't think of a thing wrong with The Big O bubbles
When I first saw the Big O bubbles, I knew I had to try it. The zigzag shape of those varied size bubbles looked like they would drive my prostate and tight ass crazy; as a matter of fact, my PC muscle started flexing and pulsing my tight ass just looking at the Bubbles, and I was right. The Big O bubbles are an anal toy with bubbles that act as anal beads, but instead of a straight row of beads, these are offset to each other to increase the pleasant sensation. My wife also tried it on her pussy and said it worked very well as a G-spot and clit stimulation. The Bubble is made from non-porous high-grade silicone, which makes it very easy to clean with hot water and a good antibacterial soap or even throw it in the top shelf of a dishwasher. Being made from silicone be sure to use only water-based lubes on the Bubbles. With the small tip and the largest bubble right above the base only being 1 3/8 inches thick, my wife and I both found the Bubbles easy to insert anally and in her pussy. Even someone new to anal toys shouldn't have any problems inserting the Bubbles and as we did, find them very comfortable once in. Being made from silicone the Big O bubbles have no odor and are soft and smooth to the touch.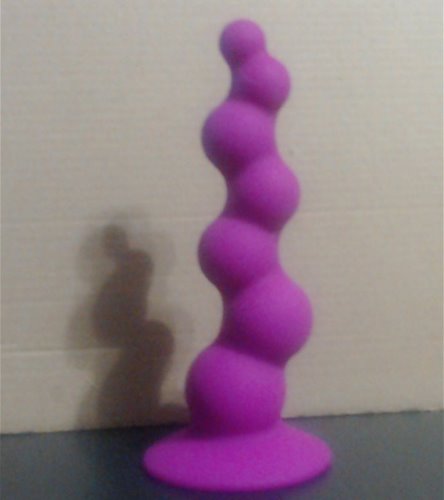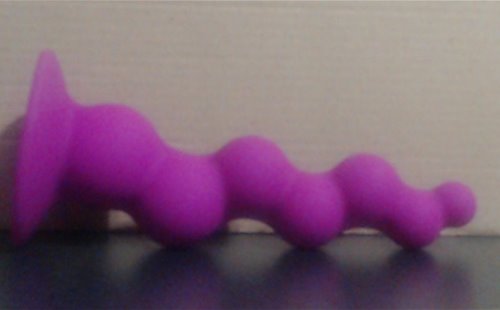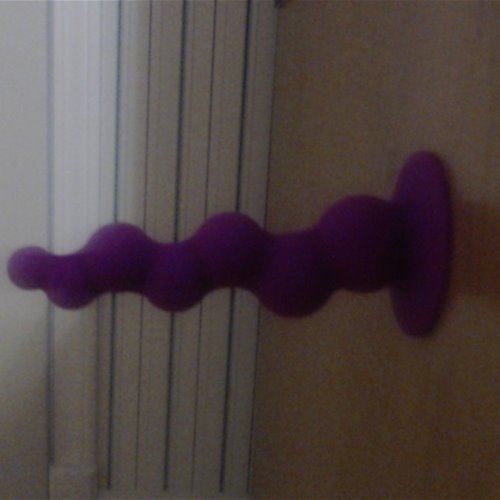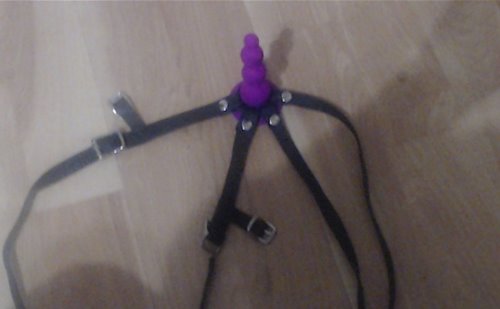 The flared base makes it very good for anal play, and it makes the bubbles harness compatible which I'll talk about later. The base is also a very good suction cup which lets you fuck the Bubbles with your ass or pussy hands-free. The Bubbles didn't come with any instructions, but the use is pretty self-explanatory, wash it first, lube it with water-based lube, slide it up to your ass and enjoy.
Experience
The Big O bubbles arrived yesterday morning, and even though my wife was at work, I couldn't wait to try it out. I stripped, washed the bubbles well, lubed it up and shoved it into my eager asshole. I was right, as those zigzag bubbles slipped over my prostate, it felt wonderful. I got on the floor on my hands and knees and pressed the suction cup against our mirrored doors of our closet and began enjoying the hands-free feeling of being fucked when I looked up, and there was my wife standing there. "Home early I see". " Yes, playing without me I see". I slipped off the Bubbles, and she pulled it off the door. " Looks like fun she said". Looking at it she got a strange smile and then told me to put the waterproof throe on the bed and get our small wedge out while she opened our toy cabinet and took out her harness and headed to the bathroom. Well, I did as she told me and she returned shortly wearing only her two strap harness with the Big O bubbles in it and told me to lay on the bed with the wedge under my ass and I obeyed raising my legs and spreading my lubed ass for her. She said she was going to teach me not to start playing with a new toy without her and she grabbed my ankles, spread my legs and rammed the Bubbles up my ass all the way to the base. I gasped and moaned. Her hard thrusting had my prostate and ass going crazy, and my cock grew huge and hard. She reached down and while still pounding my ass, wiped up a huge glob of precum off my swollen cock head and licked it up and started stroking my hard cock while the bubbles slammed into me. It felt fucking great. All of a sudden she says " Your cock heads swelling and your balls are pulling up....are you going to cum"? I told her yes and to keep fucking my ass, which she did. My whole body was trembling from her fucking me, but now it grew more intense, and my big hard cock shot a huge stream of white gooey cum all the way to my face and chest, then another and another. I was covered in cum. My wife leaned forward and started licking up my cum until she had a mouth full and then while still grinding the Bubbles in my ass she kissed me sharing all that hot gooey cum with me. I knew I wanted her to try the Bubbles in her ass and pussy, but we were both exhausted. We did eventually, but I'll have to cover that more in the follow-up.
Follow-up commentary
5 days after original review
Finally got around to writing this follow-up. After the pleasure my wife and the Big O bubbles gave me and my ass, we decided to try it on my wife's pussy. After a good cleaning, we were back in bed with another waterproof throe ready to catch what we hoped was a lot of pussy cum under us. I crawled between my wife's soft thighs and started by licking her sweet pussy until she was soaking wet and begging for the Bubbles. I slipped the Big O bubbles into her pussy, and as each bubble disappeared, she gasped as they slipped over her swollen clit. I began thrusting the bubbles, and she arched her back on every thrust as if to get more of the bubbles. In no time her pussy juices were flowing, and she was begging me to fuck her pussy faster as I sucked her hard clit. I obeyed and began fucking her harder, and in no time she screamed she was cumming and all that sweet pussy cum squirted into my waiting mouth. I continued fucking her with the Big O bubbles, and she continued to cum a bunch more until she begged me to stop she couldn't take anymore for now. Next, she says she wants to try them in her tight round ass......that should be fun.
This product was provided free of charge to the reviewer. This review is in compliance with the FTC guidelines.

Thank you for viewing
Big O bubbles
– anal beads with flared base review page!