Anne Boleyn meets BDSM
The Rainbow Nights paddle is another high-quality offering from Ruff Doggie Styles. Elegant and well-made, this looks and feels like a much more expensive item. It feels great in the hand and even better against bare flesh. And the best bit is that you don't have to hide it under the bed when you're done - hang on the wall as an interesting piece of art!
Published:
Pros:
Beautiful design, High quality, Great for beginners or advanced, Non-intimidating
Cons:
Discontinued!, 'Gems' can fall out
My wife and I have dabbled with 'Bondage Lite' for quite some time now. After 10 years of marriage, we know we'll never go for the hardcore stuff, but we do like the occasional spanking, light restraint, etc. Think '50 Shades' without the crap writing. So when EF briefly brought in the Rainbow Nights and Rainbow Nights Silver paddles we decided to make the silver one our first. Actually that was a choice that was out of our hands - we fell in love with the gold one but it was out of stock so settled on the silver.
The first think you'll notice about this paddle is that it's really unlike most others. For a start, it's only one-sided, with the 'action' side being made of genuine leather (7 on EF's
Safety Scale
since you ask), so this is going to be a no-no for Vegans. It's a firm leather, and is totally unpadded. You'd be forgiven for thinking that's going to be extremely painful as a paddle though - this beauty can go from light taps to hard thwacks with ease. The leather is black and totally flawless, with high-quality stitching all of the way around it. And that gorgeous leather smell - I never know whether to smell or to spank with it. Or to spank with it then smell it (stop me if I'm getting carried away here!)
The paddle's reverse is a thing of beauty. A piece of black suede is stitched on, mirroring the working side of the paddle. But over the suede is the most beautiful, ornate silver stitching that reminds us of a Tudor piece. In amongst the silver stitching are small plastic beads that are designed to look like diamonds. These are quite fragile though, and can come off if you're not careful. I can only imagine that one of these will turn up on Antiques Roadshow one day where it will be revealed that Henry VIII liked to use them on his naughtier conquests.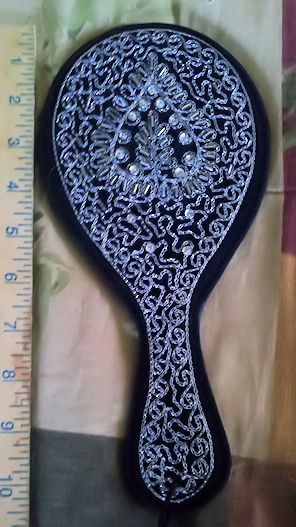 The paddle's measurements are:
10 1/2" length,
5" across the main 'spanking area'
4" handle length
3/4" overall thickness
One thing that we did find slightly disappointing was the packaging. For a paddle that was so ornate and eye-catching, we'd have expected at least a box, but this just came in a slightly crinkly, open-ended see through plastic bag. Naturally that means it's not discreet, but that's actually offset by the fact that this paddle is something of a work of art. In fact it even comes with a short cord threaded through the end to hang it on the wall (it's far too short to be used as a wrist strap).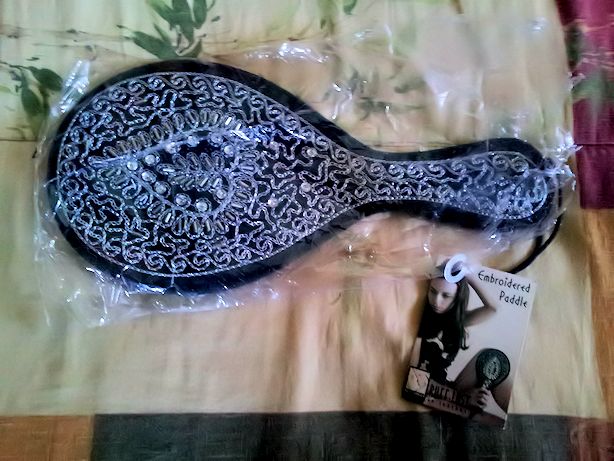 Beautiful paddle, cheap packaging
There's really no information to speak of included with this either. Just one simple piece of card that shows a lingerie-clad maiden holding the (Photoshopped) paddle on one side, while the reverse gives the catalog number & name with the following information:
Authentic Indian hand embroidered stitching makes this paddle a piece of art, as rare and individual as gem stones like you
.
That suggests that these are individually made. I've seen no evidence of this, but it's nice to believe anyway.
Since this is real leather, extra care needs to be taken. It can be easy to clean with a damp cloth, but be sure to dry it with a soft cloth afterwards. Leather cleaners are obviously recommended, but the general rule is that any soap that is safe for your face is safe for leather. I have read that the leather used on this paddle is furniture grade and is therefore well-sealed.
Experience
In use, this paddle feels every bit as good as it looks. I don't know whether it's the delicate design or not, but it makes you want to take things a little easy (well, at first anyway...). When we have our spanking sessions we just stick to the basics and spank bottoms either over or without panties. So I can't say how this would feel if it's used on other parts of the body, but I can say that it makes a delicious thwack on the cheeks. Since the leather side is uniform with no grooves, ridges or marks, the full surface area makes contact, which is great for those who like things to be less intense.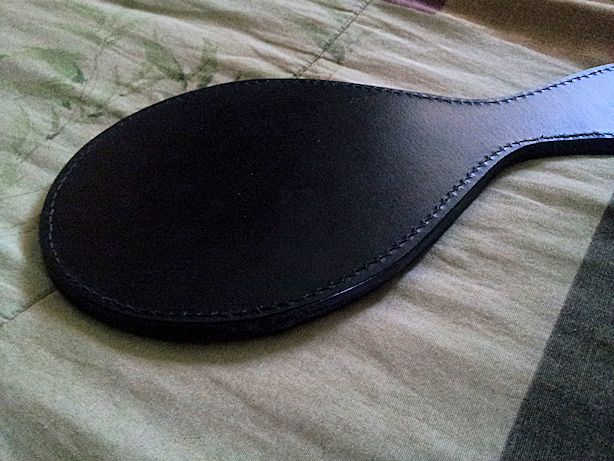 "I love the smell of leather on a freshly spanked bottom in the morning"
Henry VIII, 1533
This content is the opinion of the submitting contributor and is not endorsed by EdenFantasys.com

Thank you for viewing
Rainbow nights silver paddle
review page!