Rainbow Nights For My Bum Please!
Are you looking for an elegant toy for your spanking fantasy? Ruff Doggie's Rainbow Nights Paddle is a quality paddle that is sure to be a huge hit with you and your partner. Give your lover solid and firm licks without the fear of too much wear and tear on your paddle. With its thick leather design, this paddle is sure to be in your tool box for years to come.
Published:
Pros:
Sexy, Elegant, Hand Crafted, Embroidered, Leather, Padded, and Easy to Use.
Cons:
Not a thing at all!
Ruff Doggie has created an elegant and delightful spanking experience with their Rainbow Nights Silver Paddle. This handmade paddle is made from genuine leather. In addition, it is exquisitely embossed with silver thread and beads.
The Silver Nights Paddle is a perfect for any level of user since it only delivers as much intensity as the force used. With its finished leather base and padded pack, the paddle delivers solid firm smacks. Also, it feels wonderful rubbed over you as it sooth the hot skin.
Its design and shape is perfect for close up and personal play. While also, feeling comfortable and natural in your hand, the paddle is easy to use. The paddle has slightly more weight to the front; therefore, it lets you easily flick and tap your lover.
Let Ruff Doggies Rainbow Nights Paddle take you to a whole new level of play.
Not only is this an effective paddle for your spanking collection, it is also an exquisite display piece. Hang it on your wall or take it along to a group night out. This paddle screams, "Show me off!" It is sure to be a provocative conversation price.
Here's The Facts
Elegantly hand crafted from genuine leather and suede. Although, EdenFantasys lists the top material as velvet I am convinced is this indeed suede. A heart shape design is embroidered on the padded top with beading ascents. The handle, however, is simple embroidered with no beads along this area.
Cleaning:
Leather cannot be sterilized. Therefore, it is important to ensure that your paddle does not come into contact with bodily fluids or blood. Should this happen, the paddle should not ever be used on another partner. Also when in group situations, if your partner's skin breaks, it is possible that droplets of blood can be transmitted through the air when using it. Therefore, it is always best to cover any broken skin with a band aid before or during a session when needed.
If your paddle becomes wet it is important to thoroughly dry it to ensure the leather does not mold. This can be done by drying all cracks and craves using a soft cloth. Always, store your paddle where air can reach it and never in a dark or damp place.
How to clean a paddle? Prevention is the first step since cleaning can be time consuming and difficult. Never toss your paddle down where dirt and particles can be picked up. Also, don't let it come into contact with oils, lubricants, or fluids. This can cause the leather to begin to mildew and in some cases stain or discolor the leather.
The leather can be conditioned when it is dry using leather conditioner.
This links are wonderful for care of your leather paddle ….
Basic Leather Care For Toys
How to clean leather.
[|Measurements:]
Length – 11 inches.
Paddle end width – 5 inches.
Handle – 4 inches length and 2 inches tapering inward to 1 inch.
Strap- is more intended for hanging rather than a wrist strap and is a 3 inch loop.
Thickness – ¼ of an inch.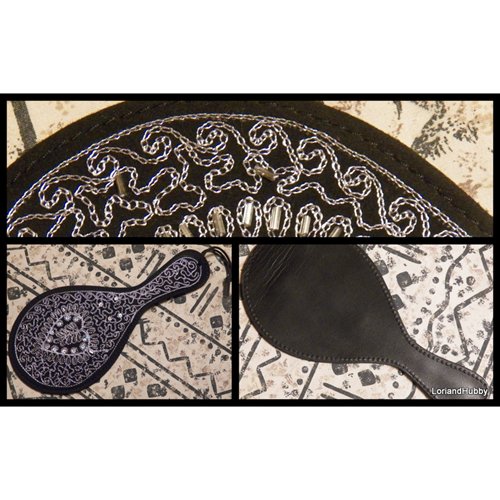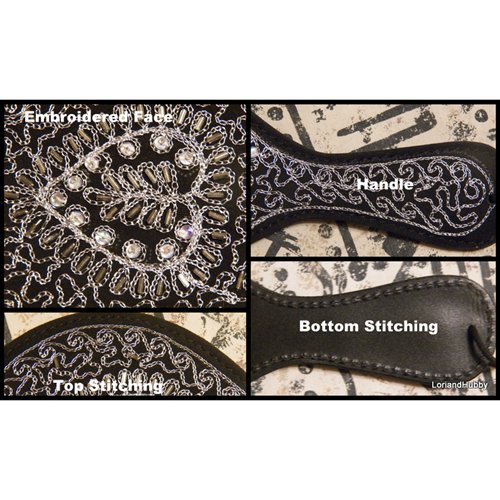 Experiance:
After taking a few licks from the paddle, I wanted more. Since I have started my journey into impact play and totally enjoying it, I decided to upgrade to a sturdy and firm paddle. I wanted a paddle that will be in our tool box for years to come.
The Rainbow Nights Paddle meets my expectations and more. When I first took it out of the box, I was in awe of the elegant design. It felt sturdy and was obviously a well made paddle. The bottom surface which comes into contact with the skin is smooth and silky feeling as it is rubbed across the skin. I was in love from the first moment.
Hubby, who normally shows little reaction as we check out our newest toys, was excited when I presented him his newest friend. He wacked my thigh a few times and smiled real big. We both knew it was going to be a fun experiment that night.
Experience
cont...

Spanking is an erotic act during playtime whether it is part of role playing or just spontaneous. We tend to enjoy spontaneous moments that are in a sensual fashion. Pain is nothing either of us wants to experience. When I dwell on our desire to delve into impact play since it is not an inflicting pain or control factor for our playtime, it would have to be the whole ambiance of the act itself. We enjoy tools that give a firm solid feeling on the skin rather than a sharp sting which leaves red marks.

With this Ruff Doggie paddle we got all we could desire and more. The first night we played with our new friend it was perfect. Hubby pulled it out after giving me a sensual full body massage. Massaging my bottom Hubby smacked it with the paddle. It was firm and erotic. I loved it and I wanted more. After a few smacks, Hubby rubbed my hot skin with the silky smooth leather and sometimes his hand. It was cooling as he rubbed out the slight burn. I instantly fell in love with paddling in that moment.

This paddle was amazing. I thoroughly enjoyed our little session of paddling mommy. Not only was the paddle firm when hitting my skin, it was also the perfect size and shape to use on the inside of my thighs. Using this paddle was unlike our other toys in the feel and sensations given by playing with it. The firm feeling is wide spread and evenly distributed when it hit your bottom. At the same time, it has sort of a cushioning feeling. It is not hard like wood but rather the leather gives a bit upon impact. In addition, it produces a nice thud sound as your bottom is smacked. This sound really adds to the whole experience since it is not overly loud or intimidating.

Another great aspect of this paddle is that it only delivers the amount of intensity as the force used to yield it. You can use as much or little for as you desire it to deliver from sensual to firm hard smacks. As for the red marks left behind, they are minimal at the level of our play. I am sure that after repeated smacking of one area the buttocks would become very red and sensitive. If this is the effect you desire, leather paddles are always the option to take.

Hubby's experience was equally as exciting. After using the paddle several times, Hubby continues to enjoy how natural it feels in his hands. Also, we are both impressed on how resilient the leather is, and it shows no signs of weakening along the handle neck area. Over all, this paddle is truly a quality work of art that will be in our tool box for a long time.

In all honesty, this paddle has taken our play time to a whole new level. Since having such a positive experience with this paddle, we are planning on ordering more Ruff Doggie Styles leather paddles in the near future.
Follow-up commentary
3 months after original review
Amazing. Ruff Doggie Styles has once again created a high quality, durable, and extremely pleasing product.

In all honesty, this paddle has held up amazingly well and even looks as good as the day we first received it. The sticking on it has not frayed or unraveled and the side stitching is all still intact. We have used this paddle many times for light to heavy play and the handle has not weakened a bit.

If you are looking for a durable paddle to add to your collection, this is a wonderful choice and worth every penny.

This content is the opinion of the submitting contributor and is not endorsed by EdenFantasys.com

Thank you for viewing
Rainbow nights silver paddle
– flogging toy review page!