Attention Sensual Sadists!
For the bedroom enthusiast who wants something mildly spicy for their bedroom arsenal you simply cannot beat the Soft Set by Bad Kitty. This set is feminine, pretty, soft and cannot hurt you. Seriously, it really cannot hurt you! The flogger is as soft and sensual as the rest of the kit. The cuffs work and are surprisingly sturdy and the eye mask can be made to be blackout. All in all it's a great set!
Published:
Pros:
Soft and sensual
Eye mask works well
Cons:
Flogger falls apart!
Right, I admit here and now that I bought this set for the blindfold alone! It's pink and I normally avoid pink like the plague but in defense of the set it is a gorgeous deep pink that I actually like. I am tired of blindfolds that don't have deep enough nose cutouts and when I saw this one I was determined that I would try it and see if my nose would thank me. It did!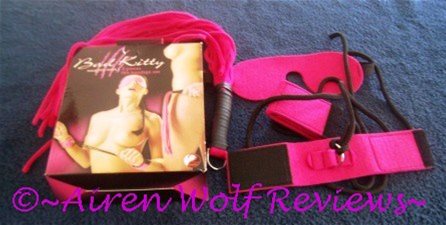 The set is composed of felt and neoprene, it is violently pink and very femme. The sissification possibilities are endless! The set is comfortable, soft and there really is zero risk of actually causing pain to your partner!
The set comes in a very suggestive box, which can be a drawback for people needing utter discretion. The set contains an eyemask, small flogger, and some cute little cuffs.

Let's start with the reason I bought the set: the eyemask. As you can see the eye mask has a very deep nose cutout allowing the mask to comfortably sit on the face and it can be adjusted to be completely blackout. You can see out of the nose cutout if you twist the mask a bit but it is the first that I have found that is truly blackout on my face. The felt is comfortable and a lot firmer than it looks like it would be.
It is held on the head via a heavy elastic band that can be shortened by folding and pinning if you need to shorten it for a smaller head. it is firmly attached and shouldn't tear apart easily even with rough play.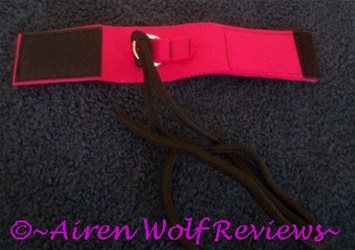 The cuffs are soft, comfortable but secure. You cannot get out of them with just a bit of twisting it takes some force to remove the velcro. The hardware is securely fastened to the felt fabric and unlikely to tear away with tugging and pulling. As you can see there is a soft rope nightingale knotted onto the hardware to tie your victim up with. The rop works fairly well but you can also use other types of tethers you might have laying around or in your toy box.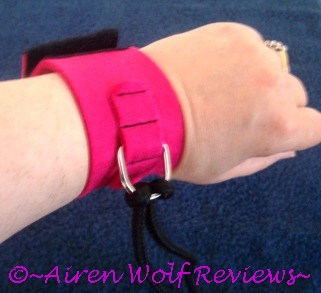 It really does look good on but it's a little small for doubling as an ankle cuff. It will fit a man's wrist but not an ankle that is anything larger than a small boned woman. Since this is really marketed toward a bedroom enthusiast couple this isn't really a drawback.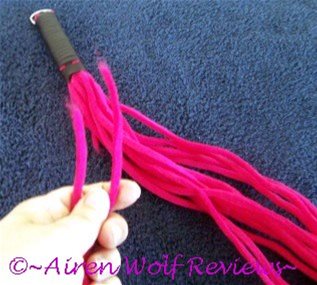 Now the last but not the least interesting piece of the kit: the flogger. As you can see there is a lovely little flogger included with the kit. It has a great little ring on the end of the flogger for attaching a wrist strap or a hanger. The flogger is composed of felt and CANNOT hurt your partner. I can say this with utmost confidence because Sigel tried to use the force needed to cause any sort of sting and the flogger began to fall apart! Now I don't mean to imply that the flogger is poorly made, it isn't, but he was using some really significant force. I was amused by the whole thing rather than yelping and trying to run away.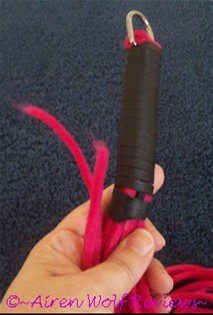 The handle is easy to bend and warp so be aware that this is a flogger for sensual sadists who practice tickling rather than the hardcore flogger who wants red stripes! It really is lovely for running over your partner and watching them shiver in delight.
A quick rinse with some warm water should be all you need to keep these pieces looking gorgeous. Let them dry fully before storing in a cool, dry area.
This product was provided at a discounted price in exchange for an unbiased review. This review is in compliance with the FTC guidelines.

Thank you for viewing
Soft set
– light bdsm kit review page!