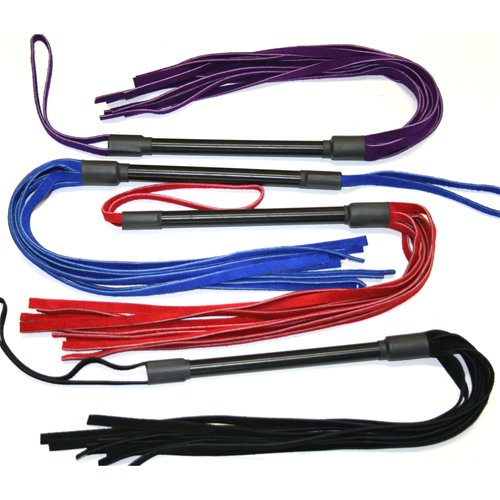 Tingle
Whip discontinued
by Leatherbeaten
BDSM on a Budget
With its price point, the Tingle allows seasoned veterans and beginners alike to sample something new. This is a well made flogger that handles exceptionally well and feels amazingly beefy against bare skin. Whether or not you're shopping on a budget, the Tingle is a promising, high quality BDSM buy.
Published:
Pros
Perfect quality and perfect pricing.
I've always been under the impression that BDSM is expensive. After years of buying overpriced whips, floggers, collars, torture devices, and even those seemingly cheap DIY projects that didn't go so well and resulted in dozens of band aids and ointments that at the end of the day left my pocket feeling a little bit lighter anyway, I'm amazed by the Tingle. Amazed not so much in the sense that I can afford it but in the sense that I'm getting what I paid for.. scratch that, MORE than what I paid for.

Do you love suede? I do. I love expensive leathers, I'll go out and buy a purse that is pretty much half of a paycheck just because I love the feel of the soft leather against my skin or because I became intoxicated with the smell. I'm driven by my female mind - If it's pretty, I want it. If it's expensive, I want it. The unappealing photograph and the $26.99 price of the Tingle would have had me looking the other way had I not received it for review. Due to a poor presentation where it looked like cheap suede and dare I say it, the accompanying, cheap price, I did not want it... Until I received it, once I opened the package and held it in my hands the reality of the situation finally became clear - I. am. a. snob.

Made out of gorgeous, aromatic, purple garment suede leather, the ten 18" tails of the Tingle are not only beautiful but soft to the touch. And ten is not a mistype; while the Leatherbeaten website lists the Tingle as having eleven tails, the one I received had only ten. This "error" is actually an assurance as it confirms suspicions that Leatherbeaten products are handmade. In fact, Leatherbeaten's workshop is based in Peterborough, Ontario unlike other manufacturers that have their "workshops" based in Taiwan or China. Frankly, I love the fact the Tingle is handmade because it means it was made by an artist, not an underpaid or underage grunt worker in a sweat shop.

The ten suede tails are mounted on an eight inch delrin handle. Delrin or Polyoxymethylene is an engineering thermoplastic frequently used to make things such as cutlery (more specifically knife handles), yo-yo's, bagpipes, and guitar picks. Delrin is even used in diving equipment due to the fact it doesn't swell or deform like other plastics that can absorb gas under pressure. It is a durable material, translating into something that withstands abuse (because nothing is more abusive than the sound of bagpipes to the ears) and relishes repeated use. All this overwhelmingly useless and uninteresting knowledge means the handle of your flogger will be able to handle a high stress situation and when it's all over and done with, beg for more.

When my husband was running the flogger along my spine, the soft suede seduced every inch of my skin. Each stroke was chilling and goosebumps appeared instantaneously. Slow seduction is no easy feat for my heavy-handed man, in fact, he is a masochist that doesn't have the attention span enough for teasing. Almost immediately following the languid drawing of the tails against my back, he soon had them snapping and smacking against me. The tails had a nice resounding "thwack" that was accompanied by mild pain. I'm not a pain slut and surprisingly, this wasn't a flogger I shied away from or begged for relief from as the Tingle's hits were easy to withstand, and that is no small feat for someone as sensitive as myself.

Surprisingly, this was just as easy to wield as it was to withstand. Due to the 5" wrist strap preventing any freak accidents (just think of a Wii remote crashing into your TV screen), hitting with the flogger came easier than expected. It had a nice weight that was smartly countered by the sturdy handle. Each landing smack was a near bullseye and I loved being confident in my aim. More-so, I just loved swinging it. The handle was smooth but surprisingly easy to grip and I was able to build up and keep a pretty promising rhythm that left my husband curious for more.

I can admit my faults and when I'm wrong and I owe the Tingle apologies for my initial assumptions. An apology for doubting it was anything less just because it was priced under $30, an apology because it did not have the visual appeal of it's $200 counterparts, and a final apology to Leatherbeaten for having the assumption that quality BDSM implements did not work for buyers on a budget.

If you're a well seasoned couple looking for something softer or a beginner looking for something to try, this is a flogger that will build a following.
Experience
As with any spanking implement I've sampled, the closer you are, the meatier the tails feel and the further away you are, the pricklier the tips will feel. I fulfilled my submissive quota easily as I kept my husband at a closer distance and he fulfilled his boyish "break all the rules" quota by stepping back occasionally and throwing this as hard as he could. I loved the thickness and weight of the tails, while there was some discomfort due to the sharp corners on the straight cut tips, the tails were overall very soft and beefy as they pounded my bare flesh. I was left with some red marks but no broken skin or cuts that required a band aid or antibacterial cream.
This product was provided free of charge to the reviewer. This review is in compliance with the FTC guidelines.
Thank you for viewing
Tingle
– whip discontinued review page!