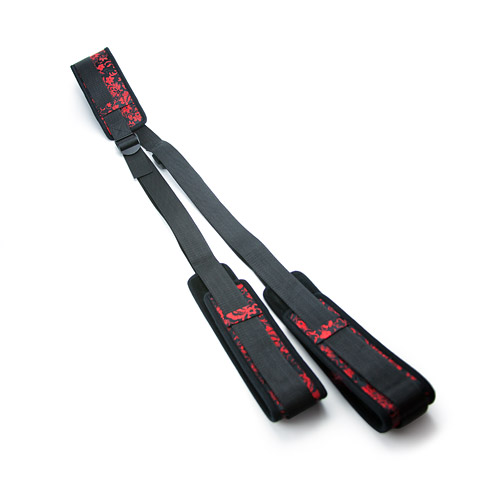 Orgasmic position
Position sling
by EdenFantasys
Beautiful and useful!
I honestly cannot see any cons to this product. It's made for the purpose of helping you position yourself and your partner to improve your experience. It's a great feeling material, also extremely beautiful.

Really just an overall great product. I would recommend it to anyone, whether they need help with positioning or just wanna have some fun with something new and exciting!
Published:
When I opened the box this came in, I was extremely surprised at the quality. Very strong, beautiful brocade, and well padded. I was not expecting this to be so nice to be honest.

Now, I suffer chronic pain and have some troubles getting good positions for long periods of time. This helped me a lot!! I was able to enjoy my favorite position (legs up in the air on my back} for much longer time that I have in the past. The device goes behind the neck and the legs go into the "cuffs".

Extremely adjustable, so will fit all shapes and sizes. It also adheres to some BDSM aspects more than just usability.

It's almost as if you are tied up and your partner gets to have a bit more control. They can choose to adjust the straps to their wants and needs, so long as you are willing of course.

I would recommend this for anyone looking for better leverage, as well as maybe a bit of light BDSM.

I feel like this is a bit tougher when it comes to cleaning. I'm not sure if you can just pop it in the washing machine or not. I personally would hand wash the item and air dry, just to keep it fresh.

I cannot use this for a long period of time due to my neck problems, BUT as an alternative, you could have the male partner (or whoever is on top) wrap it up around their neck and use it to help hold your legs up in a different way. Honestly you could manage all sorts of fun ways to use this. Just have to use your imagination.

I recommend if you do use this as a form of BDSM, to always keep safety scissors nearby in case of need of a quick release. While this isn't locking or anything, you never know if you get tangled up more than expected.
This product was provided free of charge to the reviewer. This review is in compliance with the FTC guidelines.
Thank you for viewing
Orgasmic position
– position sling review page!