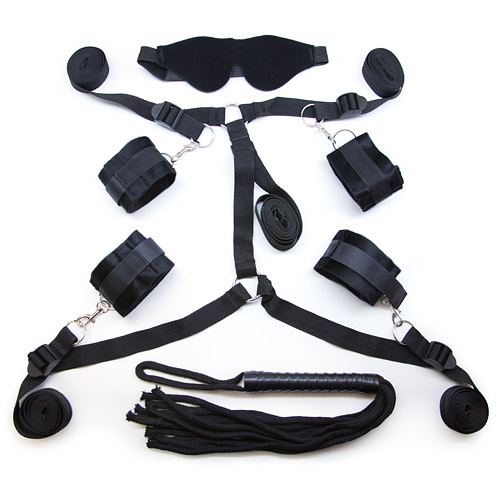 Soft touch restraint kit
Under the bed restraints
by EdenFantasys
Beginner's BDSM
Start your BSDM journey with soft, felt-like sensations that leave you begging for your partner to get inside you. We're eager to try this set out in different sex positions.
Published:
This set comes with a blindfold, leg and arm restraints, and a strand-like whip. My boyfriend and I have started getting more into BDSM and didn't want to go overboard. You can't feel fabric and texture through an image, but I was thoroughly surprised at how soft everything was, being the person restrained. The eye mask is soft like velvet, and the whip is almost similar to cutting up strands of a stretchy shirt and making them into a toy. It has a lot of give and was very soft on the body. The straps of the restraints are more like seat belt material, and the part that touches the skin is also quite soft.

It took a bit to figure out the setup, but we learned it goes under the bed and up by each corner. My initial thought before receiving the product is that it would be like those sheet holders and go under the mattress. I may like this setup better despite being a little tricky to get under the bed and all. It makes for storing it under the bed pretty flawless.
Experience
The box arrived while I was out of town on my way back home. I told my boyfriend to get the box and set it up on the bed for that night. He looooooves being in control, so this seemed like a great segway into more hardcore sex and foreplay. He tied me up. Height isn't an issue, as you can adjust for however short or tall someone is. I was pretty excited to get tied up first and then have my boyfriend put the blindfold on me. I'm also very ticklish and sensitive, so the whip was fun to have draped across and down my body.
We ended up putting a pillow under my butt to make his entry easier since I was laying flat on the bed. My easiest cumming position is my legs straight, and this played great into that desire. We ended up also using the
Love-U
toy to really spice up the vibration and sensuality for both of us. The blindfold worked pretty well with just a bit of a gap. I loved the mystery, not knowing what he was going to do next.
We were both pretty turned on at the start, which made the session go by a bit faster than normal. We're looking forward to trying this next time on my stomach instead of back!
This product was provided free of charge to the reviewer. This review is in compliance with the FTC guidelines.
Thank you for viewing
Soft touch restraint kit
– under the bed restraints review page!