Better than we expected
This blindfold is probably worth buying if only for the sake of having something a little adventurous in your toy box. Advanced users will find this lacking, while beginners will appreciate the non-threatening aspect. It's easy to clean and easy to store and will last a long time if properly cared for.
Published:
Pros:
Leather, inexpensive, easy to care for, Velcro closure
Cons:
Stylised shape, can let light in, might not fit all faces or heads, no info included.
We bought the Sportsheets Leather Blindfold on a bit of a whim. If you're read our other reviews, you'll know that we don't really 'do' BDSM, we just like a little light kink from time to time. So with that in mind, we decided that a nice blindfold was in order. We didn't want to break the bank, but neither did we want one of those barely padded things with thin elastic that snaps if you put it on anything bigger than Barbie's head.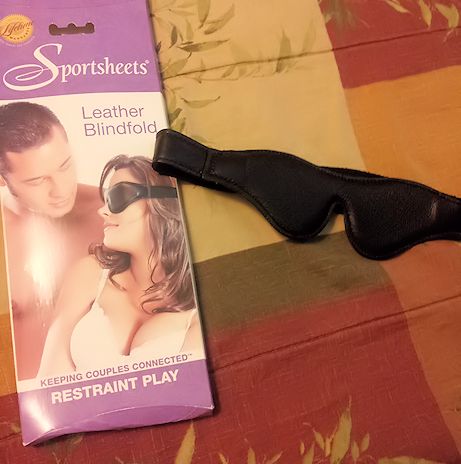 So we ordered this one while it was on sale. It arrived in a long, thin box that looked like it should have shoe insoles inside. Well, it would if it hadn't been for the picture on the front that shows what looks like a couple who have probably never met and look like they've come straight from the pages of Cosmo. The wording on the front also gives the company name and "RESTRAINT PLAY" in bold type across the bottom. It's therefore not very discreet. I'd say it's not incredibly discreet even out of the box, too. It's one thing passing a blindfold off as something you need to help you sleep, but a leather one? That's probably asking for raised eyebrows.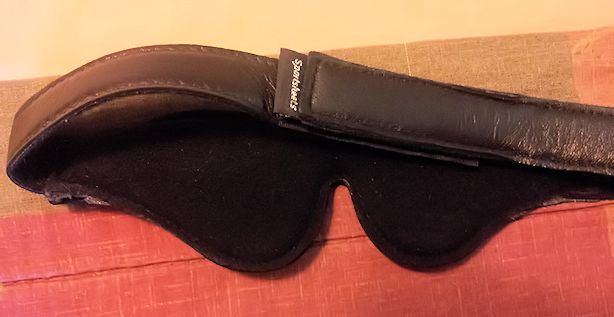 This is a pretty small blindfold, and might appear to too small for most people. The fact that it's fairly highly shaped emphasises the small size, and looks more like a pair of leather sunglasses. It is real leather, so that's going to rule it out for the Vegans out there, although there's no real info about this anywhere on the packaging. The only label on these is a small one at the back where the Velcro strips hold the blindfold closed, but that label only has the Sportsheets logo on it.
In fact, information is thin on the ground with this. Other than the leather exterior, there is a light foam padding on the inside of the blindfold that's actually pretty comfortable, even for extended wear. As the outer is leather, you'll want to take care of it. Luckily that's pretty easy since you can usually just wipe it down with a damp cloth. As always, the rule of thumb with leather is that if it's safe for your skin, it's safe to use on leather. So other than the damp cloth, you can use mild soap and water should the need arise. But unless you're going around splashing things all over your partner's face (not that we do anything like that, of course) then you'll be fine.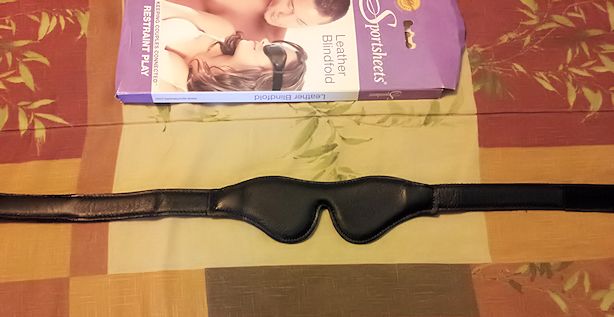 The entire blindfold measures 24" across from end to end, with only 3" width and 2 1/4" height to cover each eye. There's a 3" long Velcro strip at each end of the blindfold, so that should allow for most head sizes.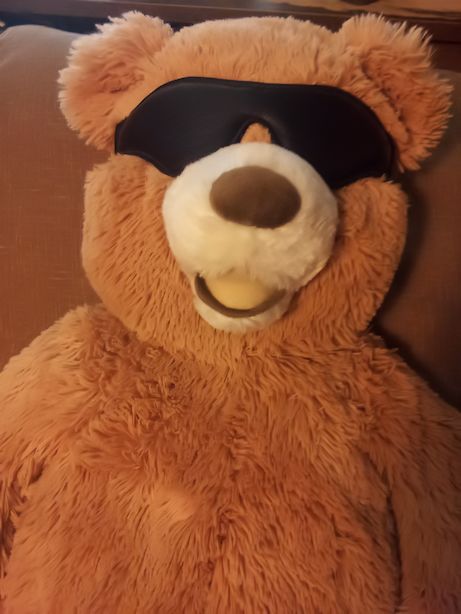 Goldilocks? Goldilocks? Are you still there, baby?
The problem with the cutout shape of this is that it does tend to let a little light in, especially from underneath. It won't make too much difference in a darkened room, but if you're lying down on a bed then you'll notice it even more. This kind of blindfold is probably more a play/fun item since there's an element of trusting the blindfolded partner involved to keep their eyes shut.
It's still worthwhile for those of you who just want some light kink in the bedroom, but hardened or more serious players will want to look elsewhere.
This content is the opinion of the submitting contributor and is not endorsed by EdenFantasys.com

Thank you for viewing
Leather blindfold
review page!