Blue Frat Paddle Fantasy, Anyone?
The Black and Blue Frat Paddle made by Spartacus is really a fantasy that excites me. If you have ever had a fraternity or sorority initiation fantasy, this paddle will work for you. I bought this product because of that fantasy of mine, and because it came in a beautiful blue color. I also love that it is made of leather and smells divine. It leaves beautiful red marks, bruises, and welts. I love that kind of art on my body. I wear it proudly. I hope you do too.
Published:
Pros:
+ Made of Leather
+ Made by Spartacus
+ Leaves Marks, Welts, Bruises
Cons:
- Maybe not for beginners, they can gradually get into it though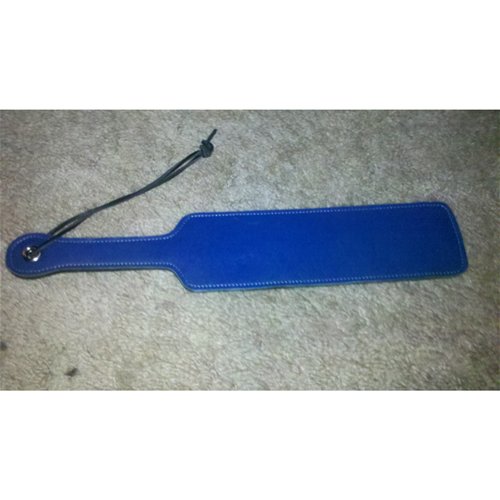 What is the blue frat paddle all about?
The Black and Blue Frat Paddle made by Spartacus is truly a fantasy in itself. Have any of you ever had the fantasy of being "iniciated" into a fraternity/sorority? I know that I have, and this is a great paddle to role play with during one of those very erotic sessions. This paddle is mainly for pain and pleasure, and it gives a good sting. It leaves beautiful marks and it makes my ass sting. I love being hit with this all over my body. It is great on breasts, ass, thighs, back, and the genital area if you are bold enough to go that far. I love my genitals becoming bruised, always use caution. I think bruises, welts, and red marks are something that are kind of like battle scars that I am proud of. I love wearing them and I know a lot of woman and men do as well. You will definitely get your money's worth with this paddle, and more. I highly recommend it to anyone who is in a D/s relationship that wants a nice, well made paddle.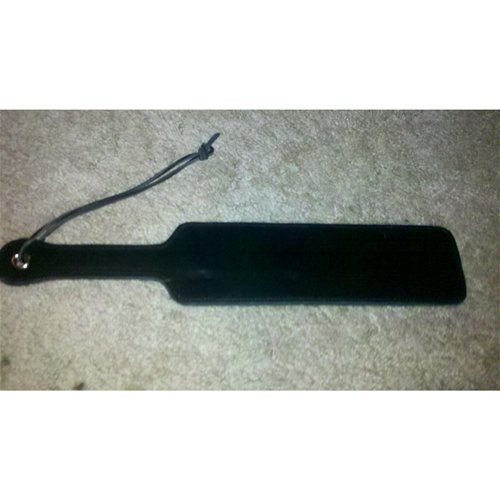 What is it made out of?
This paddle is made out of Leather. I really love leather products, especially from the Spartacus company. They just make everything perfect. I have a real leather smelling fetish. It turns me on greatly, so this paddle does its' job and more. It gets me horny looking at it, smelling it, feeling how smooth it is, and getting paddled with it.
If you didn't know, leather is made of natural fibers (Patent leather is leather that has been given a high gloss finish.) Leather is a water resistant material with a high tensile strength and high resistance to tear. Usually used for harnesses and restraints it has high resistance to flexing and to puncture. Good heat insulator.
How durable is it?
I believe that this paddle does have some "wobble" to it as it sways differently and has less weight then my usual paddles.. but will hold up nicely. My Master and I put this paddle through hell (we loved every second of it, of course) and it hasn't ripped, broke, or bent in any way. It has held up very nicely and we have used this in intense situations of erotic pleasure sessions. It hangs on my wall and is worshiped like all my other paddles as a display of pain and pleasure, combined. It is a lovely addition to our collection.
What are the measurements?
The measurements of this paddle are pretty good. I love how long it is. I enjoy longer paddles, but the weight isn't my favorite. It needs more weight to be sturdier. Even though it does tend to sway a lot when you paddle someone, you have to get used to how light it really is. It does the job correctly, it is just different.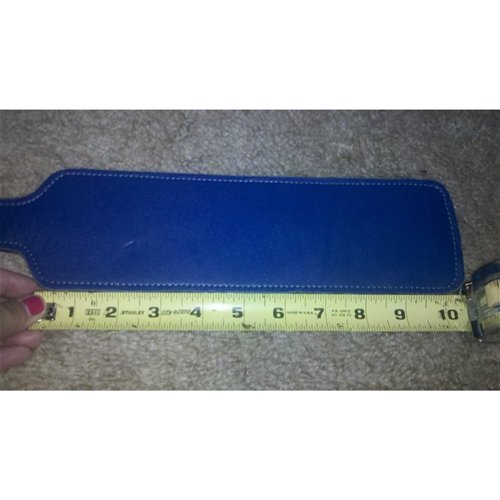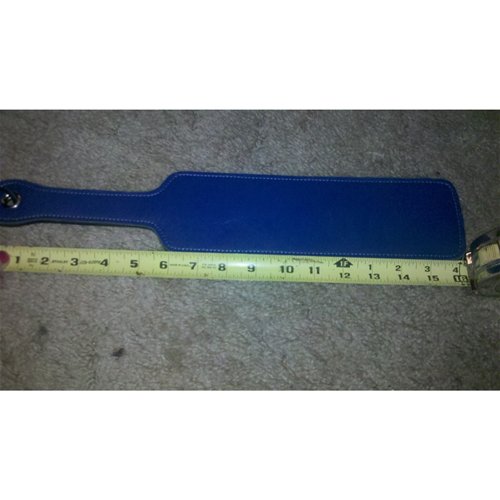 It is 16" in total length. The paddle part is 10" total. The handle is 5 and 1/4" long. And for everyone that is dying to know, the diameter is 3 and 1/8" long. The measurements of this particular paddle are pretty amazing in my opinion and they crafted this one with extra care. Spartacus really thought this one through and did an incredible job with the measurements.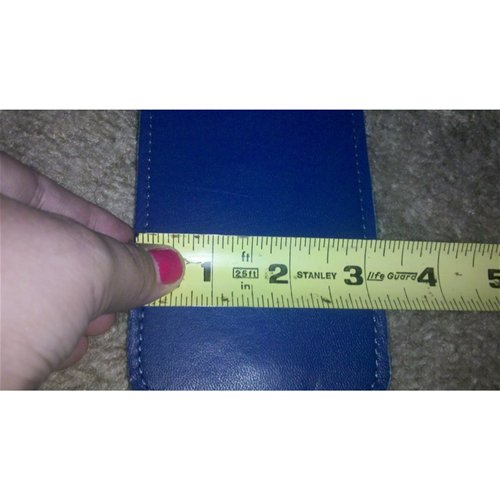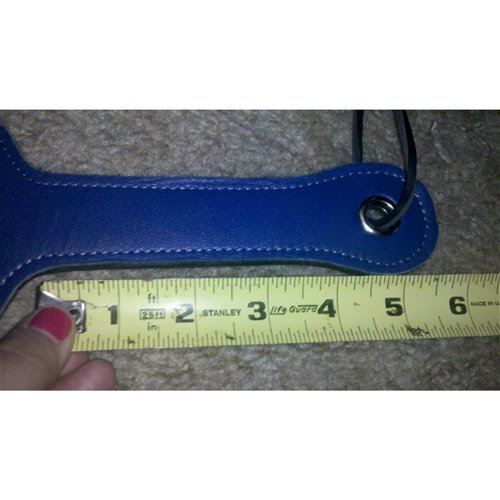 Is it for beginners, moderate, or advanced pain lovers?
I believe that this CAN be for beginners. You can use this paddle lightly and gradually work up to using it harder and harder. When playing with pleasure and pain, you must trust your partner 100%. There are no ifs, ands, or buts with this. It is required to trust your partner. You don't want them to completely destroy you and your opinion of the loves of kink in one session of pain. I typically would advise moderate to advanced users to use this paddle. It is great for leaving some marks and welts, as well as bruises. We all love that kind of art on our body, you understand.
Experience
continued..
Does it cause marks like most of the BDSM reviews that you do?
It most certainly does! You can watch it literally leave a mark on my ass in the video I will be posting on 8/29/2012 in the afternoon if you were waiting for it. My ass got some nice red marks and I can foresee that it will be bruised tomorrow. I am very optimistic about this and am greatly turned on by this idea. I will have to take a picture and post it on my blog. Just for a little preview..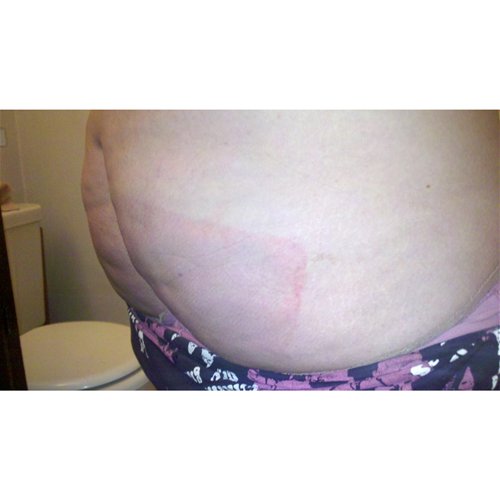 How do you care of this product?
Since this paddle is made of leather, it has a safety rating of seven on the scale Eden provides. Any dirt adhering to the leather can be removed with a damp cloth, using a mild soap if needed. If any bodily fluids or lubricants get on this product by accident, you should wipe it down before and after use with an antibacterial wipe or with a warm cloth with mild soap. It is important to take care of your toys, especially your most prized paddles. You shouldn't use this paddle in water or near water, it just isn't wise. This is a great paddle but I am still in love with my studded paddle.
This content is the opinion of the submitting contributor and is not endorsed by EdenFantasys.com

Thank you for viewing
Black and blue frat paddle
review page!