Just the right ammount of sting.
Overall this paddle is AMAZING. The stitchwork is great and there are no loose threads anywhere.
The quality of this product is very, very high.

I find it very pleasing and it is great for anyone who is looking for a good spanking. This would make a great addition to anyones collection! not to mention a marvelous gift
Published:
Pros:
Double color. Handle. Great craftsman ship.
Cons:
A little pricey, but well worth it.

The length makes it wobble a SMALL ammount.
The black and blue frat paddle by Spartacus was the perfect addition to my bondage collection.
I am very happy to say that this paddle is indeed exactly what I wanted and that everything is how it LOOKED like it was online
Lots of times when I shop online and order something I think it looks AMAZING and then when it gets to me I find myself less then satisfied and I end up sending everything back.
I am happy to say that this has never been the case with my orders from EF and that this paddle matches the blue and black colors on its product page perfectly. It also blended in with my blue and black jaguar cuffs remarkably well, which was another added benefit!
This paddle is blue in the front and black in the back. There are no studs or other such sharp objects on the paddle to add extra pain. Which I personally found was a plus, since I am some-what new to the whole "bondage/pain" thing and was not yet ready for any added pain at the current time. I found this plain leather paddle absolutely perfect for the level of sting that me and my partner where looking for and was 100% percent satisfied with everything this paddle has had to offer us.
However something that I was disappointed to see when this paddle first arrived. Was the fact that it looked slightly damaged(very slightly) when it first got to me.
Of course I tend to believe that this probably happened in shipping and do not believe that it had anything to do with Eden themselves (So of course they remain the best)
I have listed the dimensions of this paddle below(including handle length/width, etcetera.)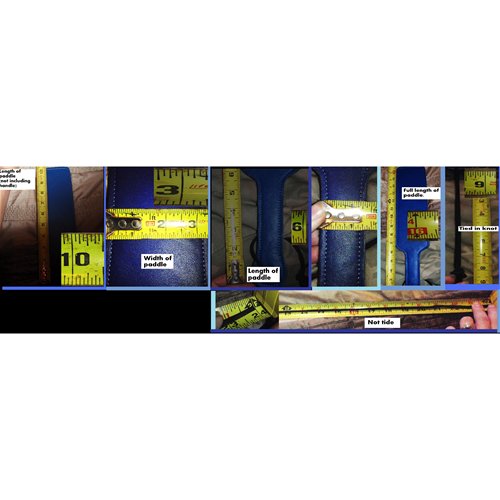 Length of paddle(not including handle)
10 ½ " Inches
Width of paddle
3 ¼ " Inches
Length of handle
6 " Inches
Width of handle
1 ½ " Inches
Full length of paddle
16 ½ " Inches
Wrist holder
9 " Inches (when tied in a loop)
24 " Inches (when untied)
The length of this paddle made it easy to use during sex and the handle fit perfectly into my masters hand for some great nights of fun . *Spanking time*
The packaging of this paddle is VERY simple. It just comes packaged in a thin wrap of plastic
(you can reuse this for storing purposes if you choose) But I would say that the thin plastic doesn't really do anything as far as PROTECTION purposes go, it just keeps dust and other small particles off of the paddle.
Attached through the hole of the handle is a small piece of cardboard paper that says
"Spartacus black B&B blue" on the front. Its very simple.
One the back it says "Have fun. Play safe, and visit us online at www.spartacusleathers.com" along with other wording that isn't really necessary but is there to fill up space.
No people or other such images are pictured on either of the sides of cardboard paper.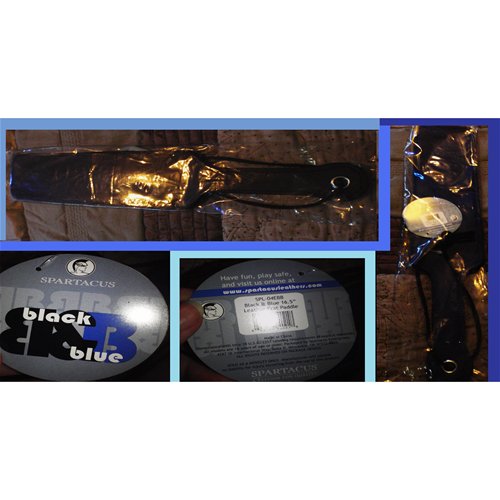 Experience
My experience with this paddle has been great!
I was very pleased to see how high quality it was. I was a little worried that the stiching wouldn't be
"top notch", but that worry was very misplaced, as this paddle was perfect. There where no loose threads and the edges of the paddle where in perfect condition.
This paddle adds just the right ammount of sting for a great night of fun. The length/thickness makes the paddle a LITTLE flimsy and it shakes a small, small ammount if you shake it up and down. But it works great for us and we couldn't be happier with it.
The first time we used it we where very satisfied, we had never had a paddle before and weren't sure if we where going to like it or not. But we have used it on a few different occasions now and are very happy to see that not only did we LOVE using it, but that it has stayed in great shape and will continue to be used for MANY nights to come.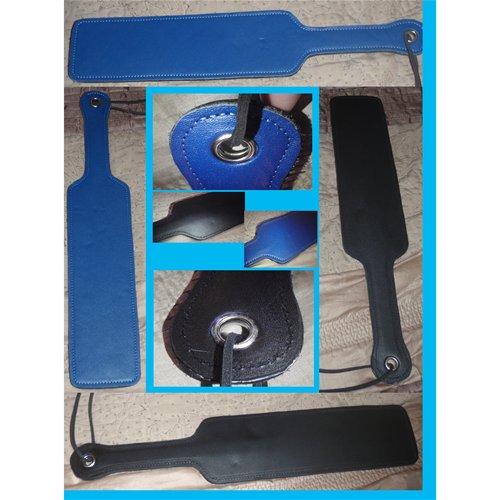 We would definitely recommend this lovely paddle to anyone who is looking for something to spice up the bedroom and add new kink into their everyday lives.
This content is the opinion of the submitting contributor and is not endorsed by EdenFantasys.com

Thank you for viewing
Black and blue frat paddle
– flogging toy review page!