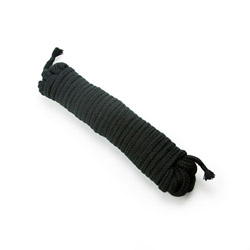 Basic cotton rope
Rope
by EdenFantasys
Bound & At Your Mercy - Feeling Knotty
Overall, I would recommend this rope to any beginners who are interested in trying bondage. For the price and the comfort of this rope, it is worth the purchase. However, if you are interested in suspension, limb bondage, or are more serious about learning the ropes, I would suggest that you look for a thicker, longer, sturdier rope.
Published:
Pros:
Comfortable
Cons:
Fragile, Flattens when compressed, Thin, Short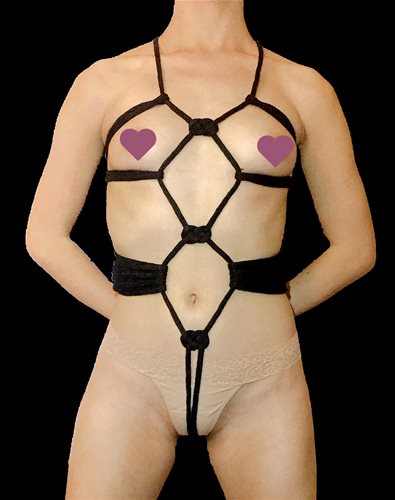 First Impressions
I was more excited than usual to receive this product.
Really, rope?
, you might ask. However, I have been fascinated by bondage ever since I learned about it. Wanting to explore both the art of tying and the sensations of being tied, I eagerly ripped open the clear plastic packaging.

A small silica packet, to remove moisture within the packaging, fell out as I ripped into the plastic. The rope was neatly coiled. The first thing I noticed about the rope itself was the texture. The cotton felt almost like a crocheted tube of yarn, soft and squishy. Unlike nylon rope or cotton clothesline, the rope did not feel solid all the way through. While the rope is not elastic (it will not stretch), it will compress and flatten when you pinch it. When using the rope in bondage, this feature became annoying since you constantly need to untwist the rope to ensure the flat side is against the skin.
The rope is 10' long, which is relatively short for most full body harnesses. 30' is more typical for decorative body harnesses. 10' is a typical length for single-limb restraint. The harness that I did (see "Experience") was
very
modified to use only the bare minimum amount of rope. Even so, I was at the very ends of the rope when I finished the harness. I created this harness to show what the rope would look like when tied. However, the modifications I made were not structurally sound. Any rope master would surely be horrified. If this harness were done correctly, I would need at least 30' of rope, if not more.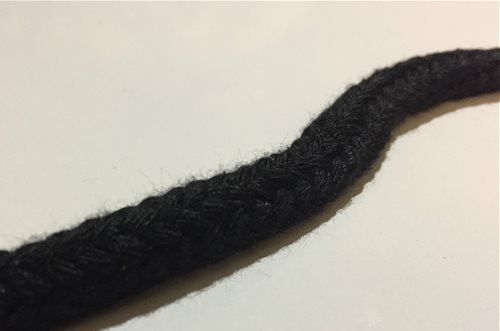 The ends of the rope are wrapped with thread (whipping) to prevent fraying. Pulling on the loose strings at the ends, the rope starts to unravel. So, the whipping will likely come undone after many uses. Overall, this rope seems a bit fragile, especially compared to nylon rope.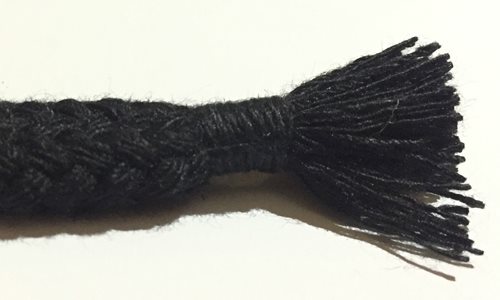 This product did not come with instructions. I referred to the book,
"Two Knotty Boys Showing You the Ropes" by Dan and JD
, for information about safety, rope, care, and tying.
Safety
Since bondage involves people, there are many safety concerns that need to be considered. Humans need to maintain blood circulation and be mindful of nerve damage. If you are tying someone up, you should check at least every 10 minutes for signs that the rope is cutting off circulation. For instance, if you have someone's wrists tied, you should check the hands for any change in skin temperature or change in color to white or blue. You should also ask the person being tied whether they feel pain, tingling, or numbness. If any of these warning signs appear, untie the person immediately and massage the area to bring back blood circulation. Whenever doing bondage, you should be able to stick two fingers between the rope and a person's body. If you are not able to do so, your bindings are too tight.

Since a person can go from being okay to not okay very quickly, it is important to have safety scissors (EMT shears or bandage scissors) at the ready to cut someone out of the ropes if needed. This rope, specifically, does not have a ton of friction. This makes the rope very comfy on the skin, but it also means that the knots can easily tighten if pulled. Therefore, it becomes even more important to have safety scissors on hand. Always keep an eye on a person who is bound to monitor their safety; do not leave them alone in a bound state. That would be irresponsible and dangerous.
This rope is about ¼" in diameter. While the rope is great for decorative pieces, if you are looking to do suspension bondage or limb bondage, don't use this rope. Compared to ⅜"-½" rope, which would work for such applications, the ¼" rope puts all of the pressure on a smaller area, increasing the chance of cutting off circulation.
Cleaning & Care

Just like your clothing, your rope needs to be washed occasionally. If your rope smells or looks dirty, wash it! You can tie your rope in a chain braid (as shown above), put it in a closed pillowcase, and stick it in the washing machine on the delicate cycle without any detergent, softeners, or bleach. Once it's washed, you can untie the braid and hang to dry.
Experience
I decided to perform some self-bondage to experience both the thrill of tying the knots and feeling the rope against my skin. As I mentioned before, I quickly became frustrated that the rope flattened since it meant I needed to constantly untwist the rope to ensure the flat side was flush with my skin. I also found that the knots slipped a bit with this rope because of its lack of friction.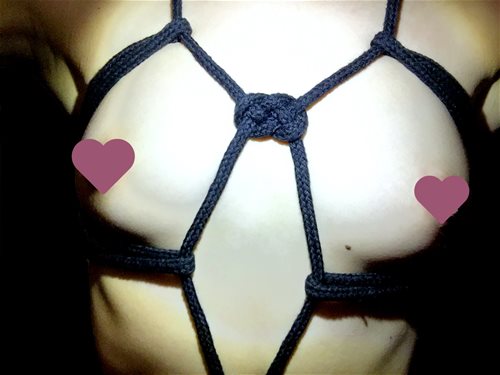 Above is a close-up of the double coin knot.
I only wore panties, so the rope was constantly gliding across my skin, awakening the nerves and making me very excited. I was never uncomfortable from the feel of the ropes; they always felt soft and comfortable. I liked the feeling of being contained by the bondage and left at the will of another. I also felt very safe and secure from the bindings, as if they were embracing me. If anyone has been rock climbing or been on a high ropes course with a full body harness, this feels similar.
When I sent a picture to my Dom, he told me how he has plans for me to wear such a harness under my clothes in public. There are so many naughty (knotty) things you can do with this rope. Believe me, my pussy was soaking wet as I thought about the many possibilities.
This product was provided free of charge to the reviewer. This review is in compliance with the FTC guidelines.
Thank you for viewing
Basic cotton rope
– cuffs review page!