Comfortable Around The Collar & Wrists
The Sex & Mischief tie was very comfortable to wear around the neck or the wrists. The design is similar to those steel tool box patterns and was very masculine. There aren't any design flaws with this tie. It's perfect for everyday use and is a cushy restraint in the bedroom.
Published:
Pros:
- Cushiony & Soft
- Very Comfortable
- Nice Design
Cons:
none
The Sex & Mischief grey tie is your standard everyday tie you wear too work. So, what is this doing on an adult toy store site? Well, first, it's gray and fits into the 50 Shades of Grey theme everyone is going gaga over. And secondly, it makes a great restraint. The fabric is thick and the tie is long so this can tie comfortably around the ankles or wrists without digging into the skin. In comparison to thin silk ties that can leave marks in the skin and cause discomfort, this tie is cushiony and comfortable. It also doesn't leave deep wrinkles in the tie like you may experience with silk ties. When we've used silk ties we always got a very deep crease when we untied it and it was a pain to try to iron out because it wanted to bunch up. With this satin tie the crease isn't as deep and the fabric is easy to iron.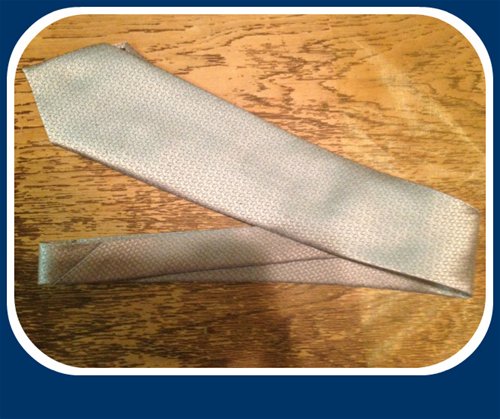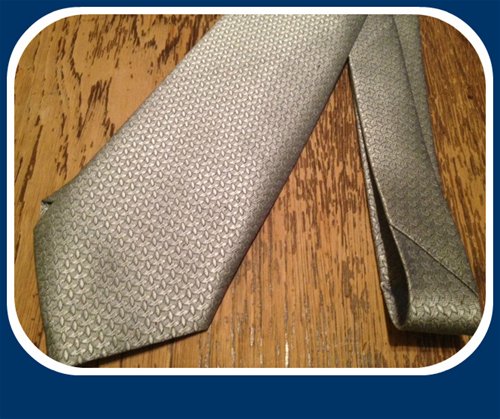 The tie has designs that remind me of those silver steel tool boxes you see on the back of trucks. It has a crisscross pattern through the whole tie. It's very masculine. It's also very discreet, as it's just a tie, but the inside of the tie has a tag that reads "Sex & Mischief" so if someone sees that there they might have some questions. I know I was worried about that when my husband flew to Texas on a business trip and roomed with his boss. Luckily he kept his clothes in a duffle bag and not lain about. If you're worried about the tag you can rip it out and replace it with another piece of cloth, and sew that in. The most amateur at sewing can remedy that issue. It is necessary to have because it holds the little end of the tie in place; however, you can do without it if you purchase a tie clip instead. But, altogether it wasn't that big of a deal to me.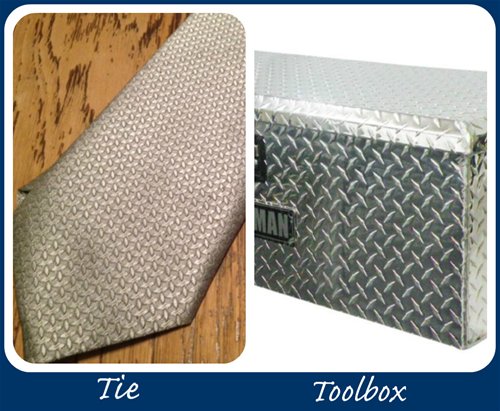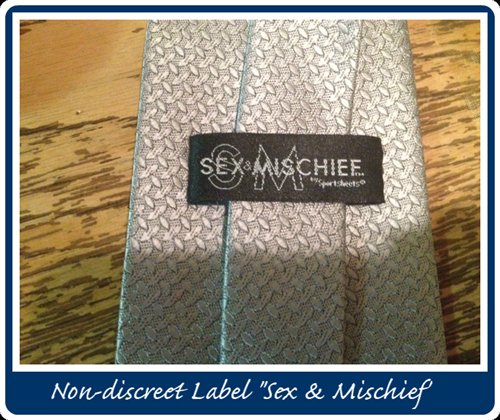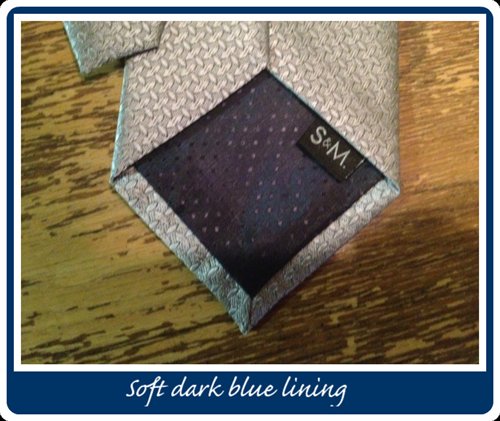 The best way to clean this tie is to wash it by hand or on your gentlest cycle in the washing machine. Make sure to wash this in cold water to prevent warping or shrinking. Air dry this only. To iron keep the setting on a low heat with
no steam
. Don't linger on one spot too long or you can burn it. Use quick strokes while ironing to prevent unnecessary lingering. If you get a crease try not to focus too long on that area. Iron it quickly, let the spot cool, and then go over it again until it is crease-free.
About every half inch down the inside of the tie is a stitch to close the seam. It is a single stitch and can be torn after heavy use. If this happens it is very easy to fix. Get a thin needle, white thread, and make one stitch on the
INSIDE
of the seams. You want to make sure you can't see the thread when you lay the seam back down. If you do it's not a big deal since the seam is on the inside of the tie, so if you wear this to a business meeting no one will notice.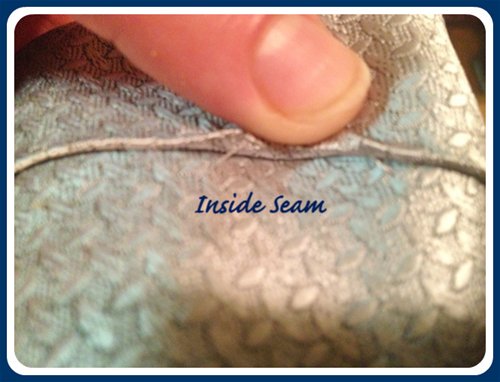 There is seriously nothing sexier than your partner coming home with this tie around his collar and by the end of the day it's around your wrists.
This content is the opinion of the submitting contributor and is not endorsed by EdenFantasys.com

Thank you for viewing
Sex and Mischief grey tie
– restraints review page!