Cuff me please!
I am VERY pleased with my Ankle Kink Cuffs! It's not everyday I find a product that fits my ankles, but this did it with room to spare! My Mister and I have really enjoyed these cuffs so far and have plans to use them many many more times in the future. Looks like we'll be ordering the wrist cuffs as well!
Published:
Pros:
Nice quality, durable and very comfortable
Cons:
None so far!
Use:
The Ankle Kink Cuffs are sturdy enough for rough play, soft enough to be worn comfortably, and large enough to accommodate many different size ankles. Can be used in light or heavy bondage, these cuffs are used to restrain the legs in the position your lover desires. They can either be connected with a hook or chain. Or the can be used with a spreader bar or tethered to a bed. They are really quite versatile! They could be used as wrist restraints as well, though you would end up with a lot of extra leather. Or they could be combined with the Wrist Kink Cuffs to have you held thoroughly captive and at your lover's mercy.
Material/Design:
The cuffs consist of a strap of very nice high quality leather with a stainless steel buckle, D-ring and rivets. The leather strap has 11 holes to cover a wide variety of sizes, anywhere from 6" to 11". It is riveted to a soft, webbed nylon strap which protects you for chaffing when pulling and struggling against the restraints. Mine came with black nylon and red leather straps, but I believe they also come in pink. These are very well-made and should last a long time even with rather rough play!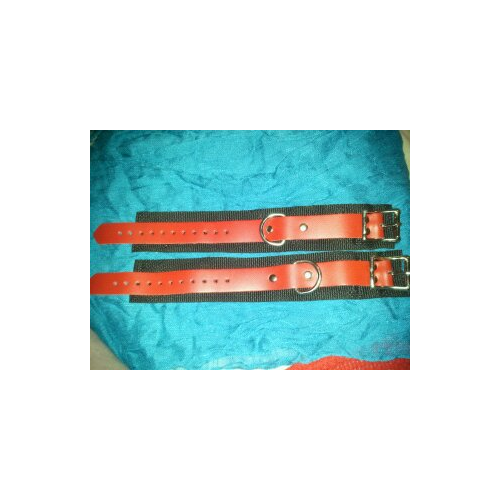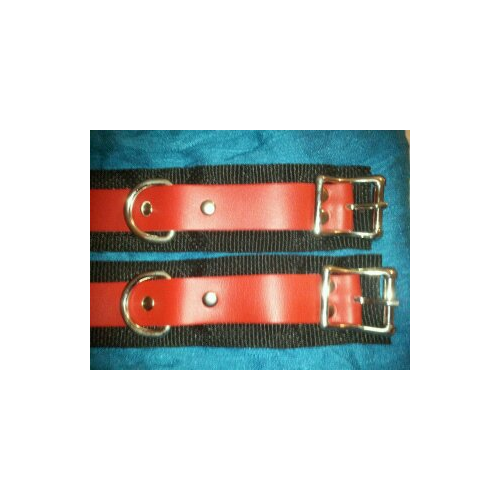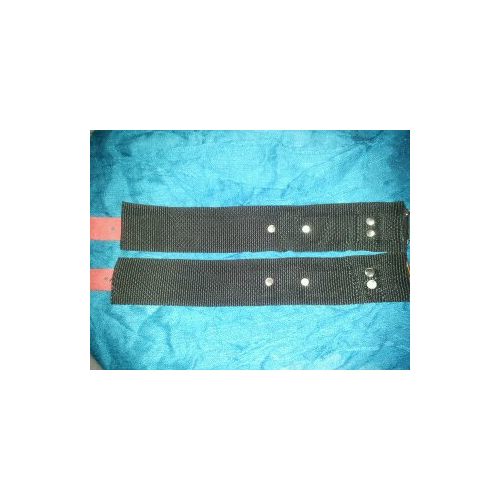 Here are the cuffs on me: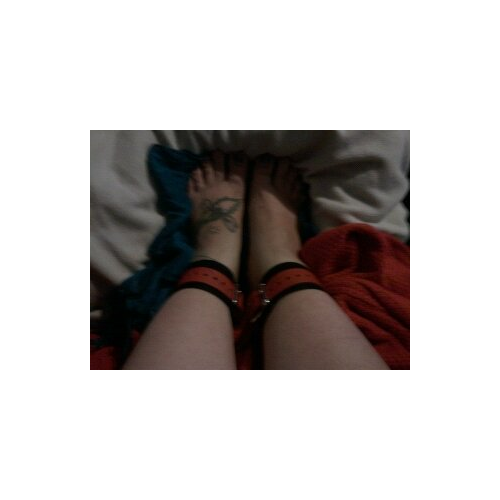 And here is showing the sizing options; my ankles are rather thick, but as you can see, there's room for even bigger!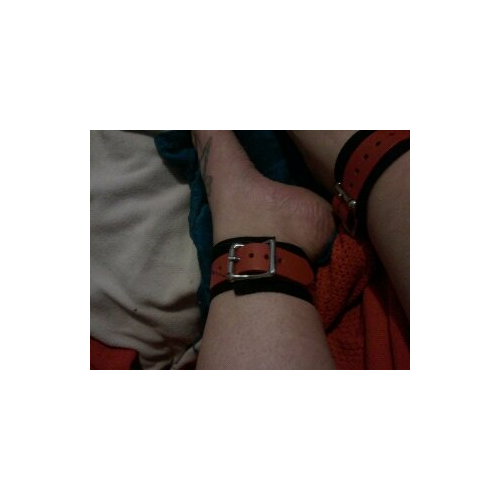 Care/Cleaning/Storage:
These really shouldn't need much cleaning, but in the off chance these get some bodily fluids, sweat or for the more extreme, blood on them, then simply wiping them with a damp rag is all you would want to do. After wiping them clean, you'll want to dry them with a dry rag and let them sit out to finish air drying. Never put leather away wet as it will ruin the quality. Same goes with the nylon, wiping them clean and being sure they are thoroughly dry before storing them. As for storage, I like to store mine in the plastic tube they arrived in. This ensures the cuffs are kept clean and safe and wont get scuffed up from being thrown haphazardly into a drawer or box with other items. And with the tube being clear, I know exactly what I'm grabbing when I reach into my toy cabinet (yes that's right, my toy drawer has turned into a toy cabinet!).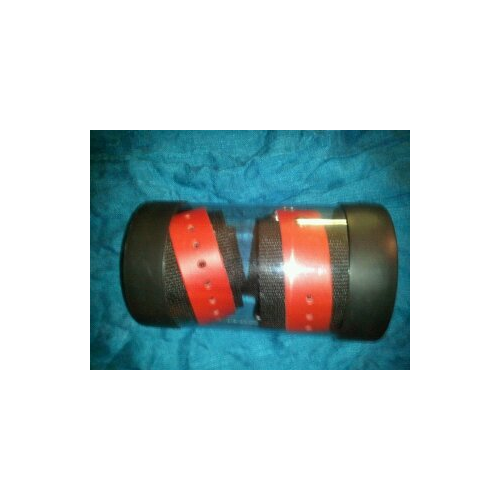 Packaging:
The cuffs arrived in a clear plastic tube with removable black caps on each end. Lining the inside of the tub was the product label and (limited) information. The label has a tasteful picture of a woman's arms and legs wearing both the wrist and ankle restraint. It lists a few key points about the cuffs, such as size and material. No instructions on use (not that any were needed) and no care and cleaning instructions. The package for these is great though, you can remove the informative insert and you are left with the perfect storage container for your cuffs!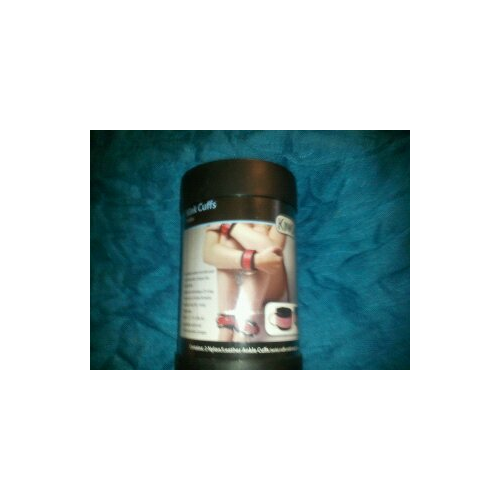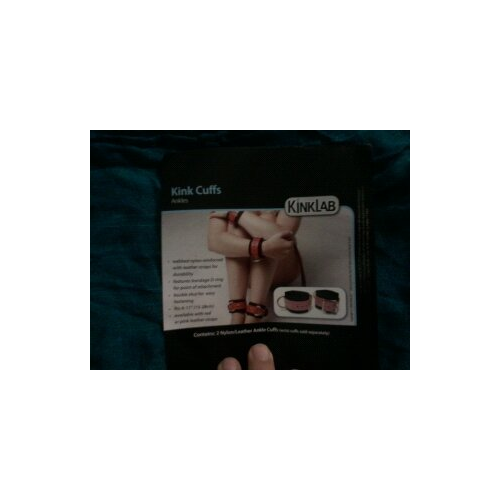 Experience
We have thoroughly enjoyed these cuffs! My Mister likes using them to attach my legs to the bottom corners of the bed so that my legs are spread wide and he can tease me and use me in anyway he wants while I'm held completely captive. He has also used them along with a little rope to connect my hands to them in a hog tie fashion, leaving me helpless and unable to escape. And now he's considering getting a spreader bar to use them with... hehe, looks like it's time for me to be a bad girl again so he'll have to restrain me and punish me.
Follow-up commentary
1 month after original review
I still totally love these cuffs! I really didn't expect to enjoy them so much with the nylon webbing. But it's soft enough and comfortable enough to wear for very extended amounts of time. I've even been known to just walk around with them on under my jeans! These are worth every dime, I only wish EF carried the matching wrist cuffs! I would LOVE to have a matching set!
This product was provided free of charge to the reviewer. This review is in compliance with the FTC guidelines.

Forum
| Discussion | Posts | Last Update |
| --- | --- | --- |
| Kinky? | 23 | |
Thank you for viewing
Ankle kink cuffs
– ankle cuffs review page!