Depending On How Much You Struggle...
While the Wrist and Thigh Harness is a bit on the introductory side of bondage, it really can be an interesting addition to a couple's playtime. If you're an escape artist, or enjoy a good rough struggle in the ties that bind you, I'd suggest skipping over this one.
Published:
Pros:
+ Great introduction to bondage
+ easy to clean
+ leather
Cons:
- Easy to escape from
- Hard struggling might snap the grommets
What's This All About?
Welcome to the world of bondage! The Thigh and Wrist Harness is a leather device that is meant to restrain your partner. Although the entire harness is one piece, there's actually two of them, one for each wrist and thigh. Each one is basically two leather straps attached together with two metal studded grommets. One strap is larger in order to fit around your thigh. The connected strap is smaller to fit around your wrist. The other harness is exactly the same.
How Hard Do You Like It?
I always tell those who are dipping their toes into the world of bondage that it's best to start slow, figure out what you like, then work your way up. Many people are teetering on the edge of bringing up the issue of bondage to their partner. This product would be an interesting way to do so. It's not as intimidating as having to learn rope ties. It's not as cheesy as cheaply-made, faux fur-lined handcuffs. That being said, beginners might not want to start with a heavy restraint. I consider this harness to be a light restraint. I refer to heavy restraints as intricate rope ties, rope suspension, chain, and locked cuffs. I also consider heavy restraints to be something that you can't untie, unwind, unbuckle, or unlock by yourself. I can easily remove myself from this harness.
Depending on How Much You Struggle
There's no problem with the velcro coming undone on the restraint system. I would be more concerned with the studded grommets popping first. My issue was, when struggling, all I had to do in order to escape my bounds was to pull towards my feet with a few good twisting motions and the thigh strap would begin to slide downwards. The thigh strap was off my feet in no time. Granted, I was even being careful not to pop the metal grommets out. The wrist strap was still on tight, but what good was that going to to? I was loose and lawless! Don't misunderstand, The Husband had me wrapped in tight. Any chance that man gets to bound me up, he takes. I'm not normally an escape artist, but for this one, I didn't have to be. Also, keep in mind that leather stretches. The more you struggle, the more these pieces will stretch. On the other hand, not everyone struggles.
The Stats On The Straps
Manufactured by Cal Exotics, the Wrist and Thigh Harness is made of
leather
. You can wipe it down with a damp cloth and leave it set out to dry. If you need to use mild soap, feel free. Each harness also folds up nice and small so storing shouldn't be a big deal.
The Thigh Strap - The strap is 1.5 inches in width about 26.5 inches long. The velcro is about 6.5 inches on both sides. When you close it up and match all the velcro on one side to all of the velcro on the other it's about 20 inches around. Of course you can make it bigger or smaller, up to around 6 inches, but you're really going to be losing a lot of strength in the velcro department.
The Wrist Strap - The strap measures 1.5 inches in width and about 12 inches long. The velcro is about 4 inches on both sides. When you close it all up and match all the velcro on one side to all the velcro to the other side, it's almost 8 inches around. Keep in mind that you can make this bigger or smaller, up to around 4 inches, but doing so takes away from the strength of the velcro.
The Best Way To Play
Once strapped on, this leaves you in a very submissive position. Each wrist is pinned to your thighs and you are completely physically vulnerable. Make sure that you take precautionary measures in using this type of bondage equpiment with someone you trust. Having a
safeword
and a
safe call
in place are also great ideas.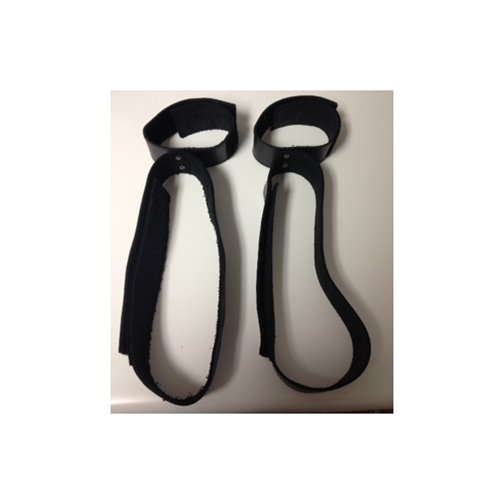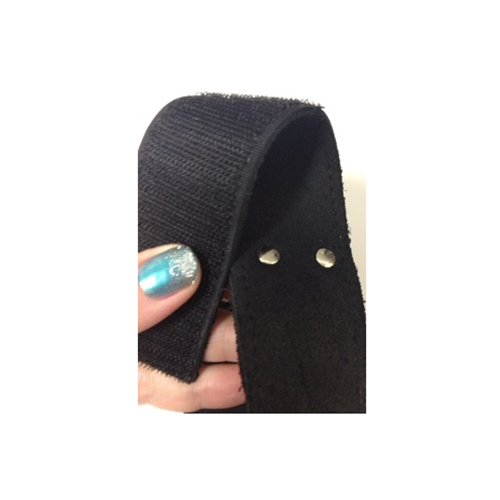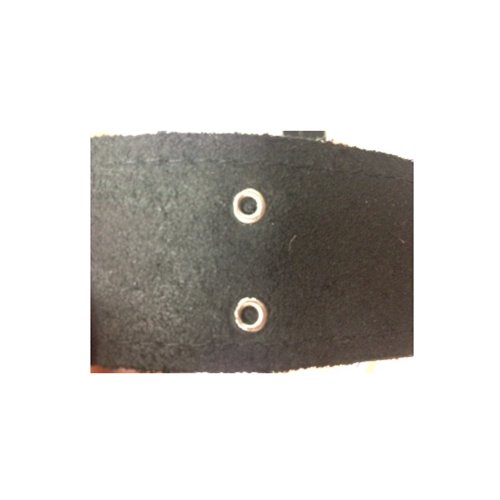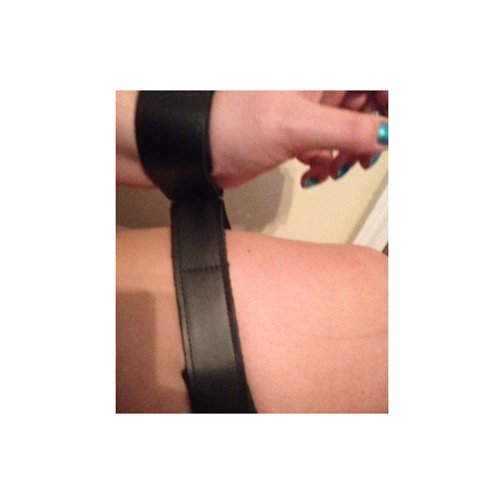 Experience
The Husband bound me up tight in The Wrist and Thigh Harness and stood back to take a look with a dirty smile on his face, obviously a little proud of his handiwork. I began to wiggle and twist, testing the harness and it's capabilities to restrain me efficiently. He stepped up to cop a feel.

Me: What are you doing? I'm testing this thing.
The Husband: I'm helping.
Me: You aren't helping. You're distracting.
The Husband: Same thing.

I continued to twist and move. The Husband was in my way with his constant pawing as I tried to get out, hampering my actual testing of the harness.

Me: You've got to move. I told you I'm testing this thing.
The Husband: I think the point is for you to stay in it.
Me: I want to be able to tell people if I can get out of it.
The Husband: I like it

The Husband continued to paw at me, although I was easily working one thigh strap down a leg, then the other. It didn't take long, even through The Husband's molestation, that I was free of the thigh straps and held up both hands for The Husband to see. He took a step back and frowned.

The Husband: I don't like it anymore.
Follow-up commentary
1 month after original review
I was never impressed with the Wrist and Thigh Harness. For some reason, companies keep producing these 'quick fixes' to bondage that will take the place of rope, but many of them just don't work. This is a perfect example of one. This harness was easy to get out of and I won't be recommending it to anyone who asks.
This content is the opinion of the submitting contributor and is not endorsed by EdenFantasys.com

Thank you for viewing
Thigh and wrist harness
– restraints review page!