Fly Your Kink Flag with this Beautiful Accesory Piece
This absolutely gorgeous leather accessory is a must-have for all kinksters. It's beautiful Swarovski crystals play with light and wearing this bracelet will make you feel like a Kink Queen, even if most people think it's just a piece of jewelry. Although not really usable for real restraint, the idea is there, and often that's all that is needed to get the mood going.
Published:
Pros:
Real leather, well made, Swarovski crystals
Cons:
Not made for rough restraint, only for petite wrists, crystals may come loose
The Marilyn Cuff Bracelet by Unspoken is a beautiful piece made from high quality leather and Swarovski crystals.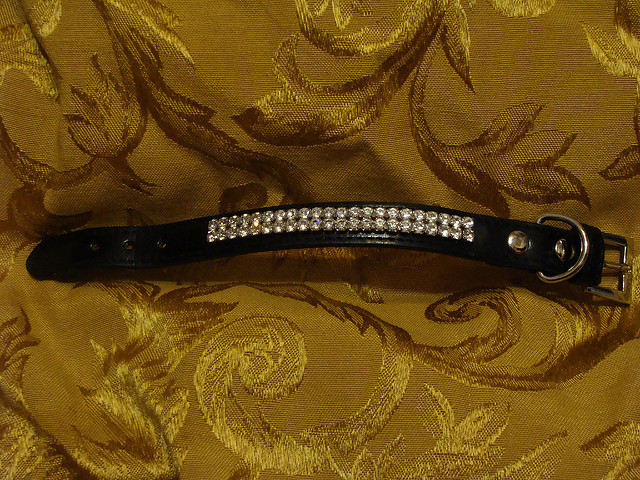 The bracelet is made from real leather and smells heavenly, (if you are in love with the smell of leather like I am) the clasp is strong and easy to put on oneself and the crystals are sparkly and high quality. Also, the D ring is secured well and seems to be serviceable. It comes in either black or red. I choose the black product.
The entire product is 9 ½ inches long, it has three holes for adjustment at approx 6 ½, 7 and 7 ½ inches. It will fit only more petite or slender wrists. Wrists larger than 7 ½ inches in circumference may have a hard time fitting into this cuff.
One more hole could be poked into the leather strap, making it about 8 inches in circumference.
The product is made from sexy black or red leather, with a comfortable underside, well stitched with a strong grommet on either side of the small D ring near the watch band style clasp.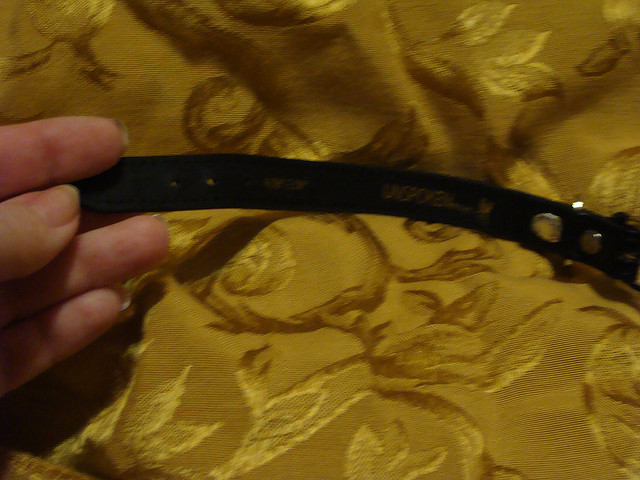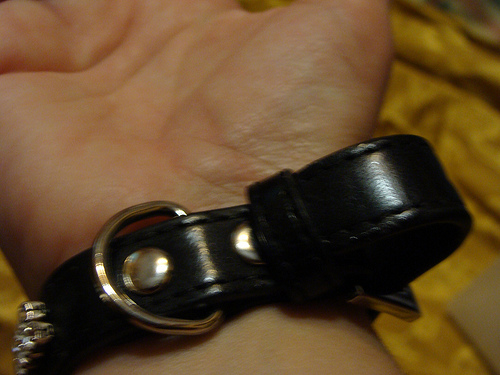 The crystals, which are in a double row, pick up light, diffract light and reflect light in a beautiful way. All colors of the rainbow can be seen in these high quality crystals and the reflection, especially when in sunlight is quite stunning. I also get compliments wherever I wear it, evidently few people being aware it is sold as a BDSM item.
As for using it as a cuff or restraint; this is where this otherwise gorgeous piece of jewelry fails. The cuff is narrow, about ½ wide. Although there is a perfectly serviceable D ring and strong grommets around it, the width causes discomfort when attempts are made to use the product as a real restraint item.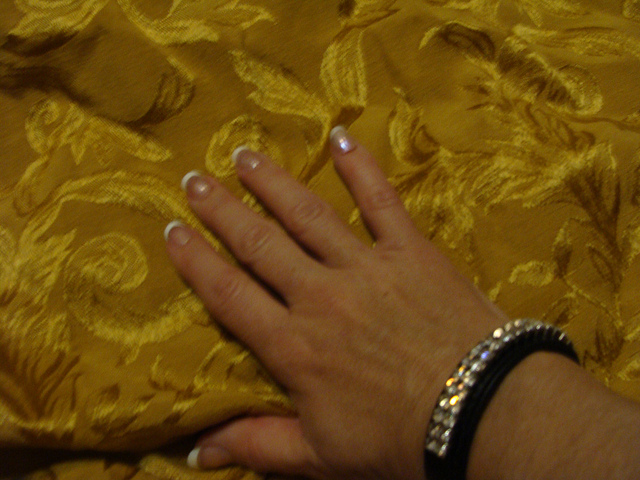 Usable cuffs for restraint need to be thicker. The load from the arm or a struggling body is distributed along the width of a restraint and the thicker the restraint, the less likely pinching and rubbing and undue pressure in one area are to occur. Although the Marilyn Cuff Bracelet is lovely, it is simply too narrow to be used as a proper restraint. Also the crystals may be in danger of becoming loose if the play becomes rough.
For a piece of jewelry, I would give this product 5 stars, as a real restraint item, it earns perhaps a 3. Also, some people may be disappointed that only one cuff comes in each order. When used as jewelry, this isn't a problem, but if one were to try to use these as real restraints (which I don't recommend) one would need to purchase two. As I really love this bit of jewelry and knew when obtaining it that it would not be used for restraint, I am going to give the overall product 4 stars. IMO, it did lose a star for my having to re-glue two of the end crystals on.
However, using this as restraint in a photo shoot, or for a performance art piece these bracelets would work well.
(cont)
Experience
The double row of Swarovski crystals are set into the top layer of leather on a track. (Swarovski crystals are well made, well known Bohemian crystals used in high quality costume jewelry.) This track is moveable, so that the crystals line will bend with the arm. This prevents the rows of crystals from looking stiff on the item, as it bends with the curve of your wrist. This system also leaves the crystals in danger of coming loose, especially since they have a tendency to catch on sweaters or long sleeves or even on the lace curtains in my house! I did have to use a small amount of polyacrylate nail glue to secure one crystal on each end of the line, but since then, it has performed as a jewelry item admirably.
The jewelry comes in an adorable box, shaped like a small purses. Like many women I
love
containers and have kept the little box, although I keep the bracelet itself in my jewelry box. It is not kept with out other restraint toys, as we found it is not usable as a real BDSM toy, although it certainly looks the part to those who know what they are looking for.
This bracelet does for me what I wanted it to. I was pretty sure, while looking on the website that it wasn't useable as a real restraint, but as I obtained it to use as a decoration for my body, it works quite well for me. Most people who see the bracelet in public most likely assume the D ring, which is right next to the leather loop for the end, is meant to secure the loop further. As it fits like a watchband/bracelet, it can be worn in public without arousing suspicion, although those "in the know" would most likely be aware of what it represents by the presence of the D ring.
As I have petite wrists it fits me well. I wear this bracelet alone on one arm, with a different studded leather cuff, or with an other cuff and a black metal "tennis" style bracelet, which looks very nice. (I wore these in my video review for the Ilo Vibrator, if you want to see all three together. http://video.edenfantasys.com/videos/sinfive-ilo-silicone-vibrator/ )
If you want an attractive accessory for your wardrobe, love leather, love shiny things and realize that the product is not usable for adequate restraint, this may be the right purchase for you. Also, Subs and Bottoms may want this bracelet to substitute for a full collar in situations where one may not be wearable. Of course, wearing
with
a collar would be beautiful, too.
I also think this bracelet, or two of them, one on each wrist would look beautiful in a BDSM themed photo shoot, to wear to a Play Party or just to fly your Kink Flag in a rather unassuming manner.
Follow-up commentary
3 months after original review
I wear this cuff frequently as jewelry. Because of the frequent wear, I have had a few problems with the rhinestones coming loose and some of the settings coming loose from the track. I fix them with my nail glue and the toy is back to good as new. (I did lose one rhinestone when I was out. If I had been at home, I would have known and could have replaced it and glued it back in. I will probably buy a stone of the right size and replace it when I get to the fabric store or the hobby store.)

I get compliments on this cuff frequently and I still love the way the rhinestones refract and reflect light. I sometimes get distracted when I am driving because it is so pretty. (I'm easy to amuse.)

The leather is holding up well as are the hardware pieces. My only complaint is that sometimes the stones comes loose. I usually carry nail glue in my purse, so it can be fixed on the spot the few times it has happened.

I do warn readers that this cuff does not mesh well with lace clothing. The lace catches the stones terribly and will pull them off.

But, if careful, it is a great piece of jewelry that can signify Sub status or just look great.
This product was provided free of charge to the reviewer. This review is in compliance with the FTC guidelines.

Thank you for viewing
Marylin wrist cuff
– sex toy review page!