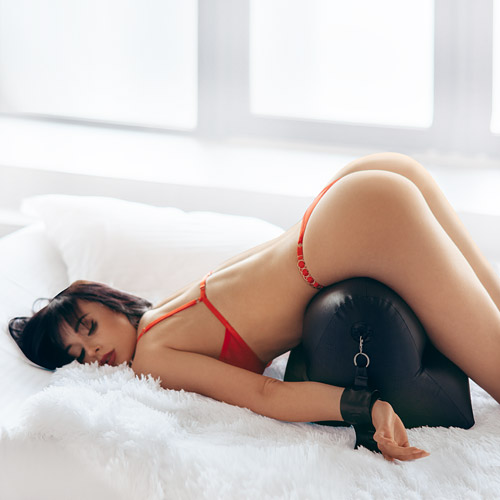 Dark magic love cushion
Position pillow with cuffs
by EdenFantasys
Fun cushion
This love cushion is a rather comfortable pillow to add to your fun. It does seem a little bulky and odd at first, but once you begin to use it, you'll absolutely love the way it adds to your sex life!
Published:
Pros
Comfortable
Crop, tickler and cuffs
Sturdy
Cons
Bulky
Looks like a floatie
This arrived in the mail in a discreet brown box. Inside, it was in a slimmer black box along with the crop, feather tickler, cuffs, and repair kit. They were all individually wrapped in plastic. The love cushion was a little different than I expected. It seemed bigger and not as "sexy" as I thought it'd be. This does not come with a pump! I used my pump for my exercise ball to blow this up. Once I pumped it up, I saw the slots for the crop and tickler. The cuffs also attach to the side. The crop and feather tickler seem like they are of great quality and have worked great for us! The cuffs, on the other hand, work and have velcro to be adjustable but they just seem cheaper made, and we haven't actually used them. The love cushion was a lot bigger than I had imagined it to be! Now I'm a small person so I wasn't sure how it'd work. I decided to play around with it while I was waiting for my partner to come home. So I laid around on it and sat in all kinds of positions to see how it would feel. To my surprise, it was actually quite comfy. Now, I still wasn't sure if it'd move around or not while we used it or how it'd even work in bed. I also had to laugh a bit as I thought the love cushion seemed like a giant floatie you could enjoy outside in a pool. The way it looked and how it seemed, I just couldn't get this image out of my head.
Packaging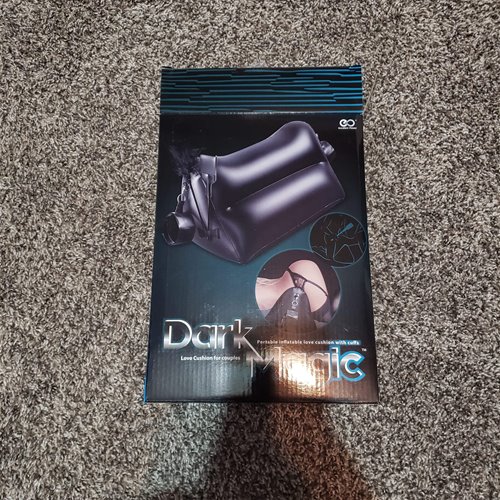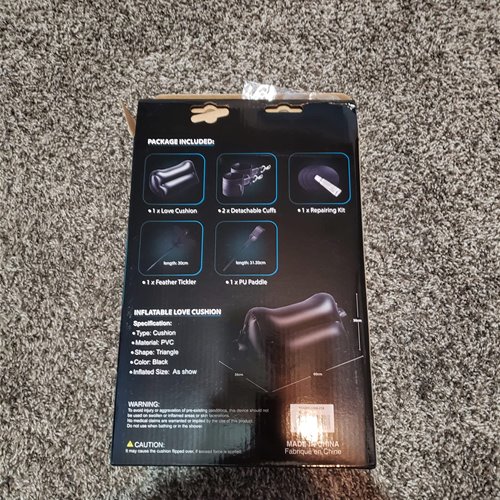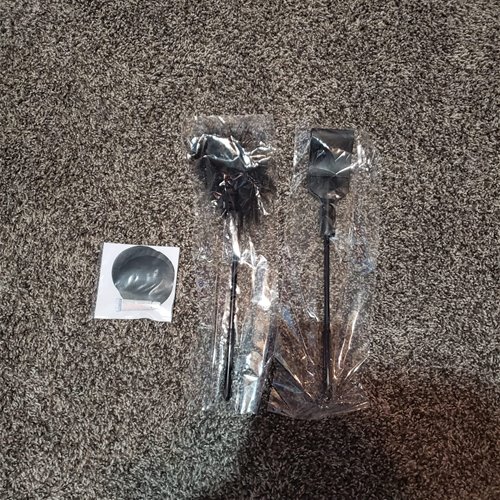 Once we used the love cushion, we really enjoyed it! We've only tried a few positions so far, but it has definitely made me glad I got this. The cushion definitely helps put you in positions to make sex that much better. As for the crop and tickler, we haven't used them much. The tickler does feel extremely soft, and I have run it across my own body, and it has a very sensual feel to it. The crop has a small handle to it, so it's great for being close and personal. The crop handle seems a little cheap but seems to hold up just fine. The crop delivers a very pleasurable sting as well. I'm hoping to write more about them in my follow-up review as we have mainly used the cushion. We haven't tried it in bed either since it seems so bulky. We figured it'd be best to use it on the floor.
Tickler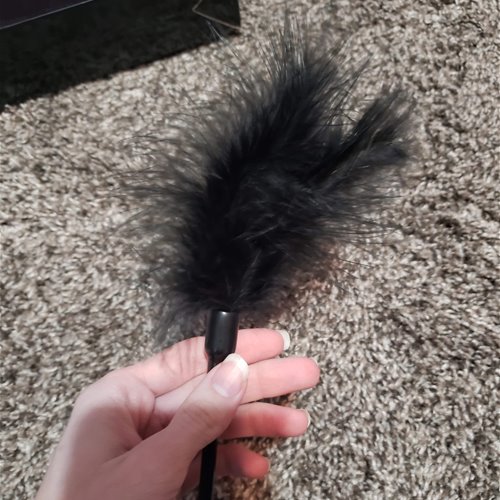 Crop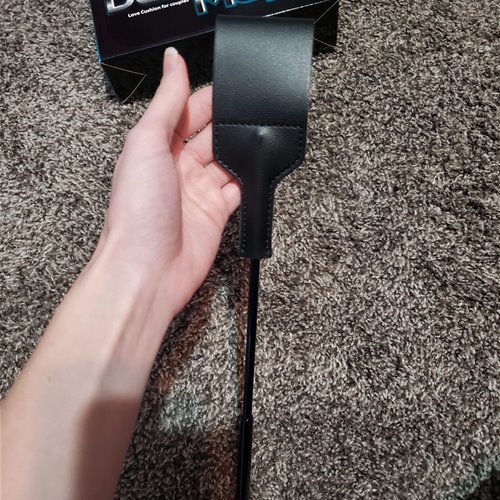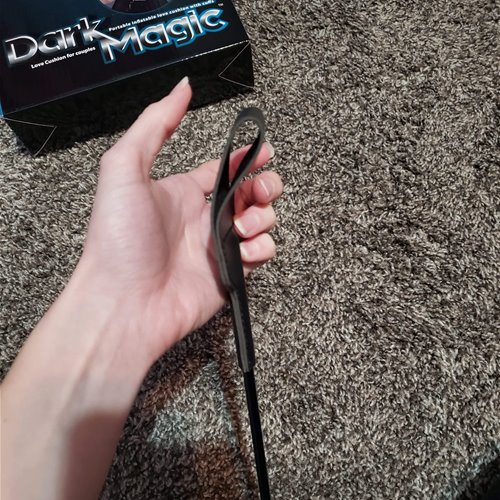 Size comparison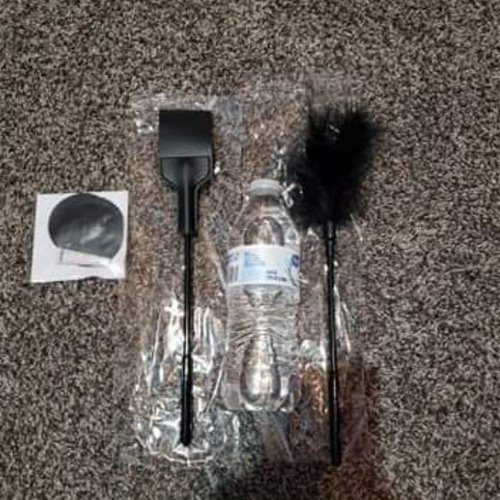 Cuffs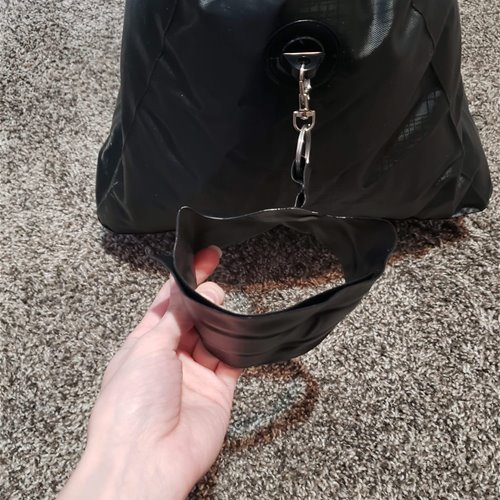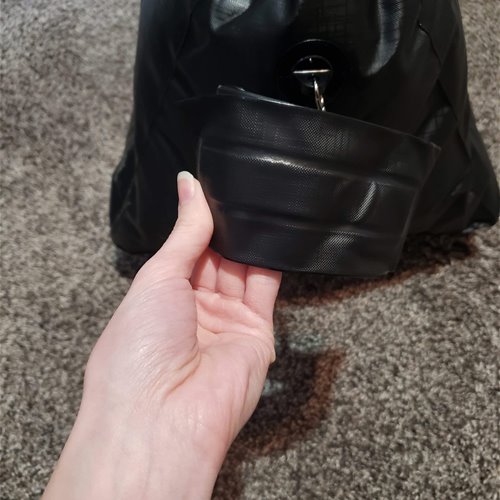 We have had no issues with the cushion having any holes yet. The material is made of phthalates-free PVC. It's an 8/10 on the safety scale. It's hypo-allergenic and is washable. The height is 16" with a length of 23" and a width of 14". As of now, we have just left this cushion blown up, sitting in the closet for when we want to pull it out and use it. It would be easy to deflate and store wherever you decided. Since it does deflate, it's very easy to travel with, just make sure you bring a pump for it! Cleaning-wise, we have just used a damp towel to wipe it off after use.
Cushion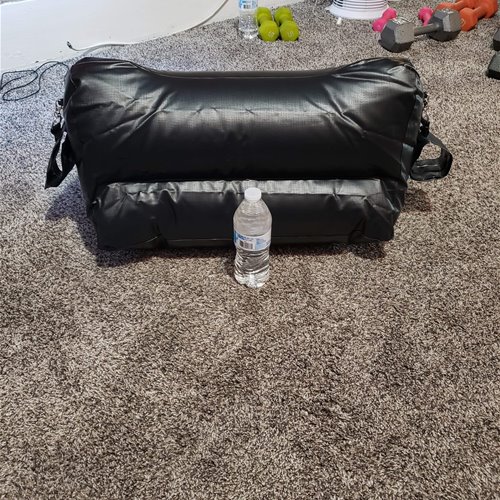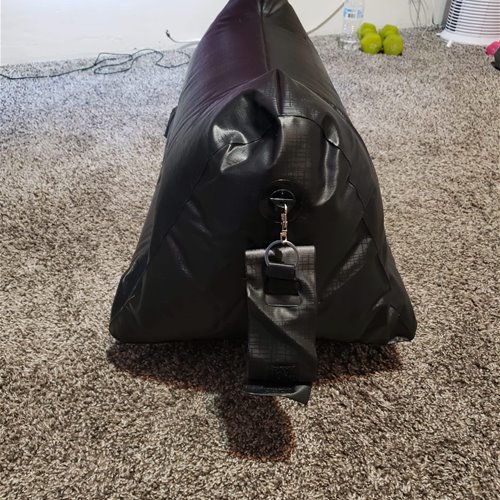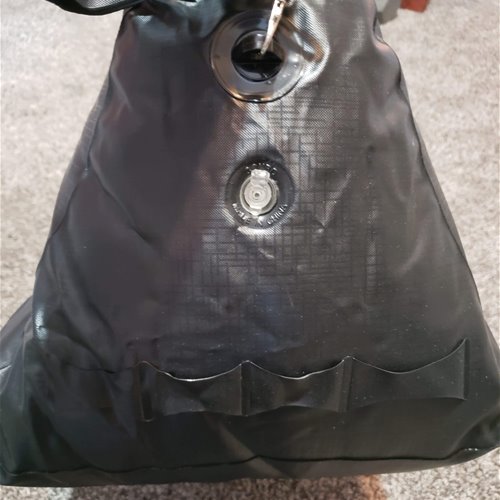 This product was provided free of charge to the reviewer. This review is in compliance with the FTC guidelines.
Thank you for viewing
Dark magic love cushion
– position pillow with cuffs review page!