Good Impact
The Sex and Mischief Flogger by Sportsheets is a well made piece for the price. At the price that it is, it's a steal. It's durable and waterproof, so it should last a while. Its light weight will be great for those who are just getting in to impact play as it does not leave long term marks. It provides a pleasing stings. The mahogany handle makes it visually appealing and it's easy to care for.
Published:
Pros
Well made, Great price, Good for beginners
Cons
Lightweight
The Sex and Mischief Mahogany Flogger is brought to us by the reliable Sportsheets company. The flogger in particular is very affordable and well made. Two things that don't always go hand in hand. This flogger is more for the lighter side of impact play. It's very lightweight, so even when you use effort, not many long-term marks will be left. It takes a lot for this one to leave much. That may be different, if you're more sensitive. It gives a pleasing mild sting. It can be used for teasing as well as sensation play. Just drag across the skin for a tickling feeling. If you prefer thuddy or deep impact, I'd say look elsewhere. But, these stingy falls will be sure to please a lot of people. I know I liked it.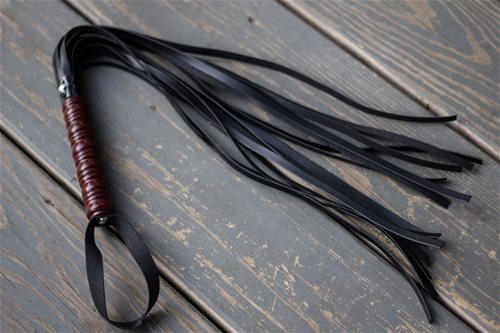 The flogger is fairly sturdy. From top to bottom, it's 30 inches in length. The handle strap and falls are made of a faux leather which are both black. The softer side resembles suede. The falls are held together with a band of black vinyl with a nickel-free tack. There's 15 tails and each one measures just over 18 inches in length and are 1/3 of an inch in diameter. The handle strap is 5 inches in length, so most hands will easily fir through it.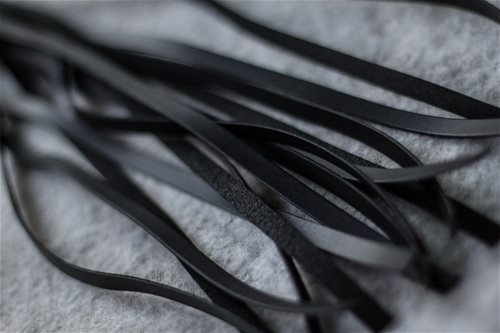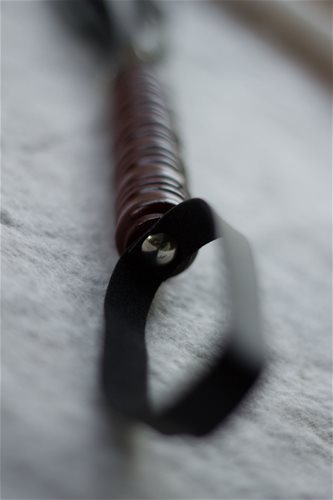 If not, the handle itself is simple to grip. It's maroon color is very appealing. It's a nice contrast against the black. The handle is 6 inches in length and about 3 inches in circumference. It's made from mahogany and heavily coated in a shiny clear lacquer. It has horizontal grooves, so it's not too slippery from the lacquer. Dropping or slipping will not happen very easily. Mine came with no scratches or imperfections. It's 0.2 lbs(3.2 ounces). This one is not going to make many arms tired from repeated whippings. This toy has a gentle leathery smell and is completely tasteless.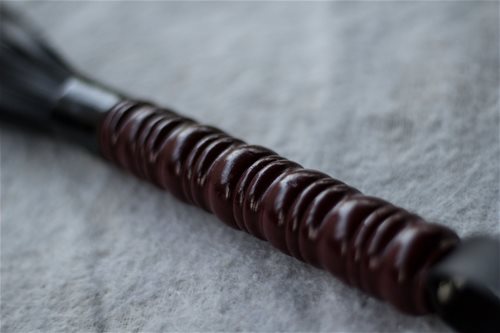 These materials are durable and water resistant. You can wash Faux-Leather with warm water using mild, detergent-free soap and a microfiber soft cloth or an ordinary long-handled, soft bristle brush. When not in use, I leave it hanging on a rack on the wall. It's important to keep it in a place where the falls will not crease or fold, if you care about its appearance. If you can't hang it, I'd recommend, laying it flat, or folding it where the faux leather meets the vinyl. As long as it's cared for, I think this flogger will last a long time.
Experience
I was surprisingly impressed with this flogger. I was apprehensive about the quality and craftsmanship; definitely better than expected. I got it to add a little impact play in the bedroom. I chose this one because I see lots of good things about Sportsheets and this one was visually appealing to me. I love the dark red wood against the black. It performs exactly like it's supposed to. I'd recommend it mostly to a beginner because of its low to medium intensity. You won't get many welts, but you'll be sure to get decent stings. My only grievance with it, is the tails will not stay perfectly straight. The curve just a bit at the very ends. It's not effecting the ending result, I just want it to look nice.
This content is the opinion of the submitting contributor and is not endorsed by EdenFantasys.com
Thank you for viewing
Sex and Mischief mahogany flogger
– whip review page!