Light and Stingy
The Mahogany Flogger from Sex and Mischief is a great little flogger with good length to the falls. The handle is very beautiful and the vinyl fabric is light and delivers a stinging flogging. It is perfect for the bedroom enthusiast that is looking for a great addition to a sizzling sex life.
Published:
Pros:
Well made,
Great for new players
Cons:
Doesn't leave marks without force
The Sex and Mischief line of BDSM gear has proven to be absolutely perfect for my play partners that really don't enjoy a really intense flogging. For my partners that really want marks and deep thuds these just don't cut the mustard, so to speak. Given that the line is marketed toward the bedroom enthusiast they have hit their mark perfectly, pun intended!
These floggers aren't the best quality but they are very decent for the task they were intended to perform. For the price they are a steal! We have had fun using the Mahogany Flogger for a warm up and even as a cool down. It's got longer falls than most floggers in this price range which means more versatility in the way it feels when used. It can produce a great stinging swipe as well as a a decent thump. To get the thump, though, you have to be sure to lay the falls across the area being targeted which can require some skill.
The flogger is composed of vinyl fabric, nickle free metal brads, and lacquer painted wood. The handle of the flogger is a 10 inch long piece of fairly stiff vinyl fabric. It is attached to the wooden handle with a metal brad. I am impressed at how very secure the brad is attached to the wooden handle. This is not going to pull out even with rough use. It's long and wide enough to fit any sized hand easily and it functions as a hanger if, like me, you use a tie rack in your closet to hang your floggers, whips and paddles.
The handle is a wooden dowel 3.25 inches around and turned to provide a beautiful set of bumps that make holding the toy without slipping in sweat slick hands. It is lacquered to resemble mahogany and it is very pretty. The handle is a generous 6 inches long, but the last inch is covered with a strip of vinyl fabric that is fastened with another metal brad. Again the workmanship is top notch but the edges of the fabric have begun to curl up slightly. The brad, however, is firmly fastened and unlikely to come loose.
The vinyl fabric wraps and keeps secure the 15 falls. These falls are 18.5 inches long, a quarter of an inch wide, and the ends do curl up slightly. Normally this bothers me because it can impact where the, um, impact lands. On this flogger the curled ends do cause the falls to go awry somewhat but it's not unmanageable. I have tried leaving the flogger hanging in the bathroom hoping the steam would penetrate the fabric and relax the curl but it hasn't worked yet. Neither has ironing the falls or pressing them between two heavy books. So I guess I am going to have to live with the curl.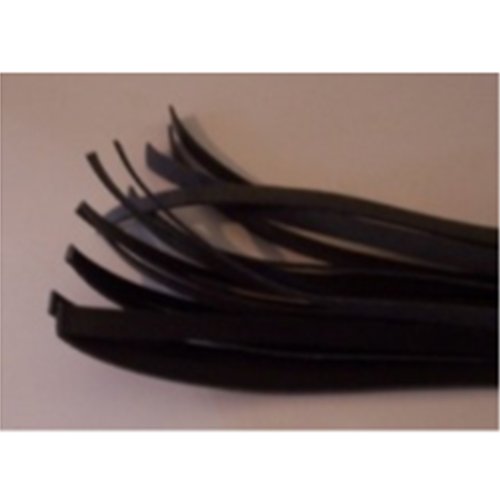 The thinness of the falls adds to the sting factor of the impact.
This flogger has a wooden handle but it is cured and lacquered so it's not going to be bothered by a damp rag being used to clean it. The vinyl fabric is also tolerant to wetness but I would be worried about it molding. Keeping the fabric dry would be the best way to avoid all of these problems.
Now I did receive a flogger from Sex and Mischief that smelled like a skunk had gotten all friendly with it before it arrived at my house. This flogger, I am very pleased to say, lacks all traces of that most horrible funk. It smells like good quality vinyl clothing.
Experience
While I didn't find that this toy has the thud factor that I love in a flogger it can deliver quite a stinging swipe. For a longer flogging you can't beat this flogger, though. It can do the swish and brush type flogging quite well and leaves an amazing red spot without the welts, you know, if you are into that sort of thing!

I am quite taken by the floggers in this line and own nearly all of them. They are great for playing with people that I don't know well enough to trot out the more "business like" floggers I own. These are a great tool for dipping your toes in the waters of impact play.
Follow-up commentary
10 months after original review
This is still holding up remarkably well considering its price point. This is a really great little flogger for the dungeon on a budget.
This content is the opinion of the submitting contributor and is not endorsed by EdenFantasys.com

Thank you for viewing
Sex and Mischief mahogany flogger
– whip review page!