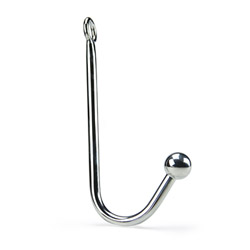 Anal hook
Metal probe
by EdenFantasys
Got Me Hooked? Not So Much.
Whether you have Captain Hook and Wendy fantasies or a kink for some rough bondage, this hook has many different uses. Overall, I was not impressed by the quality of the toy. I was looking for a metal toy with a bit more weight and metal work that had smoother edges. Unfortunately, I would not recommend this toy to others. I think there are better metal toys out there that could be used for similar purposes.
Published:
Pros:
Easy to clean, Metal
Cons:
Uncomfortable, Light-weight, Rough patches
Out-of-the-Box Impressions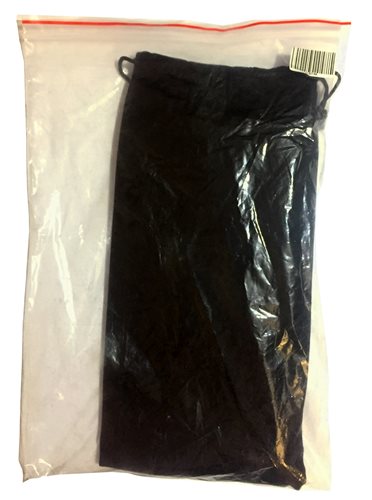 A hook may seem like a strange addition to a toy bag. However, after watching porn that incorporated anal hooks into bondage and domination scenes, I decided that I wanted to give this product a try. When I received the package, it looked very discreet and classy, just a black, velvet, drawstring bag. I was happy to find that the hook was protected by a few layers of tissue paper, ensuring that my toy arrived without a scratch.
Out-of-the-Bag Impressions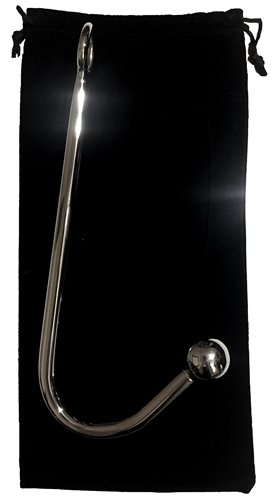 Holding the hook in my hands for the first time, I found myself surprised at the light weight. While I normally find heavier anal toys more pleasurable, I am sure a hollow hook is more cost effective. I own a few other metal anal toys and my biggest issue with them is that they scratch easily. I have not had the heart to drop this toy on the ground to test its resiliency. However, this toy is lighter than my other metal toys, so I'm guessing I won't drop it as easily.
This toy is made from stainless steel, a body-safe and long-lasting material. Click
this link
to learn more about stainless steel. One thing I love about metal toys is that they are great for temperature play. Without warming it up beforehand, metal can certainly add anticipation to a scene. Imagine it! A cold object brushes against your skin setting your nerves on high alert, increasing your pulse, and setting off a buzz of erotic energy. If you prefer a sensual play session, a quick rinse in hot tap water can turn your toy into a warm probe.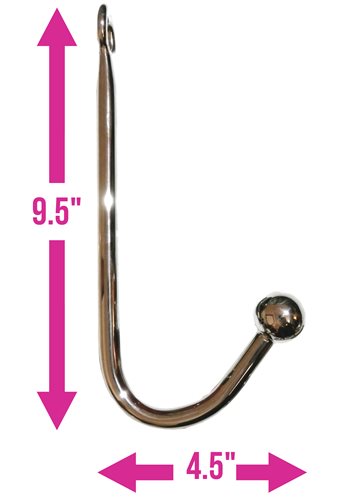 The toy isn't too large, it will fit on a standard piece of 8 ½" x 11" paper. My first impressions of this toy were generally positive. My only big concern stemmed from a bit of roughness at the metal junctions. Where the ball meets the hook and where the hook meets the ring, the metal pieces are soldered together. I noticed that there is a bit of blackened metal here and an uneven, slightly rough surface. While this is fine for the ring connection, I am slightly concerned about the ball connection since it will be inserted.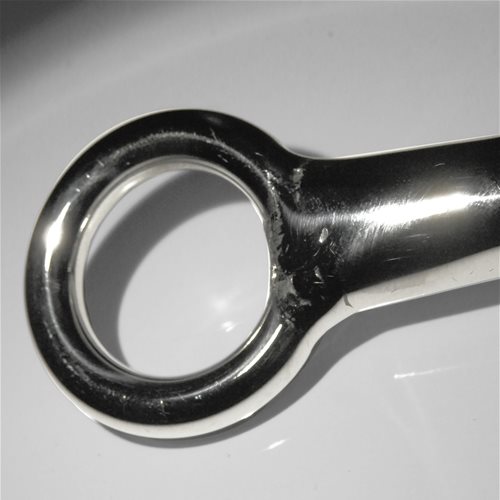 Cleaning & Care
The hook is easy to clean. Soap and water does the trick. However, if you are looking for a rigorous clean, your hook can be washed in the dish washer, boiled, or washed with a bleach and water solution. The toy can be toweled dry and stored in the soft, velvet pouch that came with the toy.
Experience
Into-the-Butt Impressions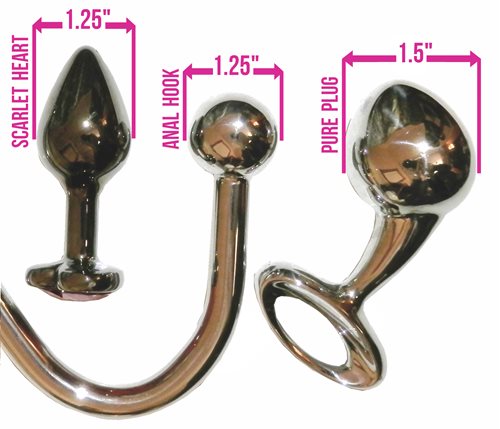 Above is a comparison of (left to right) "Crimson Tied Scarlet Heart Anal Plug" by Master Series, "Anal Hook" by EdenFantasys, and "Pure Plug Large" by njoy.
To prepare my hook, I liberally lathered lube to the ball side of the toy. I found that applying lube down to where the hook begins to curve was sufficient. Now it was time to insert the plug. As the round bulb of the hook pressed against my anus, I had a moment of fear that the ball wouldn't fit. Even though I had taken far larger objects into my butt, my previous experiences all involved toys with tapered tips. It turns out there was nothing to fear. The ½" diameter sphere popped into my ass easily. My concern about the slightly rough surface where the ball and hook connected was unwarranted. I could not feel the roughness as the hook was inserted. I would caution users to check for any sharp edges before inserting any toy.
After the bulb was inserted, I threaded my bondage rope through the ring at the top of the hook. As I pulled up on the rope, I could feel the hook inside my ass shift and pull on the walls of my rectum.
With typical plugs, after they are inserted, I feel a sensual weight inside my butt. Since this hook was so light, this weighty feeling was absent. Instead the sensation came from the rod moving against my ring of muscles. I find plugs very comfortable; I can wear a plug for hours on end without any discomfort. The hook is not very comfortable. While a plug moves with your body, the bulb at the end of the hook pulls at your anus every time you move.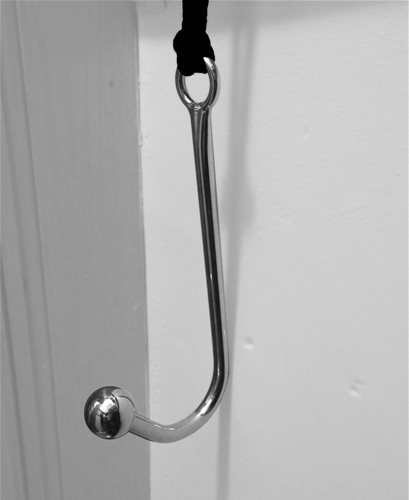 With the hook inserted and the stem of the hook running up my back, I found the shape of the hook did not conform very well to my body shape. The only time I found the configuration comfortable was when one end of the rope was attached to the hook, the other end was tied around my hair, and my back was arched. While the hook was not particularly comfortable, the slight discomfort could be used to increase the anticipation and sexual domination in a scene. I did not find this toy arousing on its own. However, I could imagine that under the right circumstances, this toy could be used as a tool of pleasure.
This product was provided free of charge to the reviewer. This review is in compliance with the FTC guidelines.
Thank you for viewing
Anal hook
– sex toy review page!