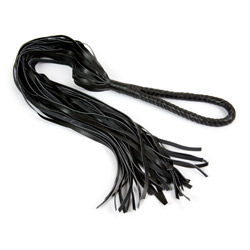 Calf leather flogger
Whip
by EdenFantasys
Great for Beginners, Not for Experts
This is a good piece if you are looking for a flogger to use while you learn how to swing them. It's affordable and also travels well. I wasn't a huge fan of it overall, but my standards are fairly high.
Published:
Pros:
Lightweight
Travel Safe
Easily flexible
Cons:
Tangles easily
Material isn't very soft
Lower quality of leather
I'm going to start this by saying I know several leather workers as well as bootblacks (people who care for leather goods), so my standards are pretty high. Unfortunately, this flogger failed all of my expectations for craftsmanship, quality, and function. The only thing I found appealing was the shape of the handle; I have a bad shoulder, and the handle design did make it a lot easier to grip and swing for longer periods of time.
In my photo below I used a standard American ruler to show the scale of the tendrils and let you approximate the overall height and size of the handle.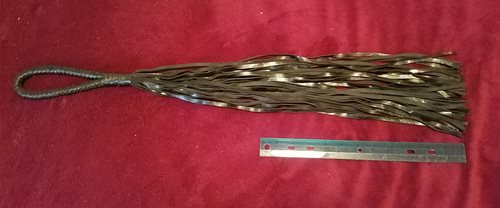 * The Craftsmanship *
This piece looks like it was made in a hurry. The handle is merely wrapped several times and doesn't appear to be super secured and gives a lot more flex than I feel it needs. Though in a strange way the handle having that much flex might be good for people who want to grab both halves of the half in one hand for power strikes, instead of holding the end or one half for softer swings.
* The Quality *
I quality of the material used to be very cheap. And as this retails for $50 I wasn't expecting super high quality, but I expected something that was not going to crunchy and crisp. The leather is sharp on the ends and doesn't appear to be treated so when swung, the tips sting a bit more than they should. The tendrils also tangle easily and curl constantly. I would recommend also purchasing a leather conditioner to use with this to soften the entire flogger and remove those problems.
* The Functionality *
For people new to floggers, this is a good starter piece. It's not very expensive so if something happens to it you're not out of pocket much, it's small and therefore lightweight, and travels easily because it's so flexible and therefore able to be folded into your luggage. Because this is such a lightweight design, it is good for swinging around and for texture play, although I do not recommend it for impact play. However, for experts or people who are very adept at floggers, this isn't a great piece. The tangling issue alone is enough to drive me batty. When you're swinging it, you might have to shake it out a few times to untangle it. This was a bit of a turn off for my partner and me, as it forces your play to pause. I just started hanging it on my wall so it would stop tangling in my storage pouches (little satchels or pouches made of soft fabrics with openings on each end that cinch shut to protect leather goods).
* Storage Recommendations *
As I mentioned above, there are pouches available that should help keep the tangling to a minimum, but you'd need to get a smaller size so the tendrils can't move around much. This would be especially true if you're traveling. If you have the abilities to hang it on a large hook, that's probably the best way to go. The more the flogger moves around, the more likely it will tangle.
* Cleaning Recommendations *
Because this is made of leather, any leather specific cleaner will work. If you need to wash it for whatever reason, be sure to use a damp washcloth with warm water only. Towel pat dry, and then hang up somewhere so it can air dry. Be very careful about washing it too many times. Over time leather does begin to take damage and will change length and texture.
Experience
It is a fun toy to swing around, but I don't see this becoming a favourite any time soon. I tend to value quality of a product over everything else. My partner made comments about the sting of the tips when I struck her with it, and that pulled me out of our play a bit. Eventually we stopped using it and grabbed a different item.
This product was provided free of charge to the reviewer. This review is in compliance with the FTC guidelines.

Thank you for viewing
Calf leather flogger
– whip review page!