Hey, who dimmed the lights?
A simple, soft and comfy blindfold is a great way to add some spice to the bedroom. The fake fur feels nice against the skin and does a good job of blocking vision. The elastic head band does not dig into your head and should not come off during normal use.
Published:
Pros:
Soft and supple, Comfy to wear, Should fit most.
Cons:
A different color choice would be nice.
Blindfolds are a great way to spice things up in the bedroom, the Pocket pinky blindfold is a nice choice that works well and is comfortable to wear. For the most part, blindfolds are used for sensory deprivation. That is, you or your partner can not see what is happening/going to happen. They are not just used during BDSM scenes; they can be a great addition to vanilla type folks as well. Just think, you have your partner put it on and lie on the bed and use a feather to tickle all the body parts. Or maybe you want to surprise them with a new toy, let them feel it before they see it. Of course you can use it to cover their eyes when showing them that bouquet of roses you bought them.
Either way you use it, a good blindfold should block their sight and be comfy to wear. This one fits the bill quite nicely. Let's look at what you get, eh?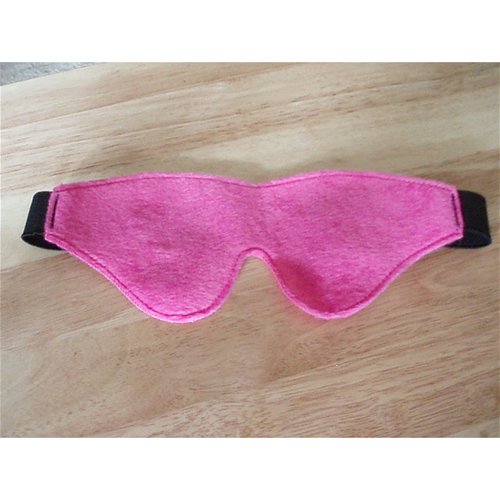 This blindfold is made from pink fake fur and has a black elastic band. The main body of the blindfold is made of two pieces of fabric sewn together. The edges are exposed but that does not take away from the looks or comfort as the material is soft and supple. The band is sewn to the fabric with two rows of nylon stitching so there should be no problem with it coming off, the material will surely tear before the band comes off.
From side to side, the blindfold measures 8 3/4" and from top to bottom it is 3 1/2" overall. From center to center of the eye patches measures 3" and there is 1 1/2" of fabric along the nose portion. Overall circumference is 21" when un-stretched, 27" stretched. The head band is 7/8 of an inch wide. I am guessing it should fit most heads but if it is to large you can always shorten the band either buy taking the stitching out and re-sewing it or bunch up the band and put a couple of stitches in it.
For me, this blindfold fits great and there is only a small area at the bottom of my nose that I can see out of. The material sort of holds its shape so you can fold/roll it up in the direction of your face to help block vision if needed.
Now, this is not a "hard core" blindfold as I can get it off just by moving my head against the bed/pillow. No, this is more of a fun time type blindfold better suited for vanilla type play where it is agreed beforehand that it will stay on.
There is no info on the packaging about cleaning but I would say a hand wash using mild soap will work fine. It could be tossed into the washing machine using cold water as well. Due to the elastic band and material it is best not to use the dryer as it could melt/deform the blindfold. Better to just let it air dry.
Here are a few pic's of the packageing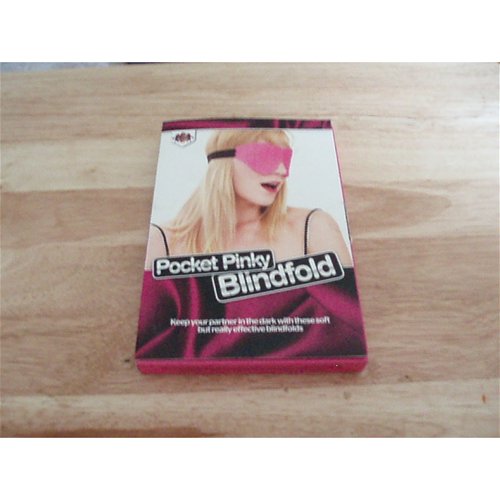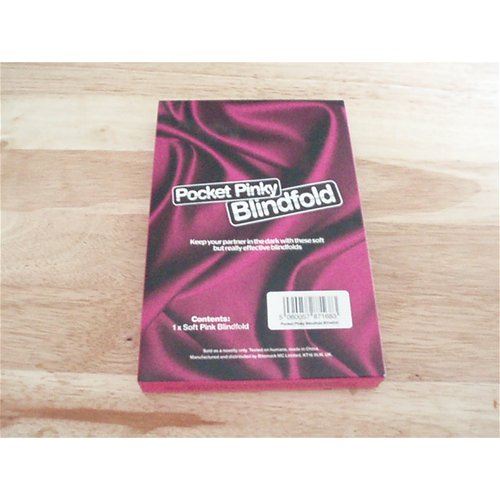 As you can see there is nothing that screams SEX toy, as such it is suitable for gift giving. After all, its a blindfold, most do not automatically think sex. It could just as easily be used for sleeping, eh? Oh ya, it works good for that too.
You can use the box for storage if you want or just leave it on the headboard. It will easily fold up to fit in a pocket or handbag so it is easy to take it with you.
A couple of things that I found kind of funny about the writing on the package. One, on the back it states "Sold as a novelty only. Tested on humans..." Really? I figured they would have used a bird or something for testing. Two, on the bottom of the box it states "When attaching Beyondage items..." What is "Beyondage" I wonder? Google turned up nothing, must be a new thing, eh?
Experience
We are having fun with this even though it is not something we usually use. It fits us both well and even after an hour with it on we felt no discomfort. We only have one other blindfold, it is made from vinyl and as such it can get pretty hot when the temps are on the warm side. The fake fur is much better during the cold temps (Still early spring here) and is 100% more comfy to wear.

I would have liked to see a stiffer material used inside to better form it to the face. This is just a personal thing so I still give it five stars.
This product was provided free of charge to the reviewer. This review is in compliance with the FTC guidelines.

Thank you for viewing
Pocket pinky blindfold
review page!