It's a blindfold. Kind of. IF you're being generous.
If it's your first time with sensory play, maybe this is your blindfold. It stays on, requires no adjustment and feels nice on your face. However, the tips flip up, letting you see down your nose. It tends to feel too tight around the eyes and also frequently shifts around at the slightest provocation. It's a little frustrating. If you don't expect much, you might be satisfied.
Published:
Pros:
Cheap,
soft,
opaque
Cons:
Too tight,
too slidy,
the tips won't stay down
Maybe I was a tad harsh in the title. Just a tad. Let's start with the positives. It's cheap. I love that about toys. It's soft. This plays two roles. It feels nice on your eyes and helps block out the light. It's pretty darn opaque. This is nice if you're using it as an eye mask for sleeping (which it is actually probably really well suited to) or if you're really into full sensory deprivation.
Now the minuses.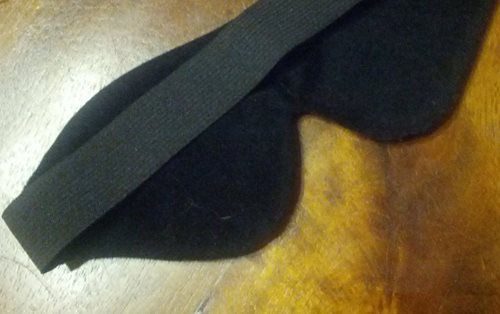 The flappy bits are too flappy. They flip up and let her see out. Kind of reduces the benefit of the total opacity.
They're also fairly cheaply made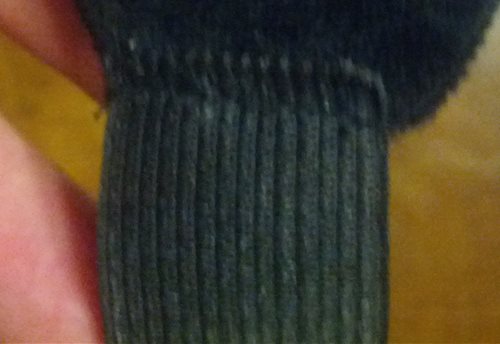 The ends are sewn on with one pass of very thin thread. Doesn't give me a lot of faith in their longevity.
But most importantly, they just don't feel quite right. Somehow, they manage to feel too tight and too loose simultaneously. They push on her eyes more then we'd like and at the same time tend to flop off and slide around enough to be a pain in the butt. One or the other might be OK, but both is tough to stomach.
We use a blindfold at least a third of the times we get together, so it's important that it work well. We've owned this one for a couple months and we've used it once. My stretchy strip of black crushed velvet has come out dozens of times. I can make it black out all the light, be the right tightness, and not come off. Can't say any of those things about this blindfold. Maybe we'll try something a bit higher-end and be really impressed. If you're thinking about this particular product, you could go down to your local fabric store and get a quarter yard of something that appeals to you.
Experience
It seemed fine, but hurt her eyes, and wouldn't stay on. The flaps kept popping up and it kept shifting off her eyes. Maybe you should use it as a sleep mask, but for vigorous bedroom activities, it's not what we wanted.
Follow-up commentary
2 months after original review
It's still floppy, doesn't stay on terribly well and doesn't really always block all vision. On the other hand it's easy, fairly comfortable and doesn't take up much room. A strip of black fabric is still better.
This content is the opinion of the submitting contributor and is not endorsed by EdenFantasys.com

Thank you for viewing
Plushy gear lover's eye mask
– blindfold review page!