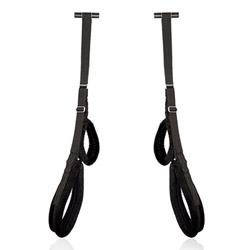 Essential door swing
Swing by EdenFantasys
Just a Swingin'
I have wanted a swing since I visited a friends house and they dropped a hook out of the ceiling (hidden under a fake fire detector), took a massive swing from their living room ottoman, and hooked it all up. Sadly, I don't have that kind of room (or freedom to do things like that with my apartment), so I came to terms that I would just never own a sex swing. That is until I came across the Essential Door Swing. It is perfect for my small apartment.
Published:
Pros:
Sturdy Material
Soft Cuffs
Easy to Install
Cons:
Rough Nylon
May Require Some Assembly
No Instructions Included
Whoa, Whoa Whoa! What's This!?

At least, that's what was going through my mind as I paused my scrolling to better look at the Essential Door Swing. I looked over the specs and put in a request to receive it in exchange for my honest and unbiased review. After my request was approved, I anxiously waited for it to arrive. I must have checked the tracking website at least twice a day. The day it came in I was at work and got an email that it had been delivered. I swear to gods, I have never lived through a slower work day in my life!

When I finally, finally, got home, I scooped up the box, dropped my stuff on the couch, and headed straight for the bedroom. It should be noted that I purchased a couple of other items and had another review item in the box, but I was most excited about the Essential Door Swing. My partner and I have been talking about getting a swing for years, but we have never had the room - the idea of one that hangs on the door was too tantalizing.

Ripping open the box I went right for the medium sized plastic bag, packed to the brim with nylon straps and soft fleece cuffs. Taking out all the contents I was disappointed to find that it did not come with any instructions. With the help of my husband, we found that the little metal bars slipped into the loops at the top of the nylon straps. Thankfully, the rest of it was already put together. Once we did the small amount of assembly, we positioned the metal bars on the other side of the door, closed it, and he helped me climb into it.

I pulled on the arm holds for support while he lifted my body. We got in my left leg, and as I slipped in my right leg, the straps holding that part to the rest of the device came undone. My leg and the entire thigh support slipped out and I was half hanging, half supported against the door. It may just be because I scare easy, but that was scary! My husband helped me out of it and spent the next five or so minutes trying to figure out how to reattach the strap to the plastic piece.

Once we had it put back together, we got the step stool. I was too much of a chicken to try doing it the sexy way again. I eased myself into it and once I was comfortable, I let my husband take the stool out of the way. For a moment, I hung against my door in fear. After the initial fear of the device coming apart again faded, I realized that I was... suspended. In the air. Well, against my door. And ready to be taken.

I'll spare you the juicy details of what transpired. Instead, let us talk about how the swing felt. The cuffs were soft but difficult to hold onto with my hands. I was unsure if my arms were supposed to rest in them or if I was supposed to hold on. I chose to hold onto them. The thigh cuffs may not be fit for larger thighed folk, but I did not have a problem with them. After about fifteen minutes or so of fun, they did start to make my lower legs go numb. If you twist the wrong way or find your skin rubbing up against the straps, it can quickly become uncomfortable as the straps are made of nylon.

We just store ours in the hope chest we keep by the door, but if you just have a small drawer for your toys, I'd recommend finding a little bit of storage space (top of the closet? under your bed?) before making this purchase. Another thing of note, nylon nor fleece are absorbent, so if any liquid or fluid finds its way onto your new swing, just wipe it off with a damp cloth and you're good to go!
Follow-up commentary
2 months after original review
We haven't taken this down, and it hasn't fallen but once. It still hangs just as steady as it did the day we got it. I love our over the door sex swing and still recommend it to anyone who happens to see it. I've since learned that the straps can get uncomfortable and make my feet go numb after a while - so I do recommend taking breaks every 15 minutes or so.
This product was provided free of charge to the reviewer. This review is in compliance with the FTC guidelines.

Thank you for viewing
Essential door swing
review page!