Just In Case Your Master Forgets Your Role.. Your Collar Will Remind Him/Her!
This is my very first collar and I am extremely happy with it. I think it looks great when it's worn and it's very comfortable. The snap closures allow the collar to fit most necks, but if you have a thinner or much thicker neck then average, you may want to look elsewhere.
Published:
Pros:
price, comfortable, adjustable, made of leather
Cons:
will not fit thinner sized necks, does not have any packaging
I feel like such a nerd because I have to start out all of my reviews saying "..and I am new to this so it's from the perspective of a beginner.." but, since I am writing a review on a collar, I have to say it again… I've never worn a collar before, so I do not have any others to compare the quality to.
I want to slowly get into BDSM and I figured that this collar would help us adjust to the BDSM world with a bit more ease. When I wear the collar, I'm the submissive. It's that simple.
When we received the collar, I was a bit irritated because there was NO packaging at all to it. Nothing to protect it, not even a plastic baggy. My partner also ordered the "Master" neckpiece at the same time, and that collar came in a plastic bag. It's not that I needed instructions, but it would have been nice for it to be protected in something, at least for shipping purposes.
The collar is made of leather. The width of the collar is ¾ inches and adjusts to fit roughly 13-16 inches with metal snap closures. Of course, if you have a smaller neck and do not mind a bit of looseness, or a larger neck and do not mind the tightness, you can still wear the collar. You can see the metal snap closures in the photo below.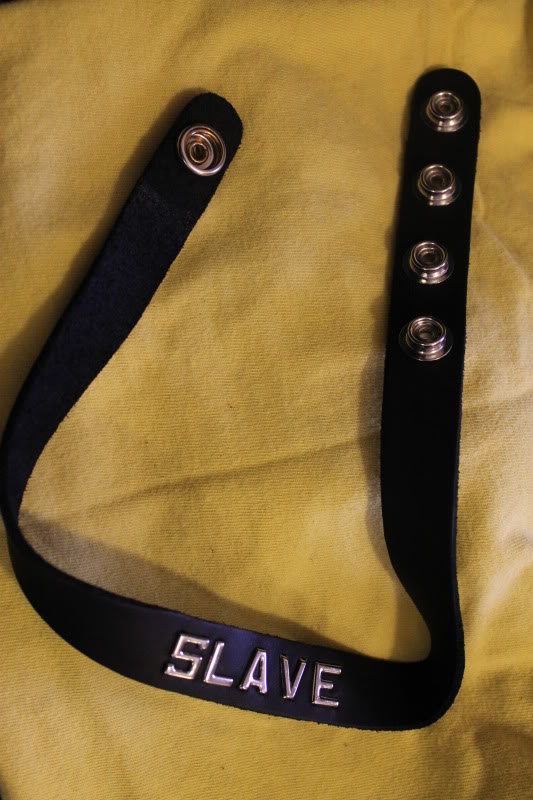 The metal letters that make up the word "SLAVE" are aligned correctly, and attached well. The metal letters are very secure on the collar so I do not see them becoming loose and detaching themselves (this goes for the snap closures as well). There is no O-ring on the collar for any attachments such as a leash. The collar will stay on during rough play, but if pulled extremely hard near the snap closures, it may unsnap. I cannot see it unsnapping though unless it's pulled very, very hard.
When I tried the collar on, I found that the snaps were quite secure. It fits very well, and the collar does not cause irritation to my neck. It's actually really comfortable.
I consider my neck to be of average size, and the collar, on the very first snap (tightest option) was nice and snug. The two photos below show the collar on the first snap.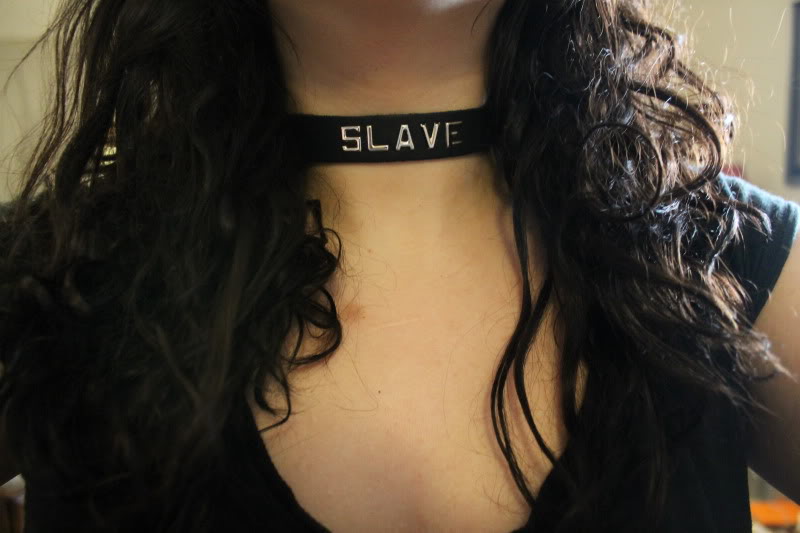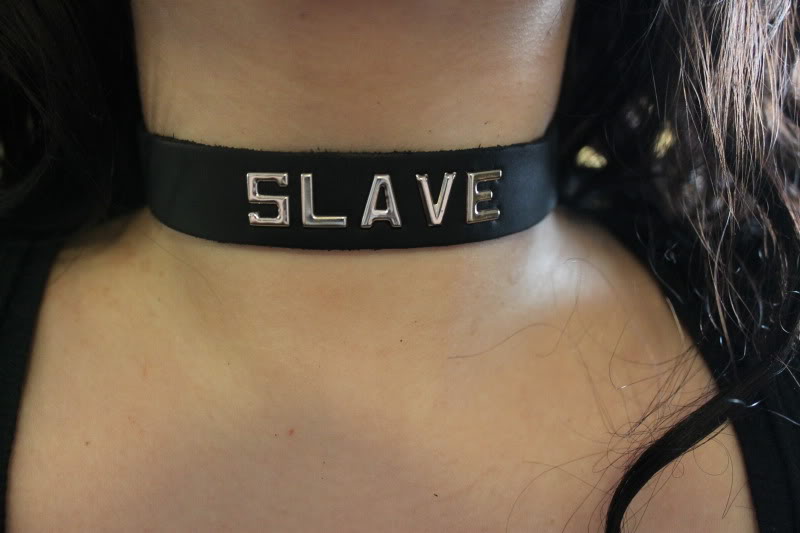 Below is a photo of the collar on me on the loosest fit.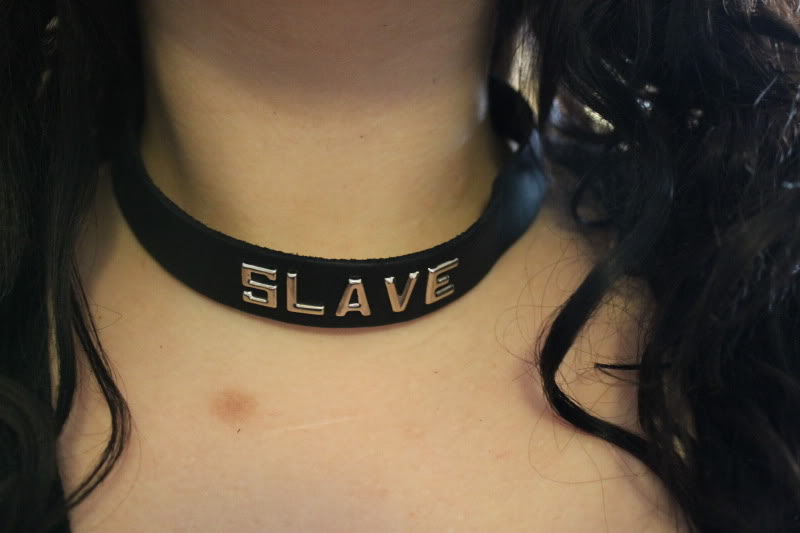 In the photos, you can see that the collar has a bit of fraying on the top part of the collar. It's nothing terrible, but a very small bit of fraying. It is also not noticeable unless you are up close.
Because of the material, the collar is really easy to clean. Just wipe the collar with warm water, and use a bit of soap if needed.
I gave this product a 5 out of 5 stars, despite the fact that there is no packaging whatsoever, because the price is fantastic, the collar is really good quality, and it's very comfortable when worn.
I would not recommend this to those with a thinner neck as it will probably be too loose for you. But for everyone else, beginners and avid collar wearers alike, this should be added to your collection!
Follow-up commentary
3 months after original review
We are still very pleased with the Slave collar that we purchased. The slave collar is still in great condition, even after us using it a few times since the review. All of the snap closures, and letters on the front of the collar are still secured tightly to the collar. Nothing seems to be coming loose and there has not been any more fraying on the edges of the collar.
This content is the opinion of the submitting contributor and is not endorsed by EdenFantasys.com

Thank you for viewing
Slave collar
– sex toy review page!