Left a really bad first impression.
It broke less than five minutes out of the box, and I had to fix it. If I did not have the tools at my disposal to do that, this thing would be trash.
Published:
Pros:
Fixable
Cons:
Broke Instantly
So we got this, and in the process of testing it out on my arm to feel the sting of it, it broke, at the handle. Rather than ship it back because it was busted. I went ahead and fixed it, because I am a man and a chance to fix something is my kink, and because my girlfriend really liked the the look of the crop; plus I run a business making BDSM gear which includes crops, so I can fix these sort of things.
I need to get this across because I want to review how this crop works and feels, so explaining that I fixed it is important. After completely dismantling the broken crop to get the crop piece off, I stuck it all back together. I ran a fiberglass rod into a handle spun on my lathe from oak. It now looks like this.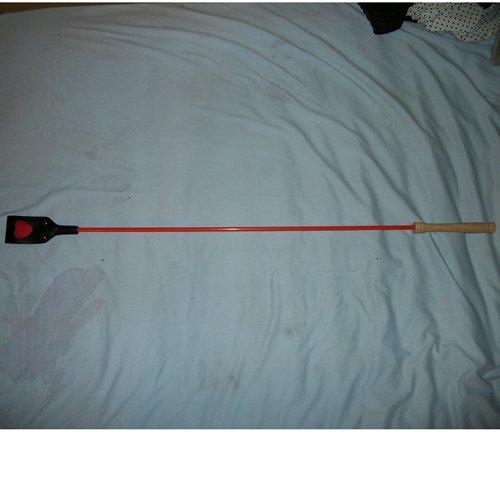 It's since been painted black again. but I wanted you to see exactly what I had to do to fix it. The really sad part about all this is that is maybe a $1.50 in parts, so it could have easily been made properly from the start. Let us talk about the crop itself now.
You will never, ever be able to leave that little heart shaped impression on a person with this crop. The fabric it is made out of has no rigidity, which means no matter how hard I hit a person with it leaving the heart shaped mark is a pipe dream. However, this does have a nice little sting to it, and I can get a pretty red color on skin quite quickly. Now that the rod is made of fiberglass, it can be used as a cane, the cheap plastic it was made of before would have snapped into pieces which is horribly unsafe.
All in all, this thing was pretty terrible, but I've seen worse. I feel it was worth it for the tip, but I doubt most people are in a situation like I am to be able to very easily fix it. So, I suggest you avoid this one and look at some other crops on the site. Unless, of course, you have fiberglass rods and a lathe just sitting around your house.
Experience
This almost literally broke out of the box; it snapped before it was ever actually used. It's been used since the repair job, but that would drastically change the experience. There are much better crops on Eden, I am sure. Check my suggestions at the bottom for what I think would be much better, and just avoid the impressions crop.
Follow-up commentary
28 days after original review
Still had to rebuild the whole thing, and after reading more reviews I've discovered almost everyone who bought one has had it break in some way. Not a useful product at all.
This product was provided at a discounted price in exchange for an unbiased review. This review is in compliance with the FTC guidelines.

Thank you for viewing
Impressions crop
review page!