I <3 Crops!
For an inexpensive addition to a BDSM players toybox this crop can't be beat. It gives you three types of crop/slapper type tools and is great for loving discipline or sissification. It doesn't leave pretty heart shaped marks on the victim but when all is said and sifted it does leave great stripes if you use the crop portion. Good for the experiences and great for the bedroom enthusiast, a definite must have!
Published:
Pros:
Inexpensive, looks great, versatile
Cons:
Can be very fragile
The Impressions Crop by Sportsheets is a cute crop that can pack a surprising whallop. It looks all sweet and flimsy but it has a core of steel, better known as small barrel PVC pipe. I didn't take it seriously until one night BOTH Sigel and Arch showed me the error of my ways!
The crop measures in at 23 inches in length with the widest part measuring 2 inches. Slim and pretty it just doesn't look all that threatening!
At the top of the crop is a faux-leather slapper with a heart shape upt out so that one can see the piece of red vinyl sewn into the crop. The crop top is one layer of faux-leather folede over and sewn down. The stitching runs parallel to the PVC pipe that forms the base of the crop and up halfway to the top of the slapper. The stitching is tight and even with no knots or fraying. The stitching catches the bottom of the red vinyl and hold it securely. This portion of the crop is, roughly, 2 inches wide so it doesn't have much area to diffuse the blow and it will deliver quite a stinging blow. We have not been able to get the heart cut out to leave an impression but it has been fun trying!
The stem of the crop is naked PVC pipe and overlaying the pipe about 5 inches from the base of the wedge shaped slapper is another piece of stiff faux leather doubled over and stitched to form a handle for the crop. A set of three silver brads adds to the stability of the wedge head and a final brad is located on the stiff handle fabric meaning the PVC pipe will not slide out of the sleeve of faux-leather. The sleeve handle becomes a wrist strap that can be used as a lovely slapper on days when your victim has been especially naughty! It measures in at around 6 inches and give plenty of space to get a good lick in.
What I love about this crop is you get three types of toy in one. The wedge shaped heart cutout is great for inner thighs, breasts even gentle face tapping. We have used it to correct posture, tap the bottoms of the feet or genitals, tease lightly or for very precise strikes. The crop portion can deliver a stinging strike to buttocks, upper thighs, and bottoms of the feet. The wrist strap can be used as a lash for pretty near any area you want to strike that isn't off limits! It is great for distance strikes or good ol'fashioned strapping.
The crop is made of faux-leather so care is as simple as a washing in warm soapy water and a thorough drying. In contrast to the other lashes and crops that are leather this is much easier to care for.
It does need to be stored out of direct sunlight but can be stored laying flat in a drawer, under a pillow or hanging by it's strap.
One issue I did have and it has necessitated my buying another to replace this one is that it is fairly fragile. It shouldn't be left out for a two year old to play with! The brads are not real sturdy and will pop off with determined prying. The faux-leather heart cutout is the most vulnerable area, however, and can be torn easily if you should find yourself in a tug of war with said two year old.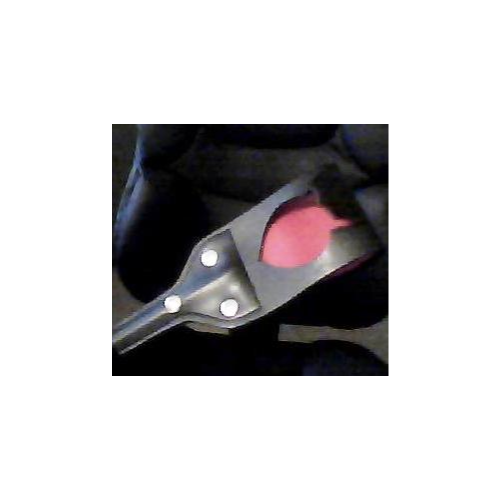 As you can see it just couldn't take the abuse but it should be noted that this happened after a good 6-7 months of hard use and generally speaking unless your kids are as precocious as mine it will last for years of good service. Since it is an $11 crop I'll simply buy another one rather than repair this one. It could be easily repaired with some black electrical tape and it would look as good as new.
Experience
Follow-up commentary
6 months after original review
After my Son destroyed the first Impressions Crop I bought another one. I have not been disappointed and I don't regret doing so. This is a fun, useful and wicked crop. With minimal care it can handle some pretty rough treatment, though it is not up to being played with my a two year old!
This content is the opinion of the submitting contributor and is not endorsed by EdenFantasys.com

Thank you for viewing
Impressions crop
– flogging toy review page!