Restrained By Hearts
For an amazingly comfortable, very durable and lovely set of cuffs the Hearts leather Ankle Cuffs offer so much more! They will last forever even with heavy and rough use. The hardwear is heavy and durable and incorporated into the leather cuffs so that they won't be easily torn away. For the price these are simply amazing.
Published:
Pros:
Good quality leather, fit a wide range of sizes, sturdy, well made
Cons:
Red leather hearts can pop out
When sigel agreed to explore the amazing world of safe, sane and consensual bondage and discipline I was like a kid in the candy store. I looked all over EdenFantasys trying to find the perfect set of cuffs that would be sturdy but non-threatening. I finally settled on the Hearts Leather Ankle Restraints by PHS International.
The reviews said they were sturdy but looked amazing, so I took a deep breath and hit the purchase button.
What arrived blew me away! These are all leather cuffs that are buttery soft and fit everyone from Arch's large ankles to my much smaller ones. They measure 14.5 inches uncurled and the ankle cuff portion measures 10.25 inches uncurled. The buckle strap has 12 notches and will fit just about everyone comfortably. If the user has very large ankles then it is easy to link two of the cuffs together to form one larger one.
These cuffs are 2 inches wide so they fit comfortably on the ankle and allow the wearer to pull against them without causing bruising or chafing. They will not cut into the skin and are great for wearing around the house if you are the type of person who likes the naughty tinkly sound of metal hardware!
Speaking of hardwear, there is a triangular ring grommetted in securely to the locking strip. It has a separate metal O ring attached to the triangular one. This puppy will hold the hardest struggling sub out there! I am not sure if they are sturdy enough for suspension play but I wouldn't recommend it since they aren't rated as suspension cuffs.
The buckles are easy to manipulate with one hand but won't come undone if you don't want them to. Restraint play should always be conducted with safety in mind and a few safe words doesn't hurt!
The back of the good quality leather is sueded so it is comfortable but does get warm. It's not horrible though and won;t cause problems for the wearer.
There are some inlaid red leather hearts along the locking strip that can fall out if they are picked at, so beat your sub mercilessly if he/she does pop them out! As long as hey aren't picked at they won't come out no matter how well worn your cuffs become.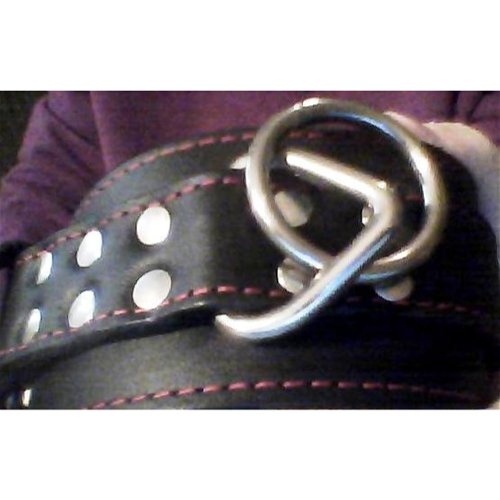 As you can see the stitching is in red contrasting waxed thread. It is even and there are no raw edges or knots left unfinished. The hardwear is sturdy, this is a set of cuffs that will last for many years of even hard use.
These cuffs are good quality leather so you will not want to get liquids on them other than sweat if you can manage it. They can be cleaned with leather cleaner or saddle soap but try not to get the cleaner or soap on the sueded portion of the back of the cuffs. This could irritate the delicate skin of the ankles. A good rubbing with a dry absorbant towel and an air drying will keep them soft and supple.
Experience
I tried these on the absolute minute I got them in the mail and wore them all day under my pants. Both guys were thrilled by the sound of the hardwear tinkling and the thought that at any time I could be restrained for their pleasure. Even Arch who is normally submissive had to admit it was a major turn on to see them on me.
When I actually got to use them I found that I couldn't escape but I also wasn't being rope burned as you can be even with soft silk ties. I could move and struggle and my feet didn't go numb or begin to hurt. Paired with the wrist cuffs they look truely amazing!
I made an entire set out of the:
Impressions Crop
Heart's Paddle
Heart's Leather Whip
Hearts Leather Blindfold
Hearts Leather Wrist Restraints
Follow-up commentary
7 months after original review
I still LOVE these restraints and I keep putting off writing the follow up because I am looking for any signs of wear and tear. It's just not going to happen is the conclusion I have come to. Unless you pick off the hearts this set just isn't going to fall apart. Definitely worth the money!
This content is the opinion of the submitting contributor and is not endorsed by EdenFantasys.com

Thank you for viewing
Hearts leather ankle restraints
– sex toy review page!