Let me tie you up and spread 'em!
These cuffs are great for all levels of play in my opinion. If you are looking for a little pain with your pleasure, take a look at leather or metal. If you are looking for long term and long lasting comfort, this is something you might be interested in. They do exactly what they are designed to do.
Published:
Pros:
Pain free play, easy to use, long wear comfort, amazing price
Cons:
HAIR AND LINT Magnet, no "bite" to the cuffs
Good morning lads and lassies!
No. Not calling you ladies a dog. What's that you say? Jimmy fell down a well? Just kidding. I was hearing Scottish in my head when I wrote that by the way.
Ok. This review is about the California Exotic Plushy Ankle Cuffs, part of the Plushy Gear Line.
Now, as many of you might not be aware of, I bought these ankle cuffs to be tied up with. Really. I bought them so my ankles could be tied and kept apart while having sex.
Now if you are like me, I was worried about the size of my ankles fitting into the cuffs and still looking 'decent'. I'm six foot one and a bit (damn proud of that bit by the way), and I am just not 'dainty'. When I buy socks, they sometimes are too tight around my ankles. I cannot even buy bracelets because they do not fit around my wrists. So until the moment they arrived, I was worried sick they'd not fit. Or worse yet, they'd not close so the plushy parts touch leaving one section of my ankle with a Velcro band.
Either I lost ankle weight, or these cuffs fit lots of sizes from small to pretty big!
My ankles are eleven and a half inches in circumference, and even wearing the cuffs snugly but loose enough that they can be rotated with a little wiggle but not pinching tight (don't cut off circulation!!!), the plushy parts overlap a little bit.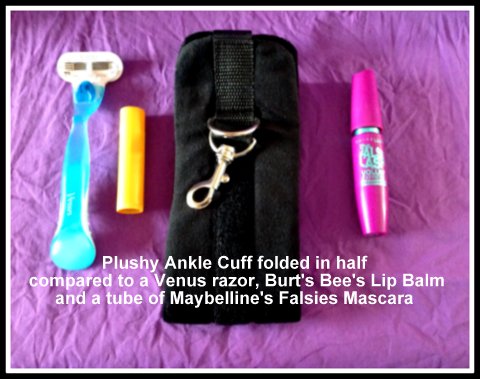 Now the product page lists the ankle cuffs at fourteen inches. When I measure them, I get fourteen and a half inches. But what does this length mean? I was uber confused. Did this mean that with the straps included it was fourteen inches? I was so confused. Most people might know the answer, but me? I had no idea. I searched the forum for the answer but couldn't find an answer. I looked at pictures, but notta. So, let me tell you... The measurements are for the plushy part only. The strap is six and half inches giving you a total length of twenty-one inches. The ankle cuffs have a latchy claspy thingie that is fixed to the cuffs by a smaller d-ring. There is another thicker d-ring beside it. Both of these d-rings are double stitched in and I've pulled and pulled on them with no moving it. The width is three and a quarter inches long.
The material is a plushy velvet, and very cushiony. They have a Velcro latch system.
Since the material is a velvet, be VERY warned that it attracts hair and lint worse than silicone toys (think polar fleece with a shedding cat). To get rid of every single piece of lint I find a sticky lint brush works best. To wash, I just wash by hand in the bathroom sink then allowing them to air dry.
I use these cuffs with the Japanese Silk Rope tied under the bed.
The cuffs come in a plastic bag in a box that is very loud and very obvious what they are for. I strongly suggest recycling this box in your neighbours blue box. Ok. That was mean. Don't do that.
To store them, I just put them in my nightstand. They can be stored with your socks if you really want a different place to store them. I wouldn't suggest leaving them out unless you live alone. In my opinion, it is very obvious what their purpose is.
These suckers are pretty sturdy and in my opinion could be used in any level of tie-up play but probably not suspension play though. They are not intimidating in the slightest, and very comfortable. They are not the most beautiful looking cuffs on the planet (compared to some of the leather cuffs out there), but they are very comfortable. Unless you enjoy the bite sensation of leather cuffs or the potential bruising of metal cuffs, these are great and I feel they would be long lasting.
Now, the big question, would I recommend these to friends? No. I mean yes. I mean no. Yes! I don't know! The whole lint and hair magnet thing really really makes me growl in frustration. That is the only reason I'd not suggest them. Other than this, I'd suggest them whole heatedly.
Experience
As I mentioned above, I use these Plushy Ankle Cuffs with the Japanese Silk Rope tied to the d-ring having the rope under the bed.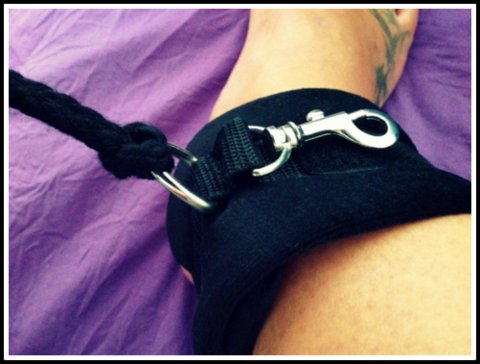 I would suggest using two knots knots rather than one though, it hurts the corners of the bed less!
These cuffs are really comfortable, I've fallen asleep with them on waking in the morning with no markings. I have yet to bruise or have any markings no matter how rough I played. Nor have I had any ankle issues from play.
This content is the opinion of the submitting contributor and is not endorsed by EdenFantasys.com

Thank you for viewing
Plushy gear ankle cuffs
review page!