Lock Me Up and Throw Away the Key, Literally
A great, inexpensive set of cuffs that's easily adjustable, able to withstand rough play, and closes with a satisfyingly ominous "click."
Published:
Pros:
High-quality, Safety release, Inexpensive, No-frills, Easy storage, Easy to clean, No sharp edges
Cons:
Made for slim wrists, "Made in China" printed on cuffs, Flimsy packaging, Might not last
These handcuffs are a hot set of restraints! For the price, I was expecting something of a much lower quality. The metal is not flimsy at all, and these cuffs are well-built. They're very plain-looking, no-frills handcuffs; with the obvious safety release, they do not look authentic. The one part of the design I do not like is that they plainly say "Made in China" on both sides of each cuff. The cuffs themselves are sturdy, and the three links connecting them are hefty enough to hold up in rough play and about three inches long. The cuffs are easily adjustable; they fit my wrists either snugly or semi-comfortably, depending on what I'm in the mood for. I'm fairly slim, with wrists about 5.5 inches circumference, and I don't think these cuffs would work well for someone who's heavier or who just has thick wrists. A friend with wrists about 8.5 inches circumference could barely close the cuffs. I would suggest a different set of cuffs for larger wrists. These are definitely too small for ankle cuffs.
The cuffs work very well as hand restraints. Adjusted right, they're impossible to slip out of, and they close with such a satisfying click. I've had no problems with them popping open or getting twisted up during use. While I wouldn't say they're comfortable, they fit well enough to do their job. With the chain, they can be looped around something, the leg of a table for example, to restrain someone to a place/object.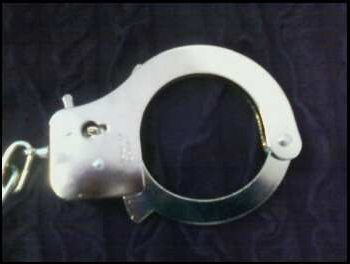 The safety release is one of the greatest features of these cuffs. While it reduces their symbolic impact as restraints in BDSM (more serious kinksters may want to consider other cuffs for that reason), it makes them so much easier to use. The keys that come with the cuffs (there are two) are pretty, but they don't work very well. I misplace things easily, and I've already lost the keys, so it's a good thing the safety release is there! It's very easy to get out of these cuffs by myself, even with my hands behind my back.
When used in rough play, these cuffs were painful and left marks on my wrists, which is exactly what I wanted from them. There are no sharp edges that draw blood and the marks were just scratches or indents that faded quickly. I would say that the pain was pretty light, but I have a wicked masochistic streak. If you're looking to dabble in light bondage, these might not be the cuffs for you because of that aspect. If you're looking for some rough play and a taste of pain, these cuffs are perfect for you.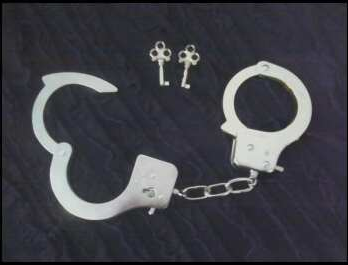 I couldn't find what kind of metal these were made out of on either the packaging or this site. I clean them with a paper towel and a regular household all-purpose cleaner. The packaging was a simply cardboard box, but the pictures were not discreet at all. The box is too small and flimsy to use for storage. I store them loose in a drawer, but a pouch for storage would be nice. Temperature doesn't matter when storing them, but I would keep them dry just to be safe. I haven't had these cuffs for very long, so I'm not sure how well they'll withstand wear, but I'll be sure to note that in my follow-up review. Because of the price, I'm guessing they won't be a toy that lasts. These are my first handcuffs, and I'm very pleased with them. I recommend them to beginning BDSMers on a budget. They're a sturdy restraint that provides just a taste of pain.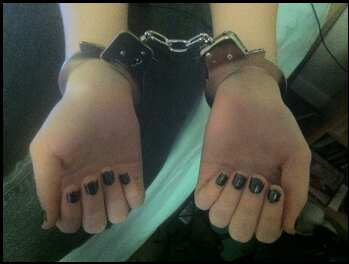 This content is the opinion of the submitting contributor and is not endorsed by EdenFantasys.com

Thank you for viewing
Fetish Fantasy handcuffs
review page!