No Key? Sign Me Up!
It is a good idea to ask a professional gigolo for his recommendations! These cuffs are damn near perfect even if the snap makes it a bit hard to look suave and sophisticated. These are totally worth adding to your toy box...or dungeon room.
Published:
Pros:
Fits a wide variety of folks
Leather
Sturdy
Cons:
Snap can be difficult to manage
I don't know about you but metal hand cuffs are the really raunchy sex toy that screams bondage. The problem is they freakin' HURT! I have only used them once and even with the fuzzy sock covering over the metal they still left bruises. So we shelved the idea in favor of cuffs that don't leave marks. Then I saw the Keyless Cuffs recommended by Nick Hawk.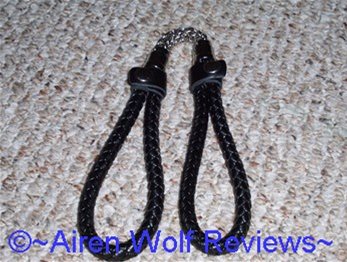 Now Nick Hawk is a professional gigolo so he knows a thing or two about what women want...one would assume. He is rather successful at his job so we figured, "What the hell, right?"
Right so down to brass tacks: The cuffs are composed of thin leather braided intricately to form the actual cuff and a short chain connecting the cuffs. The cuffs are large enough to fit any wrist and even a few ankles. The fit of the cuffs is adjusted via a band of leather with a snap on it that slides up the cuffs to shorten the loop. The loop is a bit difficult to work with and awkward if you are into self bondage but it is doable. The snaps are heavy duty and a bit stubborn but they don't pop off during play.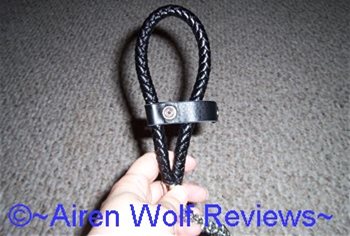 These are very sturdy cuffs, we pulled, tugged and twisted the cuffs but they still look brand new! The metal is very shiny and sort of sinister looking which adds to the appeal! The leather is tightly and uniformly braided and will not rub or tear the delicate skin of the wrists or ankles like metal can. They will truss up your partner tightly, though.
In use they are firm, unyielding but won't cause the bad kind of pain. They are customizable so they will fit your wrists or ankles firmly. You can put your victim's hands behind their backs but we find that to be painful. We prefer the over the head bondage with the chain wrapped with a tether and passed through the headboard of the bed.
I don't recommend using leather cleaner on items that will come in contact with delicate skin because of the caustic chemicals in the stuff but it IS an option for cleaning this set. Honestly, a damp cloth and a thorough drying is all you should ever need to keep them clean. Store in a box or drawer...these are real easy keepers. I hang them on the lamp beside my bed but that might not work for some users! Traveling with this set is easy- just roll them into a pair of socks.
This product was provided at a discounted price in exchange for an unbiased review. This review is in compliance with the FTC guidelines.

Thank you for viewing
Nick Hawk keyless cuffs
– wrist and ankle cuffs review page!