Padded room (and pants) are optional.
Does the thought of white padded rooms make you all tingly inside? I know that's what it does to me. I mean, crazy can be pretty hot, you know? (This straight jacket also is in more ways than one.) I couldn't resist getting my hands on one of these because it's freakishly creepy and it's awesome to tell people I have one just hanging out around the house. Sexy? Yes. Super neat? Yes. Good for a few laughs? That, too. Crazy time never felt so good.
Published:
Pros:
Fun for the bedroom or costumes, will keep you warm on chilly nights, genuine look and feel, sturdy
Cons:
Gets a little hot under the collar.
Woo! Straight jackets! This is one of those things that ended up in my collection by way of "This seems like it would be pretty awesome to have and I don't have one so now I'm making it mine!" I mean, how many people out there can say they have a straight jacket chilling in their closet. Not many, but I can.

If you're like me and you have a whole kinky medical fetish then you'll be able to see the charm in this pretty sadistic piece of gear. Psych ward! Yes, please! I like that kind of thing! I'm on a mission to collect as much medical paraphernalia as I possibly can and of course my collection couldn't be complete without one of these. You can use it in your medical scenes, of course. It adds that nice "should be in a padded room" touch and it allows you to restrain your unruly patient and it's quite intimidating n a visual sense. Hey, it also works as a pretty bad ass costume, just make sure the person in the jacket has an extra set of hands so they're not completely helpless. In either scenario you can play a dark, twisted nurse or doctor who takes pleasure in performing "behavior modification techniques" on your patient. (Okay, so it might be a little weird for you if you've actually been in a hospital for any reason, but it's still all fun and games here.) It's also a wonderful prop for photoshoots! I mean, why not have one kicking around, right? It's not something I'd suggest to beginners because of the level of scary restraint that it offers, but hey, if you're into that go right ahead.

This straight jacket does have a pretty genuine look and feel to it. It's not the real deal, but it is pretty functional and does pull off its role very well. It's made of a rather thick polyester material that is pretty stiff which helps to restrict movement and prevent stretching. When I first saw the box I was under the impression that it was more of a satin material, but it's not and I'm kinda glad about that. Satin has no place in the ward! It's far too nice for that! You've got straps and buckles everywhere, too. There is a set of straps that go horizontally across the back which help to secure the jacket, but they do leave some open space between them. Then you have your straps at the end of the sleeves which secure them together with a plastic buckle. At the bottom of the jacket you'll find the straps which secure the jacket by circling around the legs. These also connect with the same style of plastic buckle. There's a neck strap on the collar as well. All of the straps are adjustable which gives you an nice comfy and cozy fit. The ends of the sleeves are sewn together in the traditional straight jacket manner, of course. The one thing that this has that I'm pretty sure that legit jackets don't is a D-ring at the top of the collar that is great for connecting a leash to. (Yeah, they don't normally use leashes in hospitals, right?) Overall, the jacket is pretty sturdy. It's sewn together pretty securely and it would take a whole lot of struggling or someone with a bunch of strength to really break out of this thing.

The jacket claims to be a "one size fits most" deal, and we all know how that normally works out. I'm a tiny woman and I really feel like it's not going to fit comfortably on anyone much bigger than me. I'm a rather petite woman and it works on me although the sleeves are a bit long. I'd normally give you measurements, but since this item never made it to the site and my measuring tape has run off in fear I'll just provide some estimations. It'll work best on small to medium frames between 5'2 to 5'10 depending on arm length.
Experience
When trying this on by slipping it over my head and sliding my arms down the sleeves I actually did get stuck in it and the roommate did have quite a ball laughing at me as I squirmed around trying to get it off. (Perhaps the amusement factor of it is also another part of the charm?) When I had him put it on me for the photos he ran off afterwards and I now know that you can escape this thing if the straps aren't too tight, but I'm going to let you play Houdini on your own. It's quite trilling.
To put it on you can either undo the straps in the back or simply slip it over the person's head like a sweatshirt. Tighten the straps in the back so that they're slightly snug. Have your wearer cross their arms so that their hands are at their waist and then connect the arm straps. Lastly, connect the leg straps and you're done! Voila! You now have your pretend mental patient all jacketed up and ready to go! To get out of the jacket you may have to undo the straps in the back so you can slip the jacket off of them easily. Because the jacket is made of polyester it may get a little hot in there. Just make sure your patient can tell you what's up with all of that. Oh, and safe words and such, but you probably knew that by now.
Here's some horribly grainy pictures (but it kinda adds to the appeal, no?) of me wearing it.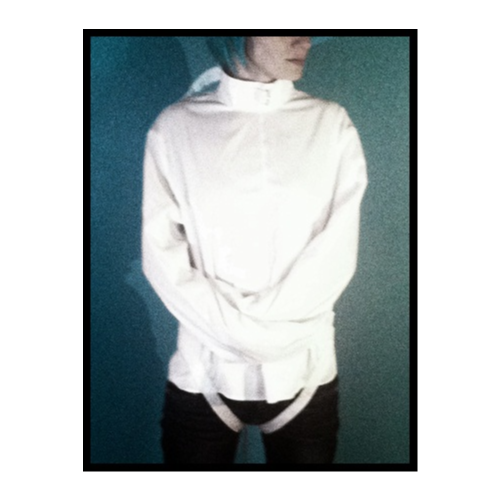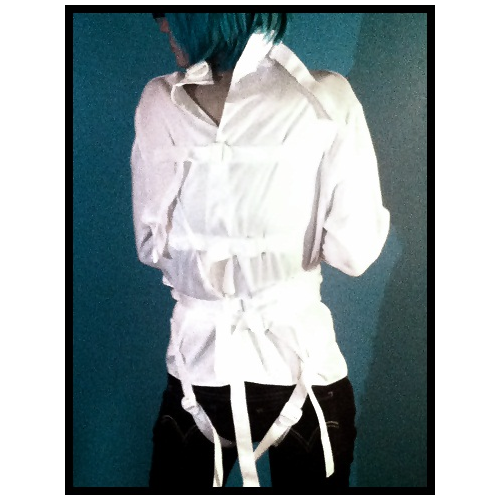 Follow-up commentary
8 months after original review
Well, I can't say that this has gotten too much use through my time of owning it. It's kinda sat around collecting dust. I enjoy having it, but it's a bit too much for a normal day of play. Yes it does get a little hot when worn for extended periods of time, but it's nothing that's too much of a bother.
This content is the opinion of the submitting contributor and is not endorsed by EdenFantasys.com

Thank you for viewing
Unisex straitjacket
review page!