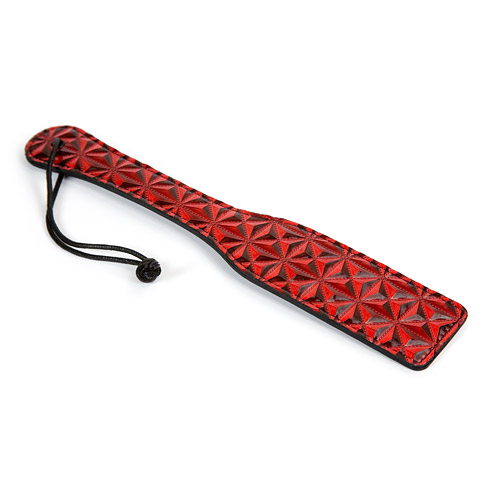 Passionate paddle
Paddle
by EdenFantasys
Passionately Paddled Pink Bum
While my inner leather snob wishes this were made of a higher quality material, this paddle is a solid toy for impact and spanking play. I love that the contrasting sides provide different sensations, and think the red side is especially fancy looking-and so did the other play party attendees!
Published:
Pros
Lightweight for long sessions
Stylish
Good size
Beginner friendly
Cons
Faux leather will eventually crack
Edges of paddle are rough
This toy is for spanking and impact play! As a lightweight paddle that takes some swing to get a truly strong hit, it's great for beginners but would also be just fine for more advanced users too.

For those who are newbies to spanking and impact play, step one is to talk with your partner, especially about where to avoid like recent injuries or inflamed areas. Then if spanking start with light taps on the roundest part of the bottom, gradually increasing in strength. For other impact play locations, a general rule of thumb is to stick to "meaty" parts of the body like the thighs or buttocks. Avoid the kidneys, spine, joints, etc. When the skin gets very warm to the touch or you see red spots/bruises it's time to find some other fun thing to do.
The design of the faux leather paddle is very intuitive, and it's broad enough to be beginner friendly-not too thin or broad, just wide enough to give a good solid thwack!

I think the paddle is good quality for one made of faux leather. It's lightweight, and the construction consists of two pieces of faux leather stitched together, with a waxed cord handle. I expect this toy to last a few years, depending on upkeep. Faux leather can crack over time, but applying baby oil and keeping the paddle out of direct sunlight should help keep it looking nice. The edges are a little rough, with raised bumps from the stitching and where the faux leather didn't quite sit flush with the other side of the paddle.

There is a slight plastic smell to the paddle, and while the red side of the paddle has a slightly 3D look, the 3D raised portions are hollow, so they compress when hitting skin. The raised pattern does change the feel of the impact slightly-a little more of a pointed hit than the flat side.

The paddle's red side has a faint plastic taste, while the black side does not. For those of you who like making your partner kiss that which is used on them...
This paddle falls more on the "thud" than the "stingy" side of impact toys, with a nice tingly aftermath. Like most impact toys, it feels great when used to tap areas like the buttocks, upper thighs, and inner thighs to wake up the nerves. And once you or your partner are warmed up, this toy performs as expected, delivering delightfully solid whacks.

The paddle will leave bruises if used for an extended session or if swung with a moderate to large amount of force, so if you have delicate skin or an area that you don't want to have obvious marks on, use caution.

As the spanker, the paddle fit comfortably in my hand, was not heavy so I could use it for a long session without feeling tired, and the two sides offered fun versatility in sensation for my bottom.

Measuring just over a foot long, and being lightweight, this paddle is small enough to fit in a tote style purse or larger handbag if you were so inclined to travel with it. It definitely will be a regular part of my toy bag when I go to a play party!
Follow-up commentary
4 months after original review
We still like this paddle, although the faux leather is starting to get a little worn looking. Still packs a nice thud though! ;)
This product was provided free of charge to the reviewer. This review is in compliance with the FTC guidelines.
Thank you for viewing
Passionate paddle
– sex toy review page!