Purple Fur Blinder
The Purple Fur Blindfold by Spartacus works well as a blindfold for bedroom play and as a sleep blinder. It will fit a variety of faces and noses. It can be arranged to be a complete blackout blindfold or you could leave just a glimmer of light for your victim! This is a great little blindfold and is near perfect at this price point.
Published:
Pros:
Nose area is cut well
Works well as a sleep blinder
Comfortable and soft
Cons:
Elastic can stretch
In the eternal search for a comfortable and well fitting blindfold I came across this little gem, the Purple Fur Blindfold by Spartacus. Wide, comfortable, well padded and fits just about every head. While it does allow a touch of light in around the nose piece it is possible to arrange the blindfold so that the light disappears. While it does make the blindfold feel a bit wonky it's not uncomfortable, even moved over a bit!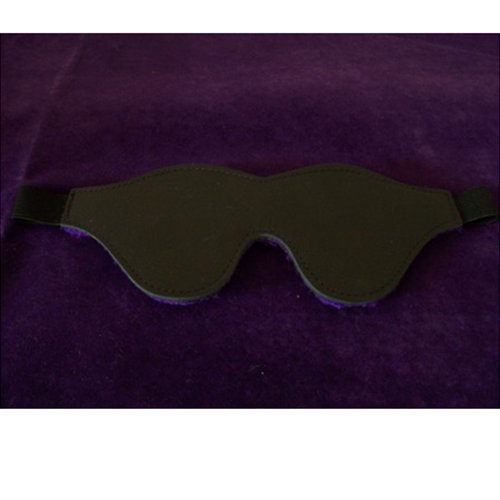 The blindfold is made of leather and it's actually quite good quality leather for the price point. It has that lovely smell of leather but it isn't overpowering. Only if your nose it pressed into the piece.
The leather is cut as one piece and is very well cut, too, I should add. It measures 8.25 inches across from the side bit to the other side bit. The eye pieces measure 3.25 inches at the widest and the nose cut out rises a full 1.50 inches before the 1.50 inch bridge over the nose. The cut out is also fairly wide at 1 inch, which means that it is going to fit easily over just about any nose comfortably and easily. With this deep and wide cutout it is much easier to pull it around a bit to create a blackout situation.
The elastic at the back of the blindfold measures 12 inches un-stretched, and it is about .75 inches wide. It's fairly heavy duty and shouldn't pull out of shape anytime soon. The elastic will hold the blindfold in place easily and through a bit of thrashing.
The leather piece is cut and then stitched very firmly and evenly to the purple fur lining. The purple lining is plush, brightly colored and soft. The stitching is all single except where the elastic is stitched to the leather at the corners. At that point the stitching is doubled up and is very firm.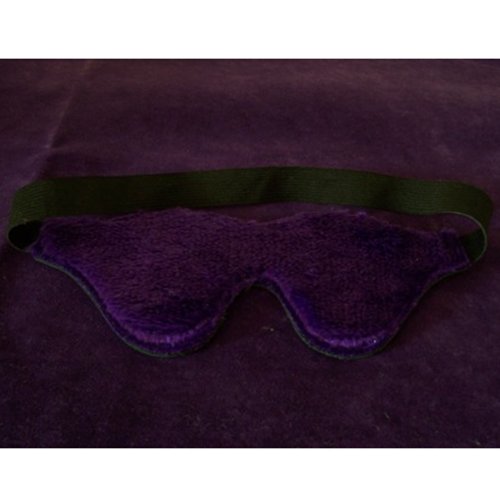 Since this is pretty good quality leather I would recommend keeping water and other fluids away. A damp cloth should be about all you would need to wipe away just about anything. I would refrain from using leather cleaner or mink oil as those can be caustic and this is going to be over your eyes and nose.
If the fur becomes matted down from tears let it dry completely and then brush against the nap with a soft hairbrush.
Store this blindfold out of direct sunlight as it could crack or bleach the leather. An underwear drawer or bedside table makes a great storage area. This is great for traveling as it is easily explained as a sleep blinder. It works as a sleep blinder very well, actually.
Follow-up commentary
8 months after original review
This is still a go to blindfold for us. It is comfortable, the elastic is still strong, and it looks only gently used despite being used extensively.
This content is the opinion of the submitting contributor and is not endorsed by EdenFantasys.com

Thank you for viewing
Purple fur blindfold
review page!