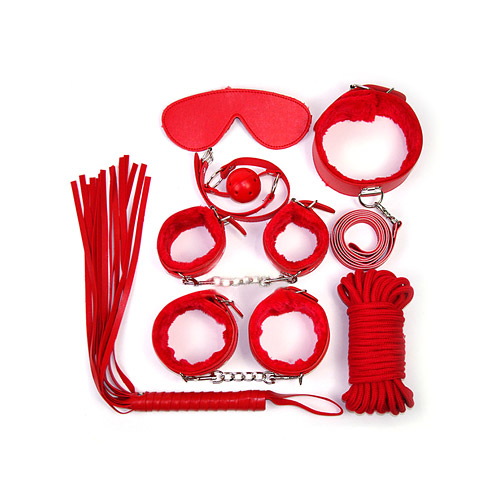 Kinky lust kit
Advanced BDSM set
by EdenFantasys
Ready to be Restrained in Red?
This kit is truly great for beginners and those just in need of easy stocking on bondage. Although I've heard professionals complain of these kits, I think they're a GREAT starter and even great enough for individuals to utilize on a budget. I loved every aspect of the kit!
Published:
Pros
- comfortable
- used in virtually any space + position
- great for bondage explorers
Cons
- blindfold doesn't cover completely
- some LIGHT fur might fall off from cuffs/collar
The toys came in the same usual Eden packaging. I was super excited to get this toy because the red color was just divine, and I want some comfortable beginner bondage to try out! Everything was in a big plastic bag, and that ripped apart.

___


Here's a review and my experience of each toy:

Blindfold: The blindfold overall is great; however, it's not full coverage. You can still see either rover the top or the bottom very slightly. I would recommend maybe tying something over the blindfold or turning off the lights to keep the "dark effect." If you're just doing erotic photography, then it's fine. The material is nice. The strap is just an elastic one, and the blindfold portion is very stiff (it doesn't mold around/on your eyes which is why you can see peeks of light).

Flogger: The flogger felt like a weird plastic latex. It wasn't bad at all for beginner action and testing to see impact play. For advanced users, I would definitely not recommend it at all as if the material might not produce the right sting and the material might wear after a harder impact. As a beginner to impact and flogger-use, I definitely thought it was a great start and had a thudding feeling.

Leash/Collar + Cuffs: These were great. Definitely comfy and super soft. The fur did flake off a bit so just be mindful that it won't last, and you may want to consider using the cuffs/collar a bit gently. The fur flaking was VERY light. The straps were good, and the adjustment was pretty expansive -- smaller individuals to larger, which was really great. Also, the best feature is that the hook is detachable from the cuffs, so you don't need to have a hook dragging. One thing that is a bit frustrating is that for each set of cuffs (4 total, 2 of them have a hook permanently attached to) which you won't be able to escape, but you can use the other 2 cuffs (technically one arm and one leg, but they're the same) for either your wrists or ankles.

Rope: The rope was a lot better than I predicted. It's like a shoelace type of material. It's really long! You could even possibly cut it into two and can get a lot out of it. It seems small when it comes, and it seems small untangled, but It gave me a lot of room to do an eagle spread position for legs only or arms only. It's also a great way to start practicing shibari. For shibari professionals, obviously, any rope that better handles their needs and limits would be better.

BALL GAG: The ball gag is great because of the holes. It makes you feel like you can breathe, and the holes allow for drool to drip through, so it's definitely can be humiliating if incorporated into the play and can also make it easier to her the bottom/submissive. For me, the ball was a bit big, so for small mouths, it might not be the best fit. Also, the gag has leather on both sides of it. Most gags have a silicone extension or something that makes the mouth more comfortable. I really wish the gag had this. It's not comfortable for long-term wear or long sessions. The ball itself is also a plastic material (not entirely hard, but not soft) that is easy to clean but not so soft for the mouth.
___

Overall: All of the products are definitely fake leather so if you want them to last, make sure you take care of them or at least are gentle with them and wipe them down after every use. The only negative things are the blindfold (can potentially see through the bottom or top cracks) and potentially the cuffs/collar (because of the fur spreading a bit).
This product was provided free of charge to the reviewer. This review is in compliance with the FTC guidelines.
Thank you for viewing
Kinky lust kit
– light bdsm kit review page!